21 Feb

5 LGBTIQI-Friendly all-Inclusive Luxury Resorts

At Enchanted Travel, we support all types of love! Check out our list of the 5 most LGBTQI-friendly luxury resorts. Of course, pretty much all resorts are inclusive to everyone these days. But a select few have been recognized as the best! Read on for the list.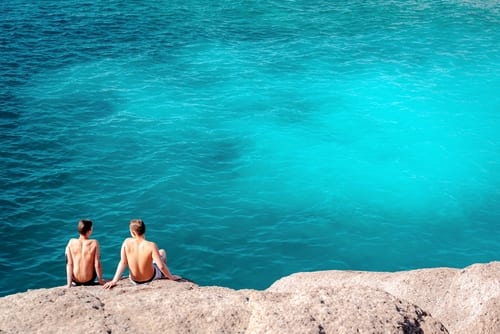 Hyatt Ziva Puerto Vallarta
Puerto Vallarta is an area of Mexico that is uber LBGTQUI-friendly. For LBGTQI travelers, no large hotel brand has a better reputation for inclusivity than Hyatt. In fact, it has been honored 14 years in a row as on eof the Best Places to Work for LGBTQ Equality. You'll find two all-inclusive options in Mexico and Jamaica from the Hyatt brand. This includes the adults-only Hyatt Zilara and the family-focused Hyatt Ziva. We suggest the Hyatt Ziva in Puerto Vallarta because it is a very LGBTQI-friendly Mexican city. Plus, you'll love the fab swim-up suites and oceanfront views at this property.
Sandos Caracol Eco Resort
For LGBTQI travelers looking to decrease their carbon footprint, check out Sandos Caracol Eco Resort. This gorgeous adults-only all inclusive resort is affiliated with the International Gay & Lesbian Travel Association (IGLTA). Staff on the property go out of their way to accommodate guests of all sexual orientations.
Valentin Imperial Riviera Maya
The Riviera Maya has several options for those looking for LGBTQUI-friendly all-inclusive resorts. Particularly, the Valentin Imperial is a good option, located on the secluded Playa Secreto beach. Here you'll find eight restaurants and 11 bars. This is a great option for LBTQUI travelers looking to plan a destination wedding or honeymoon.
Grand Palladium White Island Resort & Spa, Ibiza, Spain
For those LBTQUI travelers looking to venture a bit farther than Mexico, head to the Grand Palladium White Island Resort & Spa in Ibiza. Ibiza is notoriously gay-friendly, with tons of gay bars and clubs. We like this one because it is all-inclusive, super swanky, and made for relaxation. Plus, it is in a great location for those looking to party (who isn't in Ibiza?!). Here you'll find a contemporary design and stellar amenities, like a state-of-the-art gym, not one but three pools, and more.
Dreams Delight Playa Bonita Panama
A welcoming team of staff members and friendly fellow vacationers make this a hit with anyone – including LBTQUI travelers. The literal translation of 'Playa Bonita' is "beautiful beach" – rightfully so! It has one of the most incredible beaches in all of Panama.
El Dorado Casitas Royale
This adults-only LBTQUI-friendly option is for those looking for the ultimate luxury. El Dorado is known for their incredible food – we've tried it and we can confirm it is some of the best you'll find from an all-inclusive. The 5-star property is adults-only, making it a great option for gay honeymooners or those planning a destination wedding. In addition, the serene property has some of the best accommodations around, with thatched roof bungalows for every room.
Riu Palace Antillas
Antilla is located in Aruba, and Riu Palace Antillas is a great option for those visiting the vibrant island. Here you'll find authentic Caribbean cuisine, stunning views, and tons of free activities for land and water. Aruba is a notoriously gay-friendly island, and the Riu brand values diversity, so LGBTQI travelers will feel right at home at this posh property.
Call us today to book your next vacation, honeymoon, or destination wedding. You can reach us at 402-390-9291.