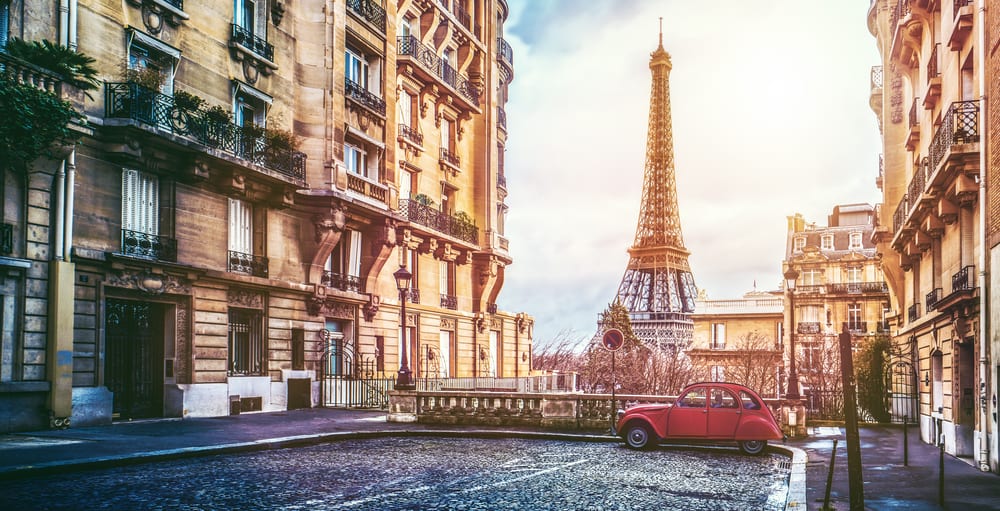 22 Aug

A Guide for Paris First-Timers

Posted at 12:22h

in

Paris

When it comes to bucket list destinations, Paris tops many. From iconic attractions like the Eiffel Tower and the Louvre, to picturesque picnics on the bank of the Seine River, the City of Light has something for everyone – especially the romantics!

Nothing beats the thrill of seeing the Eiffel Tower and other iconic Paris attractions for the first time, but the city offers a lot more than just the famous sites. From historic shopping districts to edgy street art, Paris is chalk-full of fascinating places to explore. Let's check out some of the best below, plus where to stay, what to eat, how to get around, and how to save money.
Iconic Paris Attractions
The Eiffel Tower
The iconic Eiffel Tower is the world's symbol for Paris. It is probably the first monument that comes to mind when Paris is mentioned. You can take a combination of stairs and elevators to reach the top viewing platform for sweeping city views. Be sure to buy your tickets in advance and choose the date and the time you want to visit. Your Enchanted Travel agent can help you book this into your package.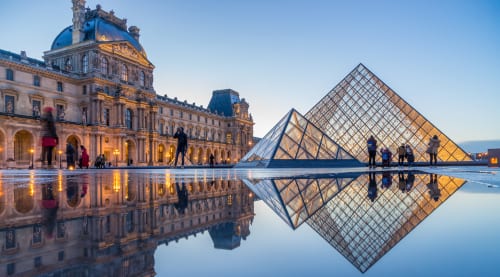 The Louvre
The Louvre is best known for being home to the Mona Lisa. In addition, it is the largest museum in the world and holds over 35,000 distinguished works of art. It is located in the Palais Royal, near the Jardin des Tuileries. It's so big that you could spend a week inside and still not see everything! Rather than suffer from Louvre fatigue and miss out on the rest of what Paris has to offer, choose a gallery or specific pieces you would like to see before visiting. Your Enchanted Travel agent can help you with this. Ask to work wit one of our Europe Travel specialists. One specialist in particular, Graci, has been to France several times. Lori has also visited the city and the museum on many occasions!
You can also use your Paris Pass here to skip the line with Fast Track Entry or get your individual tickets ahead of time.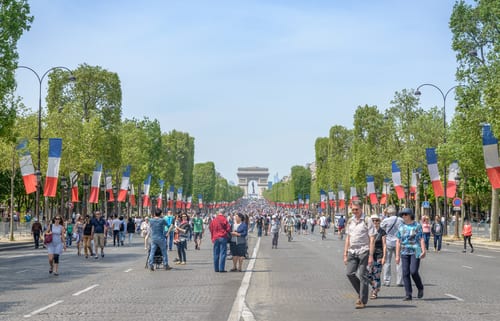 Champs-Elysses & Arc de Triomphe
Take some time to do some window shopping among the high-end shops along Champs-Elysses. Then dodge traffic to get a picture of the Arc de Triomphe at the far end. You can use your Paris Pass for free entry to the viewing platform on top
of the Arc. We suggest timing your visit with the lights on the Eiffel Tower being turned on at dusk
or later. This is a great way to get those sparkly Eiffel pictures from a stunning vantage point.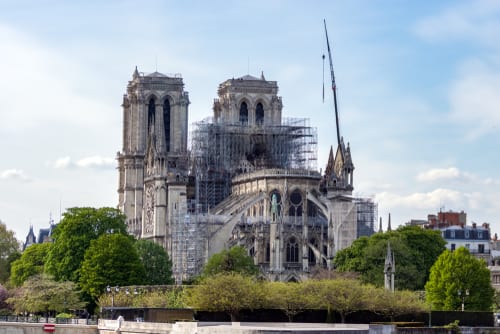 Notre Dame Cathedral
Before the fire, Notre Dame Cathedral was free and open to the public when mass was not in session. However, Bishop Patrick Chauvet, Notre Dame's rector, noted in April that the famed monument would be closed for "five to six years" You can still visit the site and see what is in tact from the fire, but it will be from a distance.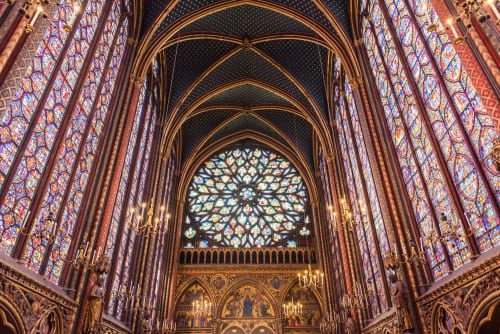 Sainte-Chapelle
Sainte-Chapelle is a small royal chapel situated between Notre Dame and the Louvre, on the Île de la Cité in the center of the city. In addition to the breathtaking Gothic architecture of the chapel, it is also renowned for its stained glass and delicate wood and stone work throughout. . You should expect a security check to get into the chapel. If you have time during your Paris trip, return to Sainte-Chapelle for an evening concert.
You should use your Paris Pass for this to save Euros on the admission ticket. This can be used for many attractions and transportation throughout the city. Ask your Enchanted Travel agent for more details on this handy key to the city.
Sacre Coeur Basilica
Located high up in the Montmarte neighborhood sits the Sacre Coeur Basilica. It's perched location offers a unique and glorious view of Paris below. You'll be awed by the white facade rounded domes and the Byzantine style of architecture inside.
The areas surrounding the Basilica, and throughout the Montmarte neighborhood, will make you feel worlds away from the bustling Paris city. Make time to explore the area, which is full of cobblestone streets, musicians and artist markets. Montmarte is where legends like Hemmingway, Dali, Picasso, and Renoir lived and worked for much of their lives.
More Information on the Paris Pass and Transportation in Paris
The Paris Pass
Purchasing a Paris Pass is cheaper than paying a la carte for each museum, monument, and sight you want to see. You can choose to add a travel card with your Paris Pass purchase, but always make sure it makes sense to add this cost. You don't want to buy "more travel" on the Paris Metro than you actually need.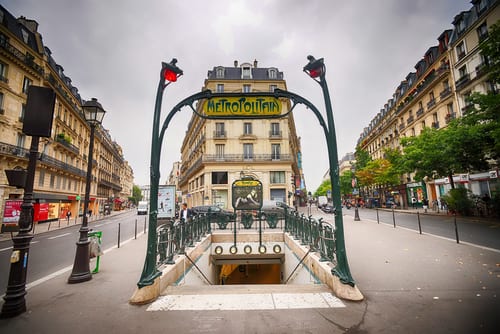 Transportation
The Paris Metro is the easiest way to travel around the city. Single and multi-day tickets are available. When you buy a day ticket, it is valid for as many trips as you need within a given day.
In addition, there are many taxi stands throughout Paris. However, are harder to come by if you are away from central parts of the city. If you need taxi service to get to a train station or the airport, it is best to book it ahead of time. Your hotel or Enchanted Travel agent can help you with this. In addition, the REB B(blue) commuter train connects Paris with both international airports, Charles de Gaulle and Orly.
Where to Stay
The city of light is made up of 20 arrondissements, or neighborhoods. Some good places to stay are the 5th $ 6th arrondissements. These will give you a good home base for Paris sightseeing. Many sights, including Notre Dame and the Louvre, are within walking distance and hotels tend to be less expensive in these two areas. If staying in or near the 6th arrondissement, don't miss out on Cafe De Flore (pictured above), one of the oldest cafes in Paris.  The more upscale and expensive hotels are mainly located in the 1st and 7th arrondissements. These are closer to the Eiffel Tower and the Champs-Elysees. Our best advice is to stay within comfortable walking distance to a metro station, as the Paris Metro is very efficient and can get you wherever you need to go in the city.
Ask your Enchanted Travel agent to recommend specific hotels based on your budget and tastes.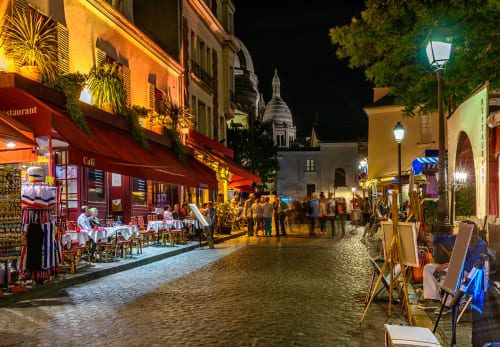 What to Eat
The meals in the city of light are unlike any other you'll find in the world. Foodies will delight in the endless cafes and bistros that line every street. Here are a few food musts for a Paris first-timer:
Be sure to make time for your meals. Enjoy the cafe culture of Paris – sit, relax, and people watch.
Don't leave Paris without stuffing yourselves with french bread. Each year, one bakery receives an award from the city for the best baguette. Find that bakery and get yourself one of those baguettes!
Indulge in other classic French foods like croissants, cheese, macaroons and wine.
Do not leave Paris without ordering at least one Coque Monsieur, the French version of a hot ham and cheese.
Day Trips from Paris
If you have time to make a short day trip, there are plenty of short excursions nearby. The most popular is a day trip to Versailles (pictured above), which is also included in your Paris Pass. This extravagant summer retreat for past French kings is dripping in gold and mirrors. It's the epitome of wealth, royalty and power.
If you want to opt for an overnight getaway from Paris, take an early morning train to Normandy. Here you'll find many World War 2 historical sites. Don't miss Mont Saint-Michel!
Call us today to book your own getaway to City of Light, whether it's your first time or your tenth visit! You can reach us at 402-390-9291 or get started here.