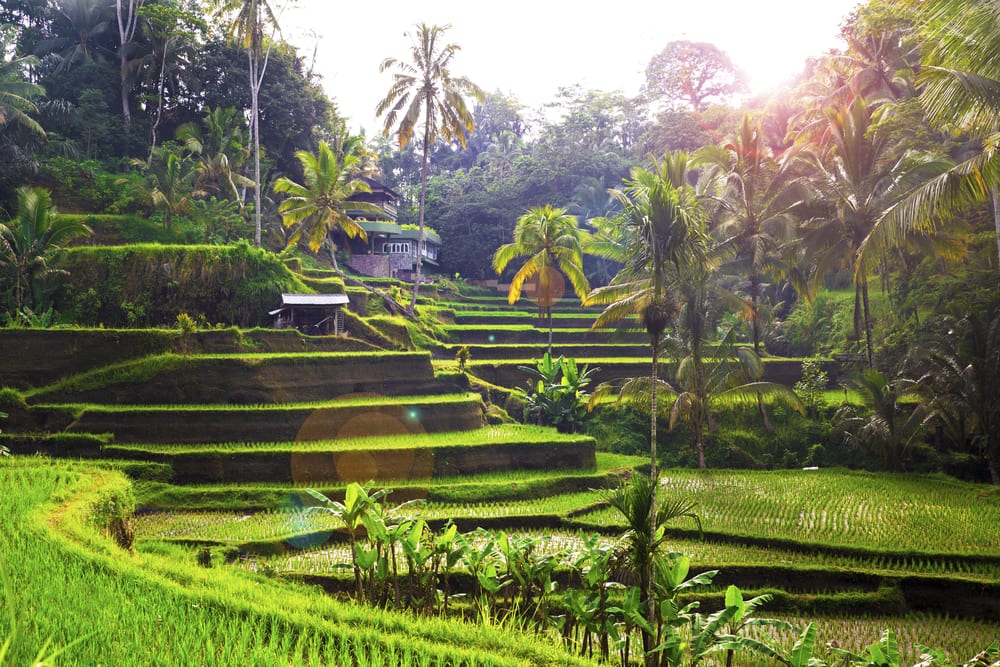 23 Oct

Beginner's Guide to Bali: Which City is Right for You?

In this first-timer's guide to Bali, we're breaking down which areas to visit and which hotels to stay in each. The island of Bali is in Indonesia and well-known by luxury travel enthusiasts. It is a world-class diving destination due to it's diverse array of marine species and reef-building corals.

While Indonesia is primarily Muslim, Bali is largely Hindu. Visiting a Hindu temple is an absolute must and access to them is simple as customary law requires each village to maintain at least three temples.

Read on for more details on the best cities to visit in Bali.
Seminyak
Seminyak is a nightlife destination with many accommodations ranging from 5-star resorts to affordable hotels. This tops the list of our guide to Bali because it has some of the best restaurants in all of Southeast Asia. Seminyak Beach is also one of the best beaches in Bali and Petitenget Beach is famous for it's Balinese temple located directly beachside, Pura Petitenget Temple. It is also popular for golfers and surfers.
Where to Stay in Seminyak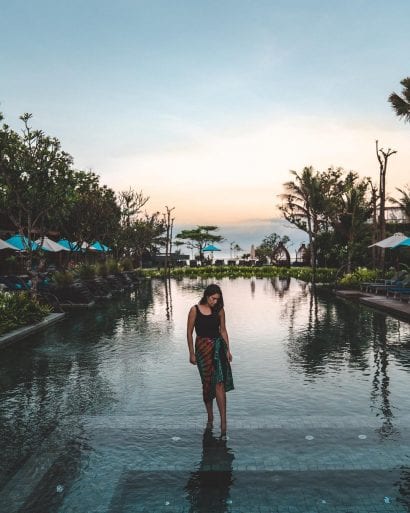 Hotel Indigo is a great option for the more budget-conscious.
This 4-star, beach front resort has 270 rooms + 19 villas, is kid-friendly, has a spa, and 6 restaurants.
You can stay here starting at $188/night.*
W Retreat & Spa Bali is another great option.
The 4-star beach resort has 229 rooms, a spa and pool, 5 restaurants and 3 bars.
You can stay here starting at $448/night. 
---

Kuta
Kuta is even more of a nightlife destination than Seminyak and is located just south of Seminyak. It attracts glamorous party-goers and world-class DJ's that party wee into the dawn hours. It is home of Kuta Beach Sea Turtle Conservation, many surfing schools and fab beach bars. You can also see some of the oldest temples in Bali: Leeng Gwan Kuta Temple & Kongco Bio Kuta Chinese Temple.
Where to Stay in Kuta
Conrad Bali is a 4-star beach resort with sever restaurants, bars and room service.
Another perk is that pets are allowed!
You can stay here starting at $166/night. 
The Stones Hotel – Legian Bali, Autograph Collection is another great option in Kuta.
The 4-star hotel is located across from Legian Beach. Guests can enjoy the over-sized swimming pool, kids club, spa, and 3 restaurants.
You can stay here starting at $168/night.
---

Nusa Dua
Nusa Dua is more removed from authentic Bali and a great family destination. This is where you can find the infamous 'Waterblow'. The Waterblow is located in the Indonesia Tourism Development Centre area on Nusa Dua Beach just north of the Grand Hyatt Hotel. People flock here for a close encounter with the gigantic waves. Nusa Dua is also home to Hidden Pandawa Beach. Although Pandawa is well-known among tourists, it's called a secret due to the limestone cliffs that cover the long stretch of beach at Pandawa. It is also not easily accessible, so if you can make the trip you will be rewarded with privacy.
Where to Stay in Nusa Dua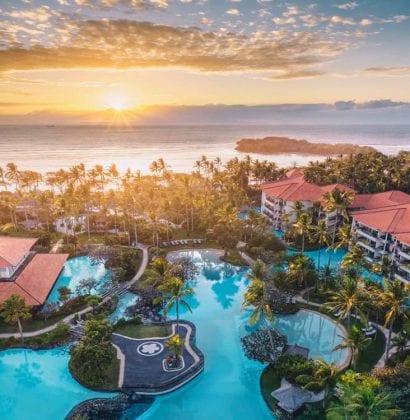 The Laguna, a Luxury Collection Resort & Spa 
This 5-star beach resort is family-friendly, with 4,000 square meters of swimmable lagoons and 24-hour room service. In addition, they just installed a new, state-of-the-art spa.
You can stay here starting at $245/night.*
This 3.5-star beachfront resort sits atop a 40-meter cliff with stunning views of the Indian Ocean. Although the family-friendly property has over 400 rooms, it has a secluded beach, 4 interconnecting pools, tennis courts, a spa, kids club, waterslides, 6 restaurants and many bars.
Price upon request – ask your Enchanted Travel Expert for prices for your dates.*
---
Ubud
Ubud was made famous for being featured in the book and movie Eat, Pray, Love. You can find a bit of everything here, but people mainly come here for healing in the peaceful jungle lifestyle. Ubud is also famous for the rice terraces – the best are the Tegalalang Rice Terrace, located about 20 minutes from the center of town.
Where to Stay in Ubud
Element by Westin Bali Ubud is our choice of places to stay in Ubud.
This 3.5-star resort is a mere 1.3 km from Ubud's town center. It is kid-friendly, with a pool, healthy food options, a kids club, and a spa. With just 152 rooms it feels private and peaceful. You can also opt for a room with a fully-equipped kitchen, although there are 2 restaurants open for dinner onsite.
You can stay here starting at $163/night and breakfast is included!*
---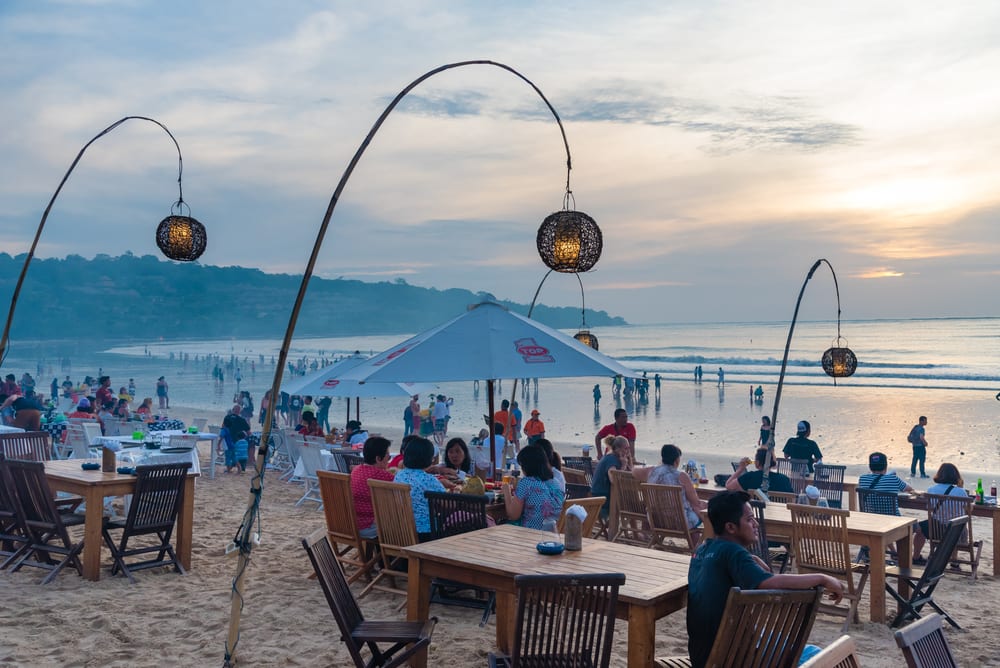 Jimbaran is much more laid-back than Kuta or Seminyak. It is one of the prettiest seaside spots in Bali. Jimbaran Beach is world-famous for its beauty, stretching 4 km along the water. Don't miss the Kedonganan Fish Market or the Rock Bar while you are here. There are also many high-end resorts here, and two temples that can't be missed: Pura Ulun Siwi & Uluwatu Temples.
Where to Stay in Jimbaran
This family-friendly, 4.5-star resort is only a 5 minute walk to the beach. With only 117 guest rooms, it is the perfect place to unwind. It also has a rooftop ballroom, spa, kids club, saltwater lagoon pool, 3 restaurants, 2 bars, and 1 swim-up bar.
You can stay here starting at $125/night.*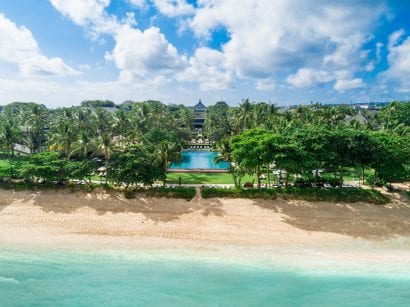 This 4-star beachfront resort on Jimbaran Bay is also family-friendly, with babysitting services on-site. It is much larger than Le Meridien with 418 rooms, so your biggest decision would be between a larger beachfront property and a smaller resort with a walk to the beach.
You can stay here starting at $236/night.*
---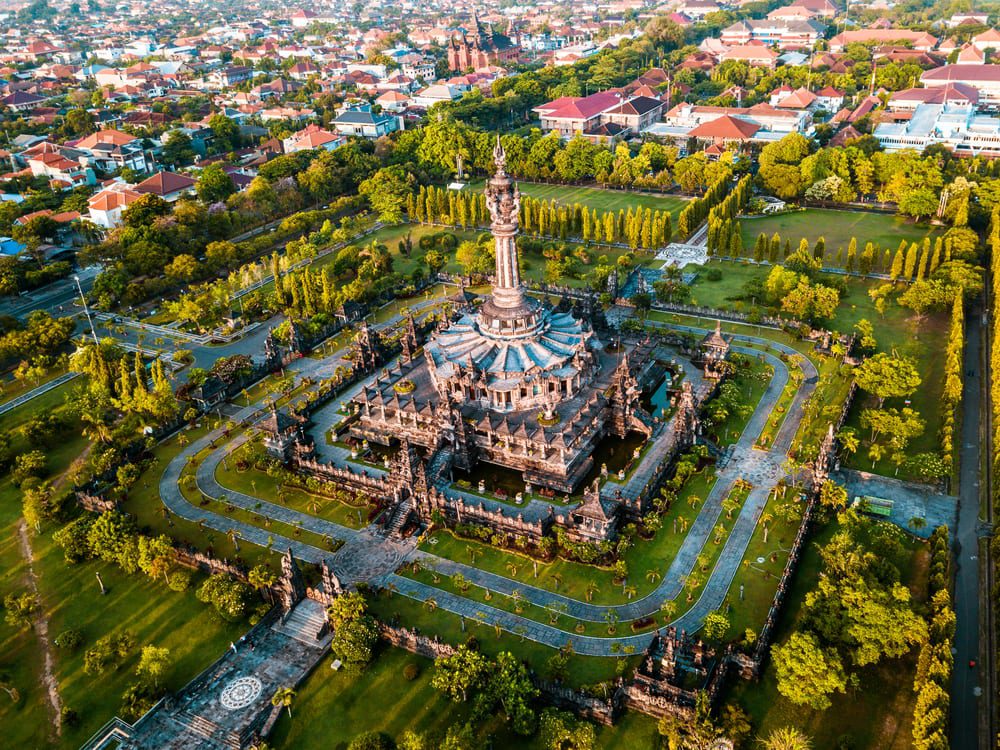 Denpasar is the capital and largest city of Bali. This is a city that must be included in your guide to Bali if you are in search of authentic Balinese life and locals. There is much to see and do in Denpasar, including the Bajra Sandhi Monument, Sakenan Temple, Shark Island, Cemara Beach, Ngurah Rai Mangrove Forest, Pasar Badung Market, Pura Jagatnatha Temple, Pura Maospahit, Sanur Beach and tons of museums.
Where to Stay in Denpasar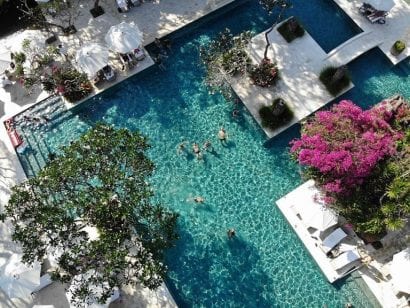 Hyatt Regency Bali is a 5-star, family-friendly resort on Sanur Beach. It has an outdoor pool, 4 restaurants, and 386 rooms.
You can stay here for about $170/night*
Enchanted Honeymoons
Call us today to speak to one of our Exotic Travel Specialists about a  customized guide to Bali. You can reach us at 402-390-9291. You can also get started here.
*Prices listed are based off of specific dates in December and are subject to change based on market demand, season, number of guests, and more. This is a ballpark number to compare resorts.