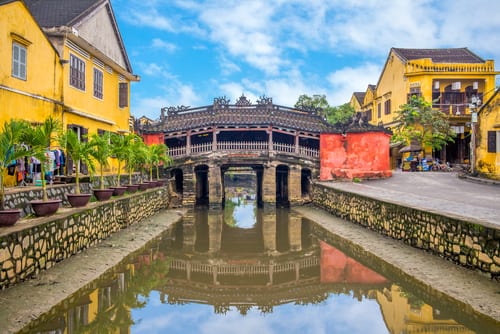 31 Oct

A Beginner's Guide to Vietnam Part I: Southern Vietnam

In our beginner's guide to Vietnam, we're showing you 8 can't-miss cities and villages in Southern Vietnam. In addition, we'll give you a run-down of the top things to see and do in each of these cities, plus how to get from place to place if you want to explore more than one. Lastly, we'll show you a few hotel options for some of these cities. Read on for more.
The Vietnamese cities we highlight in our Guide to Southern Vietnam include:
Can Tho
Ho Chi Minh City (aka Saigon)
Vung Tau
Nha Trang
Da Nang (also spelled Danang)↑
Hoi An
In Part II of our Beginner's Guide to Vietnam, we'll cover: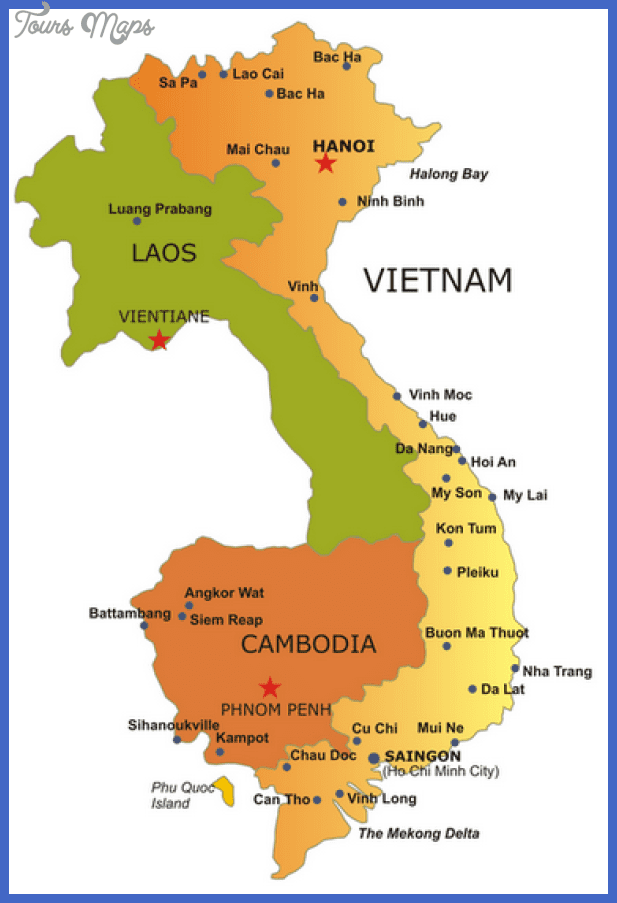 Guide to Vietnam: Southern Vietnam Cities
Our guide to Southern Vietnam includes Can Tho, Ho Chi Minh City, Vung Tau, Nha Trang, & Da Nang.
Can Tho Southern Vietnam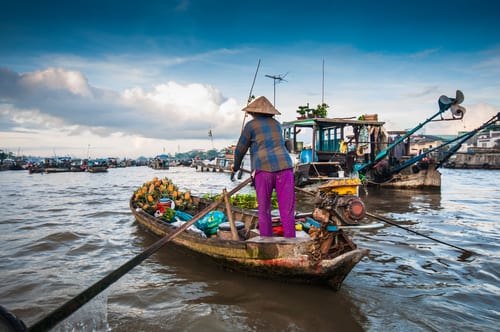 ---
Can Tho, considered the capital of the Mekong Delta, is gorgeous. You can see it in the southern tip of the map above, in light orange. The capital city is one of the most picturesque and easy-to-get-around Delta towns.
A few can't-miss sights and tours include the Cai Rang Floating Market, pictured above. This floating market is about 30 minutes from Can Tho by boat. Get there early in the morning to avoid crowds and watch the sunrise. The market is on the Hau River, with boats of all sizes selling fruits, veggies and cooked foods.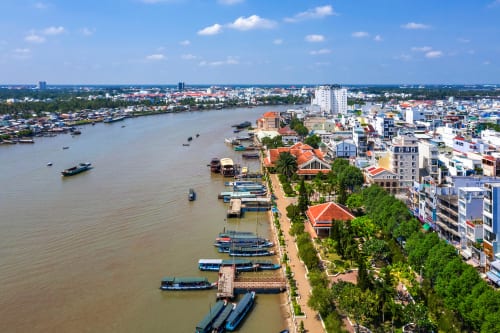 Ninh Kieu Wharf is another great place in Can Tho. The wharf is located on the bank of the Hau River. It is a great spot for watching the sunset and near a lovely park. It is also right next to Hai Ba Trung Street, a popular night market
At night, book a Private Sampan Tour. After the floating market ends in late afternoon, head towards the tiny canals that make up the Delta. Take a wooden row boat and view the stilt houses, orchards, riverside restaurants and more.
Ho Chi Minh City (Saigon)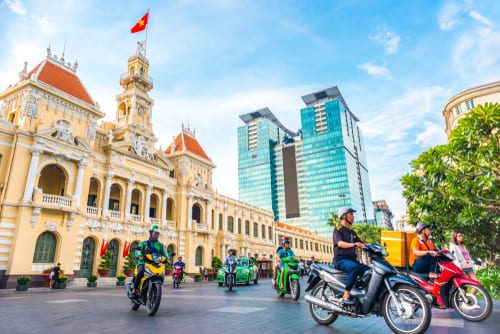 ---
Ho Chi Minh City, formerly Saigon, is the largest city in Vietnam. It is Vietnam's economic powerhouse and you'll find a blend of old and new cultures here, including ancient temples mixed with modern skyscrapers. The traffic and noise is a lot to handle, but worth the experience.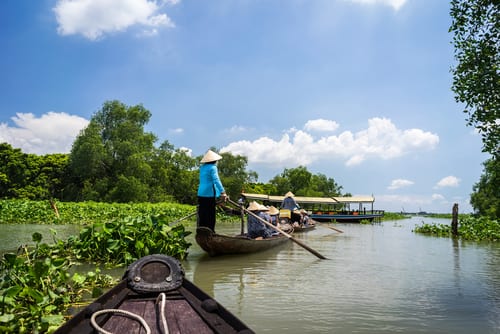 Ho Chi Minh City has much to see & do, but the Mekong Delta is by far one of the top attractions. Mekong Delta is full of orchards, paddy fields and swamp lands. It is known as Vietnam's "rice bowl" because it produces more than half the country's rice. It also maintains a large fishing industry. The best way to explore the region is by boat.
Ben Thanh Market and the streets around it are one of Ho Chi Minh City's liveliest areas. They sell everything from Saigonese food and clothing to souvenirs. Bargaining is vigorous here. Restaurants stalls stay open until mid-afternoon and a smaller night market remains open until midnight.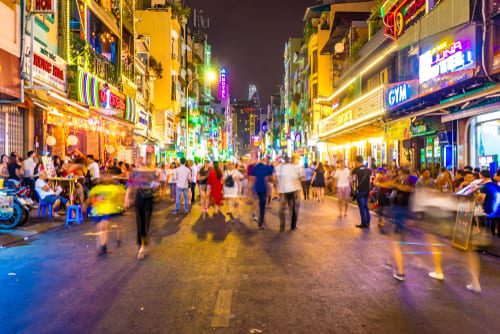 For a taste of the wild life in Saigon, head to Bui Vien Street. Bui Vien comes to life after the rest of the city shuts down. Expect fire breathers, strange foods, sidewalk bars, massage parlors, and more. It is worth seeing, but it is also the petty crime capital of Vietnam so keep your phones and wallets close.
Culture in Ho Chi Minh City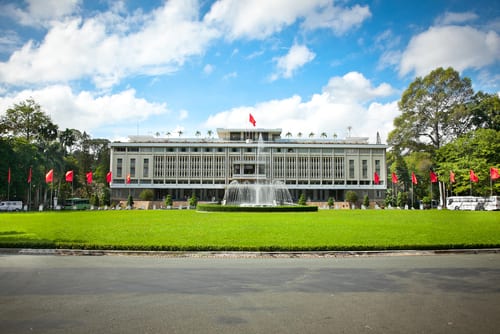 For some culture, check out Independence Palace. Briefly renamed the Reunification Palace after the fall of Saigon, it is now back to its original name. The Palace marks the site where South Vietnamese government submitted to Communist forces in the Vietnam War.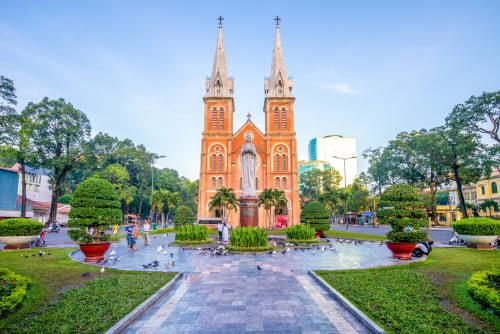 You should also make time to see the Saigon Notre-Dame Basilica. The cathedral is one of the most iconic attractions in Ho Chi Minh City. It's colonial facade brings tourists and locals set up stalls to sell crafts and foods. It's red bricks were imported from Marseilles during the French colonial occupation of Vietnam and were incredibly rare back then. Closed right now for renovations until June.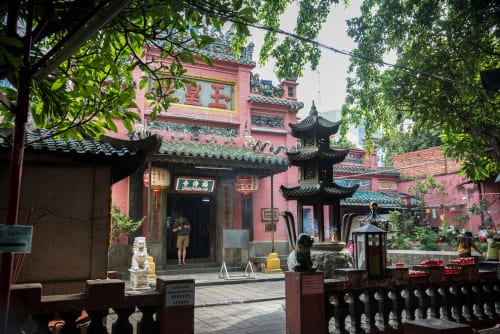 Lastly, Jade Emperor Pagoda should not be missed. It is one of Ho Chi Minh City's most amazing temples. Built to honor the supreme Taoist god in 1909. The main attraction is the temple's statues, which depict both Buddhist and Taoist characters. Uniquely, they are made of papier mâché.
Vung Tau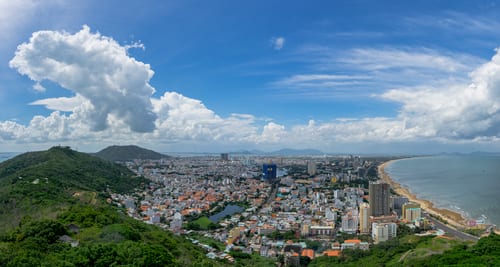 ---
Vung Tau is a wonderful coastal getaway from the busier areas of Vietnam. Beach bumming, kite-surfing, hiking, and eating seafood is what you should be doing here. In addition, it is the closest beach city from Ho Chi Minh City, via a 2-hour bus ride. 
The beaches are really the main attraction in Vung Tau. Vung Tau has four known beaches – Front Beach, Back Beach, Pineapple Beach, and Paradise Beach. Front Beach is the most popular and has the best seafood restaurants. The other three are less crowded and dirty. Back Beach is great for surfing, Pineapple Beach has calmer waters and great sunsets, and Paradise Beach belongs to a resort park with an exclusive crowd. You have to pay an entrance fee for Paradise Beach which gets you luxurious showers and high-end restaurants.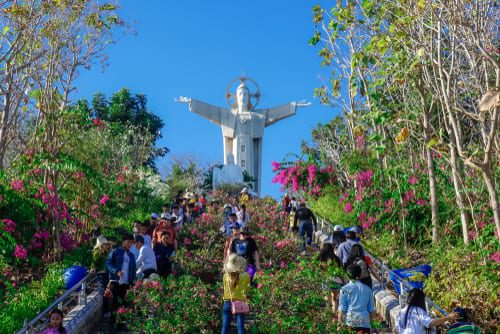 You should also visit both sides of Núi Nhỏ mountain. On one side sits the 105-foot-tall statue of Jesus, much like a mini version of the one in Rio de Jeneiro.
On the opposite side of the mountain is Vung Tau's lighthouse. It is said to be the oldest lighthouse in Vietnam.
Lastly, you absolutely must visit the amazing seafood markets in Vung Tau. One of Vung Tau's biggest draws is their seafood. Bánh khọt, a little round seaside pancake, is especially popular. You can find it throughout the city, but you should have it at Bánh Khọt Gốc Vú Sữa, known to serve the best version of these little treats. Chợ Hải Sản is the biggest market and closest to the city center.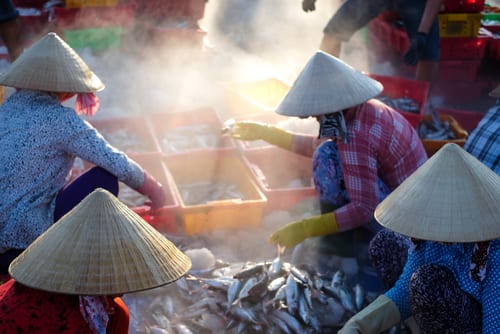 Trần Phú fish market is a particularly fantastic experience—a little out of the city, making it more local. The other option is Xóm Lưới market.
Nha Trang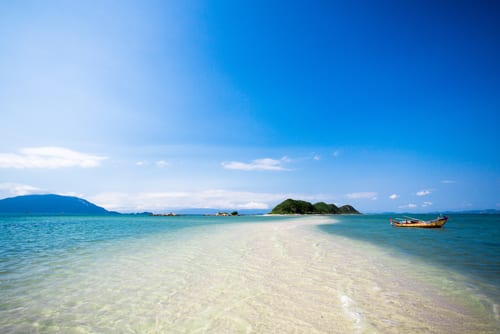 ---
Nha Trang is home to the best beach in Vietnam. It runs six kilometers along the shoreline of central Nha Trang city and is very busy during the summer. It also has cool waterfalls and untouched mountains.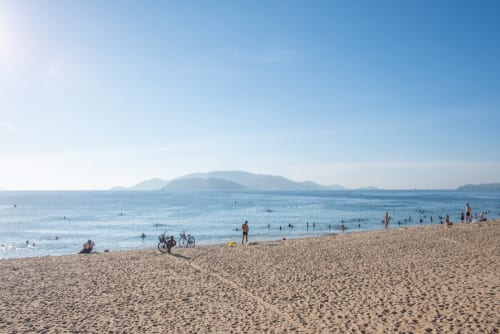 A few places to visit in Nha Trang include Tran Phu Beach. Tran Phu Street is the busiest street in Nha Trang and home to high-end resorts and of course, the beach. There are tons of beachside cafes and bars to relax at.
Thap Po Nagar has some of the best-preserved pieces of Cham architecture in Vietnam. The temple is dedicated to the goddess of country, Yan Po Nagar.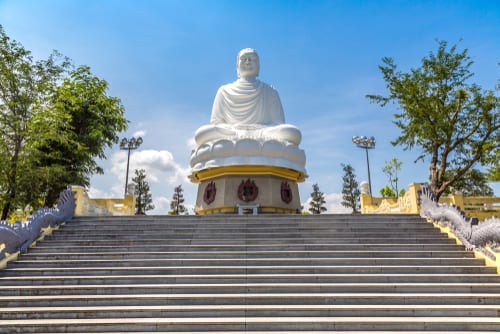 Long Son Pagoda is where you can find the large white Buddha statue sitting atop the mountain crest from most places in Nha Trang town.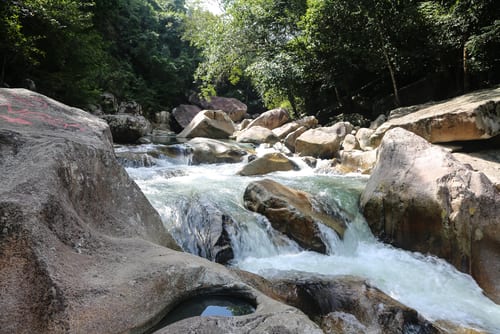 Lastly, Ba Ho Waterfall is just 17 miles north of Nha Trang and worth the beautiful coastal drive.
Hoi An
---
Hoi An is full of historic architecture and charm. It was a trading center in the 15th century. There are tons of small pagodas and museums throughout the town, but the best thing to do here is ramble around the old streets to admire the well-preserved surroundings. 
Hoi An has much to see and do, but be sure to stop at Tan Ky family house, one of the most historically important buildings in the old town. Architects used inspiration from Japanese, Chinese, and Vietnamese styles and the rooms are still fully furnished and ornately decorated.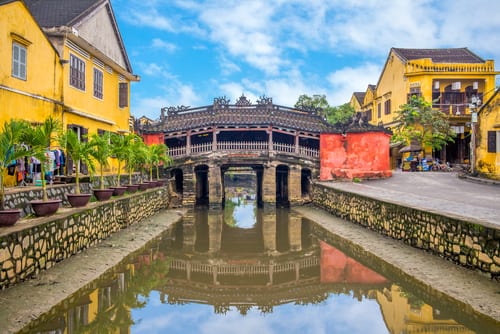 Japanese Bridge on Tran Phu Street is another important structure. It is the only covered bridge in the world to house a Buddhist temple. Built in the 16th century as a symbol of goodwill between Chinese and Japanese merchants.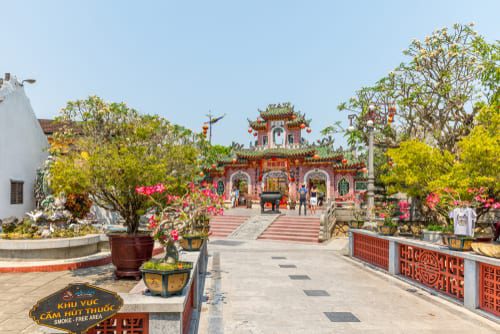 Fujian Assembly Hall is yet another fascinating structure in Hoi An. It is one of the grandest buildings in Hoi An, featuring a massive gateway of colorful carvings depicting Chinese mythological figures. Locals pray here when they need luck in conceiving children and you will find 12 "midwives" among the statues and carvings. 
Just west of Hoi An, you'll find My Son Ruins, a collection of 4th to 13th century Hindu temples and a UNESCO World Heritage Site.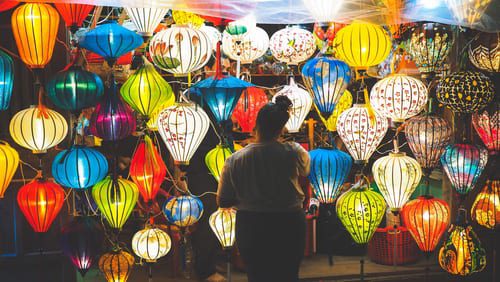 Lastly, be sure to visit the Lantern Market on An Hoi. An Hoi is just across the river from Hoi An and home to a beautiful night market. It is known for lanterns of all shapes, sizes and colors, all made from famous Hoi An silk. 
Danang (Da Nang)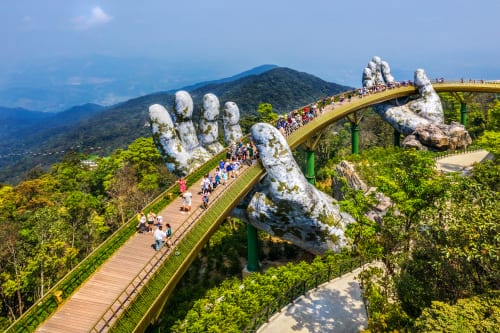 ---
Danang (sometimes spelled Da Nang) is halfway between Hanoi and Ho Chi Minh City. The fourth largest city in Vietnam is full of historical sites and other splendors. The Ba Na Hills & the Golden Bridge, pictured above, are two of the most popular attractions in Danang. Hike or take a cable car to the top for amazing views over the sea. In addition to the Hills, the Golden Bridge just launched in 2018 and is one of the most amazing attractions in Asia. It is painted a rustic yellow and raised by an enormous pair of hands.
Don't miss The Marble Mountains, aka Ngu Hanh Son or "Five Elements Mountains". This cluster of hills is made of marble and limestone and the area is full of caves, tunnels and Buddhist shrines.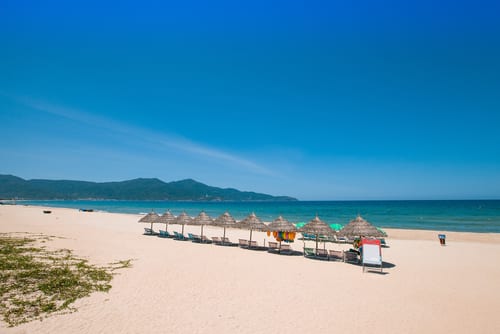 My Khe Beach is known as one of the most beautiful beaches in all of Vientam and stretches nearly 20 miles along the eastern coast of Da Nang. There are tons of things to do here, including water sports and surfing. In addition, you'll find plenty of delicious seafood restaurants.
Lastly, Linh Ung Pagoda, located at Son Tra Mountain, is one of the most famous attractions in Da Nang. It has the tallest statues of the Goddess of Mercy in Vietnam. The statues sit on top of a platform in the shape of a beautiful blooming lotus. In addition, you'll find 21 Buddha statues located inside a larger 67 meter tall Buddha figure.
Guide to Vietnam: Getting Around Southern Vietnam
---
If you start in the southern part of Vietnam, a good journey would look like this: 
Start in Can Tho.
A direct bus takes about 3 hours and 25 minutes to Ho Chi Minh City.
Your next stop is Ho Chi Minh City. 
Get to Vung Tau from Ho Chi Minh City in about 1.5 hours by boat or ferry. In addition, you can get there in about 2.5-3 hours by bus. 
Arrive in Vung Tau. 
Bus from Vung Tau to Nha Trang is about 8 hours long minimum. You can also fly nonstop for about $40 from Vung Tau to Nha Trang in 1 hour from Tan Shon Nhat International Airport to Cam Ranh International Airport.
Next, you've made it to Nha Trang.
About 9 hours by car/bus/train from Nha Trang to Da Nang. In addition, you can take a 1 hour nonstop flight from Cam Ranh International Airport to Da Nang International Airport for about $40-50. 
Drive, bus, train, or fly and arrive in Da Nang.
After Da Nang, you can train or take a bus to Hanoi in 17 hours or fly in about 3 hours. For more details on the Southern cities in Vietnam, check out Part II of our Beginner's Guide to Vietnam.
Enchanted Honeymoons Travel | Destination Travel | Best Packages
Planning your perfect honeymoon, destination wedding, romantic getaway or the perfect vacation of a lifetime has never been easier with Enchanted Honeymoons.
Contact us today to book your next getaway get started here. In addition, follow us on Instagram at @enchantedtravel_ and on Facebook for the latest travel news updates and stories.