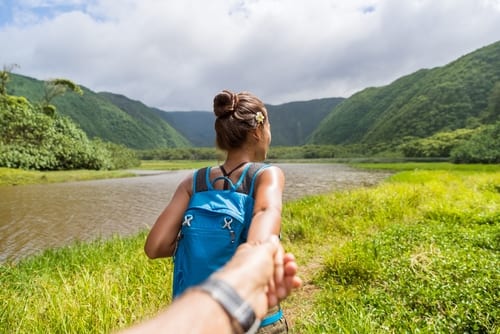 08 Mar

The Best Destinations for Adventure Seekers

Looking for a little adventure on your next getaway? These destinations offer much to explore and tons of activities that adventure seekers will love. Check out our list of the best destinations for adventure seekers below.
1. Jamaica
USA Today recognizes Jamaica as an adventure-seeker's paradise, with attractions ranging from thrilling to spooky!
Black River Safari is a truly unique activity for adventure travel. Black River is Jamaica's largest navigable river where will find 100 species of birds, mangroves, wetlands, and crocodiles. Book a tour that takes you through the river to introduce you to these giant creatures up close.
Luminous Lagoon is a unique Jamaican attraction. Take a guided boat tour at nighttime through this lagoon filled with microorganisms which emit a glowing blue light at your touch. You can dive right into the lagoon to test out this magic for yourself!
Rose Hall Mansion is home to the White Witch of Rose Hall – at least, home to the ghost of her… Take a tour of this haunted mansion and soak in this Jamaican ghost story for yourself.  Annie Palmer earned the title 'White Witch' for allegedly killing three of her husbands and countless slaves.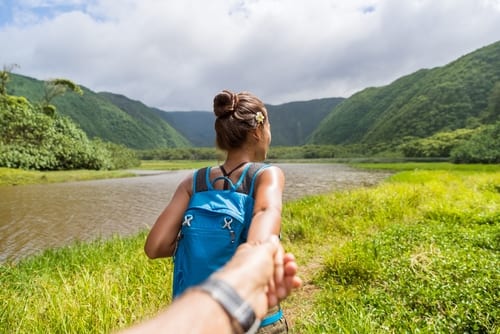 2. Hawaii
All of the Hawaiian islands are home to a host of activities for adventurists. Three islands in particular are perfect for adventure travel, according to Travel Channel.
Hawai'i, the Big Island, is known for hiking, culture, and wildlife. Here you will find Kilauea which is the most active volcano in the world. Take a guided hike through the waterfall pools and dipping valleys and find lava flowing into lush rainforests. The Big Island is also home to amazing wildlife including humpback whales in winter.
Maui is known for it's beaches, hiking, and food. Here you will find a beach for everyone's taste –  calm waters for snorkeling, hidden gems unspoiled by tourists, and the biggest surfable beach in the world. You can also hike through bamboo forests, waterfalls, and the volcanoes. Don't miss the Road to Hana which is one of the most famous attractions in Hawaii.
Molokai is known for culture and history, and adventure. 50% of it's inhabitants are indigenous to the area which makes this the least tourist-y island in Hawaii. Here, preservation of the environment and culture is more important than tourist attractions. Be sure to visit Halawa Valley where you can take a guided hike through ancient temples, waterfalls, and swimmable natural pools. You should make time to see Kalaupapa Peninsula. Here you will find a time-travel adventure involving St. Damien. St. Damien was a young priest who traveled to Molokai to help patients with leprosy. He is known as the USA's first Saint.
3. St. Lucia
According to U.S. News Travel, thrill-seekers should look to the West Coast of St. Lucia, specifically the Soufriere area for their adventure travel. Here you will find The Pitons as well as Sulfur Springs Park. Both are must-see spots for anyone visiting St. Lucia for adventure travel!
Gros Piton and it's brother Petit Piton are iconic – you will recognize them in the picture above. These volcanic plugs (land formations made out of volcanic materials) rising out of the Caribbean sea are covered in emerald colored vegetation. You can hike both of the Pitons, but Petit Pinon is for pros only as it is incredibly steep. Gros Piton is also strenuous, but more do-able.
Sulfur Springs Park is known as the only "drive-in volcano" in the Caribbean. This active volcano emits sulfuric steam rather than lava, making it safe for cars to drive right next to it. Those who visit the park may also want to take a dip in the sulfuric pools, but beware of the rotten egg smell!
Farther north you will find Rodney Bay and Pigeon Island National Park. Visitors can hike to Fort Rodney, an 18th century military ruin with panoramic views. This is also a great place to take kids as you will learn much about the history of the area and the people that used to live there.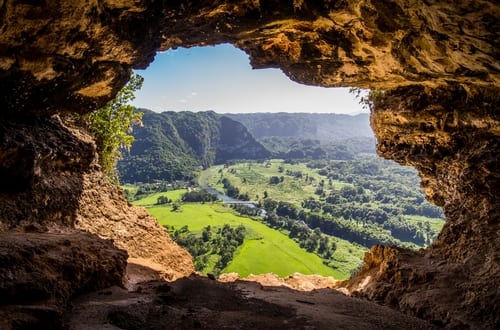 4. Puerto Rico
According to the Travel Channel, Puerto Rico is a known destination for adventure travel thanks to it's diverse climates, lush jungles, beautiful rivers flowing through mountains, and dry forests. Caving, snorkeling, and zip lining are among the most popular activities on this small island.
Angels Cave and Ro Camuy Cave Park are two of the largest caves in the Caribbean and are perfect for spelunking. Natural pools and beautiful calcite formations fill Angels Cave. Here major adventure-seekers can repel down Angels Sinkhole.  Ro Camuy Cave Park is one of the largest, most dramatic cave systems in the world. Only a small portion is open to the public. This park consists of 3 sinkholes and 2 caves, plus an underground river you can repel or hike to.
El Yunque and Toro Negro Rainforests both offer zip-lining tours. El Yunque consists of 28 acres of mountainous rainforest terrain filled with hidden waterfalls and trails for every skill level. Toro Negro rainforest is 1000 feet higher than El Yunque and much less visited. Here you can hike through a coffee plantation to Quebrada Rosa, an unspoiled, natural creek before zip-lining through waterfalls, canyons, and forests.
5. Dominican Republic
According to Travel Channel, the Dominican Republic is the most-visited Caribbean destination. Here you will find several adventure travel activities. You can zip-line with monkeys, swim with wholes, or explore an ancient cave.
One of the few places in the world where you can watch humpback whales migrate is the Sanctuary for the Marine Mammals of the Dominican Republic. January through March, humpback whales migrate to Silver Bank between Dominican Republic and Turks and Caicos. True wildlife enthusiasts can take a week-long excursion with a tour guide to see this unique site.
On the Monkey Jungle and Zip-Line Adventure tour you can zip-lining through the jungle with friendly monkeys. The grand finale involves a 60-ft free fall into an ancient cave.
Fun Fun Cave starts on horseback, where you are led to Los Haitises National Park. Here you will hike through the luscious terrain and rappel into a cave. After that, adventure-seekers will swim through a river leading to a tunnel where Fun Fun Cave will appear! Inside you will find engravings and rock paintings, her ghost from the Taino natives of the Dominican Republic.
Book Your Next Getaway
With so many resorts to choose from, it's easy to get overwhelmed by pictures, online reviews, and overall information overload. Get in touch with an Enchanted Honeymoons travel agent today about your own adventure travel getaway. You can also reach us by phone at 402-390-9291.