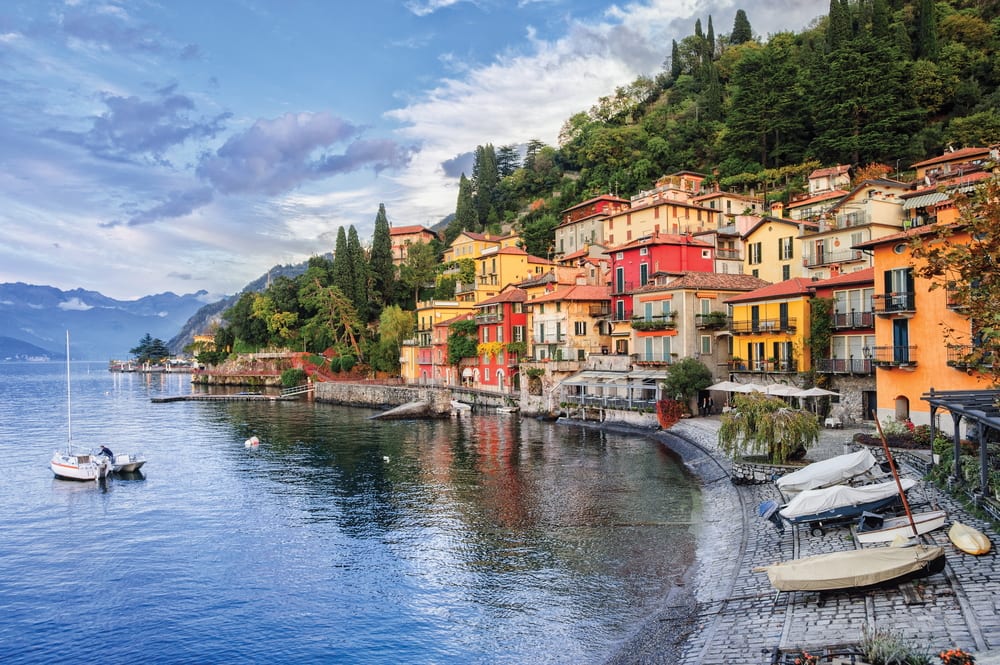 11 Dec

Best Honeymoon Destinations in Europe

Honeymoon destinations in Europe offer endless romance and adventure. Newlyweds hoping to catch some sun can head to the Mediterranean coast and wine lovers can choose from a number of regions to explore. In addition, there are plenty of cozy small towns where you can simply enjoy each other and get to know a new culture and city. Plus, you don't have to settle for just one destination in Europe, but can fit several in one epic trip. We've included suggestions for nearby cities in each of the destinations below.
Check out our list of the best honeymoon destinations in Europe.
Paris
When it comes to honeymoon destinations in Europe, Paris is what comes to most people's minds. I am dying to return to this beautiful city since I haven't visited in almost ten years! The city of Lights has so much to offer newlyweds, including beautiful architecture, exquisite French food, great shopping, iconic luxury hotels, and world-class museums. Another great thing about Paris is that it is easy to explore on foot, making it ideal for romantic strolls down the charming streets or along the Seine River. In addition, you'll find many opportunities for cooking classes and wine tastings and there are many markets to peruse throughout the city. Paris is near many other romantic cities including Brussels, Amsterdam, Marseille, Lucerne, and Zurich if you want to add on to your trip.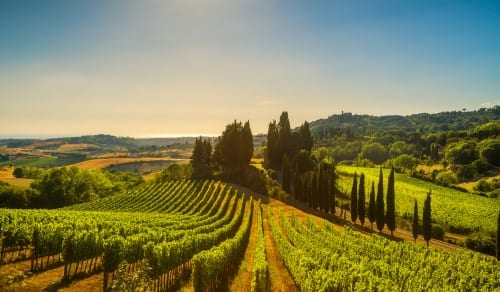 Tuscany
Tuscany falls in a close second to Paris when it comes to the most romantic honeymoon destinations in Europe. The region is famous for its wine, beautiful countryside, culture-filled cities, and delicious dining. We suggest staying in the bustling city of Florence and then use this as your base for visiting just about anywhere in the region you'd like. If you've already been to Florence, consider staying in a smaller Tuscan town such as Volterra or Lucca. The quiet charm in these quaint villages is perfect for honeymooners. Besides classic Tuscan wine tastings, you should also indulge in a traditional dinner the Italian way – several courses served over several hours! And of course, wandering the beautiful towns and cities is one of the most romantic things you can do here. If you want to extend your trip to other countries, consider visiting nearby Rome, Venice, or the Amalfi Coast.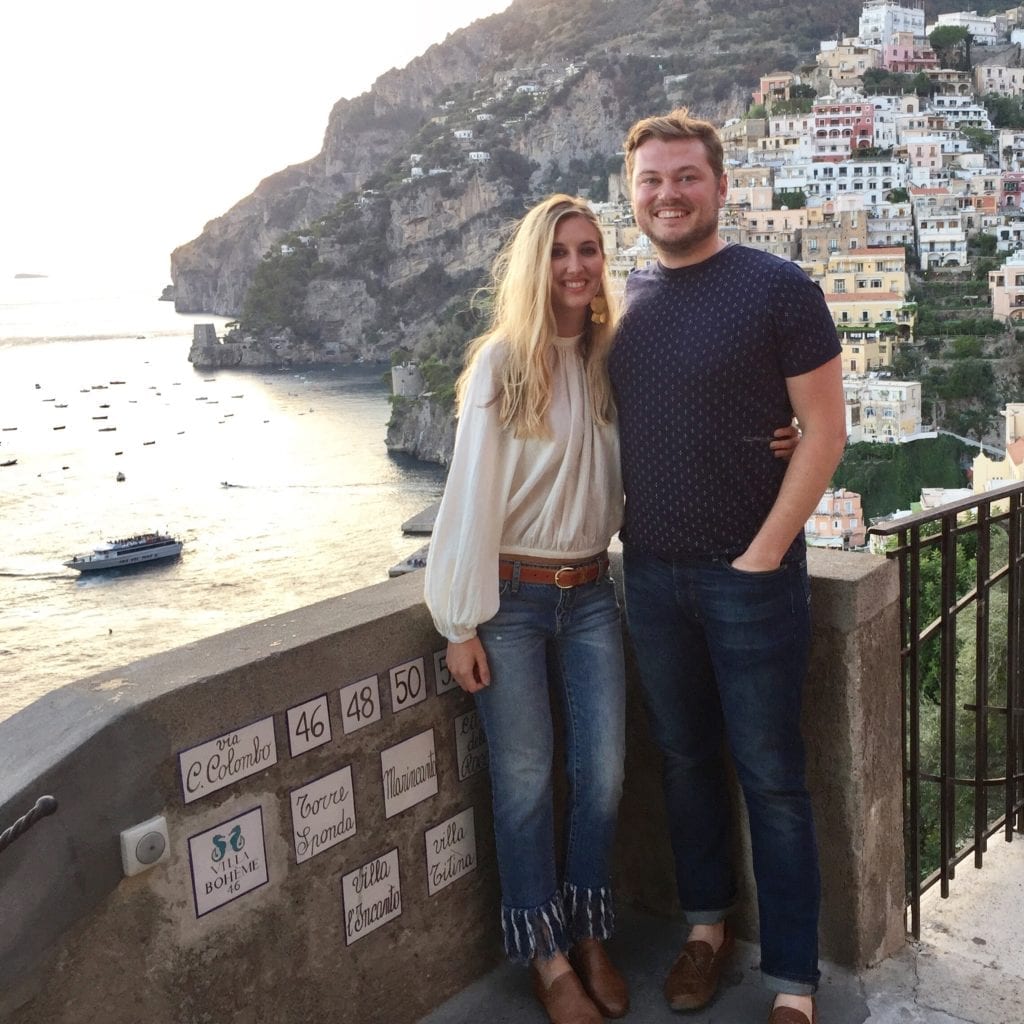 Positano
You've probably heard of or seen pictures of the gorgeous small town of Positano on the Amalfi Coast of Italy. The best time to visit this romantic destination is from May to September so you can take advantage of the beaches, outdoor restaurants and bars, and boating. This is an especially great option for the luxury-loving honeymooners as Positano is home to several luxury hotels including Le Sirenuse and Il San Pietro di Positano.
In addition to plenty of things to do during the day, the city also has a great nightlife scene. If you are looking for a party, head to the famous Music on the Rocks. If you're more of a low-key nighttime couple, grab a drink at Franco's bar which is known for having the best view in Positano. Rome and Venice are easy cities to tack on to the front or back end of your stay in Positano.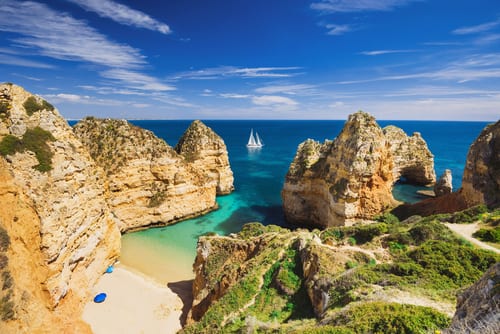 Algarve
Algarve, Portugal is a popular holiday spot for Northern Europeans, but it is also a great honeymoon destination. The biggest draw here is the beach, so if your idea of the perfect honeymoon is relaxing by the water – Algarve is for you! The best part is that, even in the height of summer, you can always find secluded beaches along the  150 km coastline. In addition to the beach, Algarve has unbelievable seafood! And the best way to eat seafood is overlooking the ocean, so the city has plenty of eateries with water views. Besides lounging by the water, taking in the views, and gorging on seafood, there isn't much else to do in Algarve. This may be a downside for some, but it is perfect for honeymooners who need to be forced to relax and appreciate this once-in-a-lifetime trip. Nearby cities include Lisbon, Porto, Sevilla, and Malaga.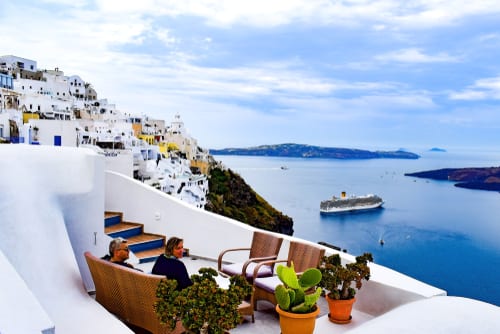 Santorini
Everything about the island of Santorini screams romance. We suggest avoiding hotels in Fira or Oia as they are more crowded. Instead, opt for a smaller location like Imerovigli. Probably the most amazing time of day in Santorini is sunset. Oia is one of the best areas to watch the sunset, but you can also enjoy it while wine tasting in Pyrgos. The absolute best way to experience the sunset in Santorini is on a boat. Book a sunset cruise with unlimited drinks and delicious Greek tapas for an absolutely unforgettable experience! Your Enchanted Travel Honeymoon Expert can help you choose a sunset cruise which stops by the famous Red Beach in Akrotiri and Black Sand. If you do choose Santorini as your honeymoon destination, you might want to consider adding Athens to your honeymoon package.
Lake Como, Italy
The exquisite combination of fresh air, nature, water and great weather make Lake Como a popular honeymoon destination. It is also quite popular with celebrities, including George and Amal Clooney who own a home there! The best way to enjoy the lake by boat, but there is also great hiking, golf and tennis. And don't leave without trying the gelato! The best time to visit Lake Como is between March and November, with May through September having the best weather. If you want to add on to your trip, consider visiting nearby Amsterdam, Munich, or Basel.
Enchanted Honeymoons Travel | Destination Travel | Best Packages
Our ultimate goal is to make the honeymoon planning process as stress-free as possible. Planning your perfect honeymoon, destination wedding, romantic getaway or vacation of a lifetime has never been easier with Enchanted Honeymoons.
Contact us today at (402) 390-9291 to book your next getaway or get started here.
Recent Honeymoon Destination Articles