04 Aug

The Best Water Parks in the World

August is known to be one of the very hottest months of the year in many areas of the world. Find the ideal spot to cool off with our list of the best water parks in the world, including those in the United States and internationally. Read on for our top picks!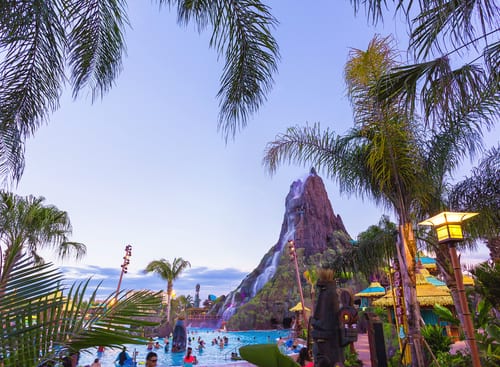 1. Universal's Volcano Bay Water Theme Park
Orlando, Florida
Universal's Volcano Bay in Orlando, Florida opened it's doors in May of 2017. Our Disney & Orlando Travel Expert Andy Baker just visited this thrilling water theme park earlier this summer with his family. Volcano Bay replaced Wet 'n Wild as Universal Orlando Resort's premier water park. One great innovation you'll find and love at the park is the TapuTapu wristband technology. This wristband holds your place in line so you can spend less time waiting in line and more time enjoying the park. Families and singles alike will love the private cabanas, massive Waturi Beach pool and the resort's tiki bars. We suggest making time to order off the tropical-inspired menu at Kohola Reef. Order the veggie burger – you can thank us later!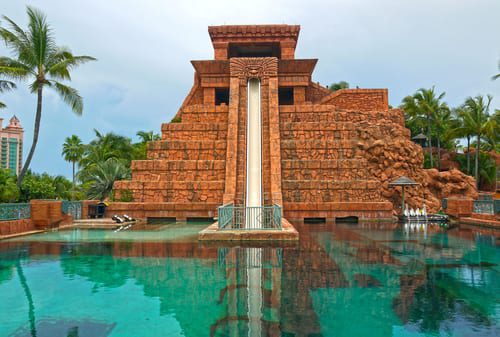 2. Adventure Waterpark
Atlantis, Bahamas
Adventure Waterpark, located in the Paradise Island Resort in the Bahamas, is a unique adventure in water theme parks. What makes it so unique? For one thing, the "Leap of Faith" slide. This almost-vertical slide shoops you straight down a clear tube through a shark-filled lagoon. Yes, you read that correctly – real, live sharks! In addition to this thrilling ride, you'll find almost a dozen pools and many more fast-paced slides. In addition, the water park is home to one of the most beautiful lazy rivers. The tropical lazy river streams through a lush oasis for those that aren't too keen on shooting through a tube surrounded by sharks.
If you aren't staying at Paradise Island Resort, you are able to purchase a day pass to visit the massive water park. Keep in mind that these do go by fast and should be purchased in advance as the park is extremely popular with cruise ships who port close to the resort. Ask your Enchanted Travel agent about purchasing a day pass for you when you book your Bahamas vacation.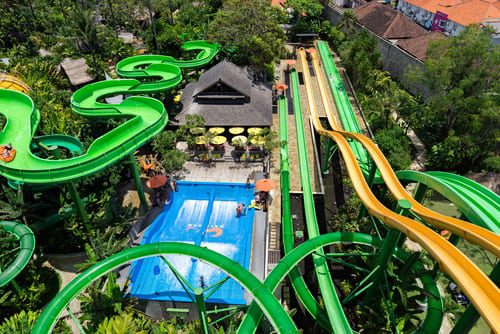 3. Waterbom Bali
Bali, Indonesia
Most think of peaceful yoga retreats when they think of Bali. However, at Waterbom Bali you'll find endless amounts of fun and excitement in the sun. Waterbom Bali is rated one of the best water parks in the world by TripAdvisor. One of the biggest draws is the extreme slide called the Climax. On the Climax, sliders stand in a small chamber over a slide that is so seemingly vertical that a trap door opens to drop you nearly straight down. Only true daredevils should partake in this 2.5 G-force speed slide! It is definitely not for the faint of heart.
4. World Waterpark
Alberta, Canada
World Waterpark in Alberta is home to the world's largest indoor wave pool. The park encompasses an area of four football fields. Here you'll find nine indoor water slides, plus a 10-story bungee jump that plunges you over the wave pool. Located directly next to the largest shopping mall in North America (yes, bigger than Mall of America!), World Waterpark is a great weekend getaway for families. Plus, since it is indoors, it is a great place to visit no matter the season or the weather conditions outside.
5. Wet 'n' Wild
Oahu, Hawaii 
Hawaii has so much to offer in terms of adventure and excitement, but if you want to add a water park to your itinerary, Wet 'n' Wild is the place to be. Located near the famous Waikiki Beach, it is easily accessible from many great family resorts. Here you'll find 25 acres of water-fueled fun including the Shaka, a 30 MPH water half pipe. The Shaka drops tubers down a 70-degree incline, then shoots you up the other side. The Tornado is another thrilling slide for adventurers. Not only is it adrenaline-pumping, but it offers stunning views of Oahu as you're catapulted 50 feet through the air.
Call us today to book your own adrenaline-packed water park adventure! You can reach us at 402-390-9291 or get started here.