15 Nov

Black Friday Starts Now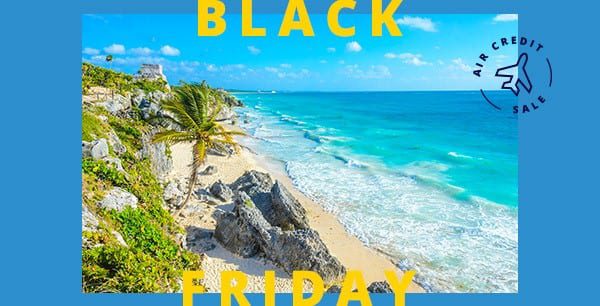 We are getting a head start on Black Friday this year, with an exclusive Air Credit Sale. Over 200 different hotels and resorts are participating in the sale. Here's how it works: you will receive instant air credits up to $600 in value. You read that right! Save big when you choose one of 200 beautiful properties.
Here's how it breaks down: You'll Save:
$200 for stays of 3-4 nights.
$400 for stays of 5-6 nights.
$600 for stays of 7+ nights.
Many of our favorite resort brands are included, like Royalton, Karisma, and Marival. Check out some of the best choices included in the sale below:
El Dorado Seaside Suites, a Spa Resort by Karisma – Riviera Maya
This adults-only, all-inclusive paradise is located on the stunning Kantenah Bay. The property itself is divided into two distinct sections: The Palms and Infinity. Each of these offer a unique experience in Mexican hospitality.
The Palms is El Dorado Seaside Suites' original section. It features intimate accomodations, authentic Mexican architecture and lush vegetation throughout. Infinity, on the other hand, offers endless excitement and activities. The resort's latest addition offers all oceanfront rooms, in addition to swim-up suites which connect you to the main pool on ground level, and balcony pools on all other floors.
No matter which section you choose, you will find endless opportunities for both relaxation and adventure. Explore the crystal-clear waters of one of the most beautiful beaches in the world, a wide array of incredible new restaurants and bars, in addition to one of the largest spas in the Riviera Maya. Let yourself be pampered in ultimate bliss as our personal concierge, beach butlers, and pool butlers take care of your every request. In addition, you are just minutes away from popular sites like the Mayan ruins and natural wonders of Tulum and Playa del Carmen.
Marival Residences Luxury Resort, Puerto Vallarta
The 5-star, all-inclusive Marival Residences Luxury Resort in Puerto Vallarta is a family-friendly gem nestled into the vibrant natural beauty of Nuevo Vallarta. Guests of the resort enjoy beautifully, spacious 1,400 square foot residences which are big enough for a family of 4. In addition to some of the best accomodations in Vallarta, Marival Residences Luxury Resort also offers a variety of delicious gourmet international cuisine at their restaurants. Options range from casual grills like Lemon Grass Casual Cuisine, to specialty eateries like Nicksan Japanese Sushi. All guests can also indulge in 24-hour room service or even a gourmet in-room chef!
Plus, guests will love the new day and night 'Beach World' experience located right at the hotel, the fantastic kids club with tons of activities for children of varying ages, and the free nanny service if you want to venture out for a night on the town. Last but not least, partake in the "seriously all inclusive" excursions which include sea lion encounters, canopy zip lining or catamaran snorkel cruise, and unlimited free golf at the Flamingo course.
Royalton St. Lucia
Nestled in the lush landscapes of one of the most picturesque islands in the Caribbean, Royalton Saint Lucia welcomes each guest on a vacation in upscale style and comfort. You'll be pleased to find modern facilities, friendly staff, and an exhilarating locale that is rich with both culture and world-class cuisine. Built for travelers of all ages, this stunning resort features 3 distinct sections: a family-friendly vacation experience in the general resort and Diamond Club for a higher level of service and an exclusive pool, beach and dining areas. In addition, they offer the Hideaway section, an adults-only sanctuary.
You'll find activities for kids of all ages, including the Kids Adventures Program for younger kids. In addition, teens will love the Hangout Teens Club, where those aged 13 to 17 can make friends, play video games, or hang in the many outdoor activities. The best part is that they never have to leave the resort for a good time.
While the kids are enjoying their respective clubs, the adults can take advantage of the many onsite dining options. Try Armadillo's for Tex-Mex cuisine, or Grazie Italian Trattoria for pastas and pizza. In addition, there are also plenty of bars to choose from throughout the property.
CHIC Punta Cana
The all inclusive, adults-only CHIC Punta Cana is located on the beautiful white sands of Uvero Alto. CHIC Punta Cana offers a unique experience where day merges into night and you can enjoy luxurious indulgences 24/7. CHIC serves up premium cocktails, masterfully crafted food, superior entertainment, and an elegant yet relaxed ambiance.
This all inclusive adults-only resort is perfect for couples, singles, and celebrations like anniversaries, honeymoons, and bachelor/bachelorette groups. In addition to bars and restaurants, groups will love the Genesis Casino located onsite. Here you'll find plenty of slot machines and table games for a great night out.
For those looking for relaxation, head to the spa. Here, you can indulge in tons of services that include hydrotherapy, massages, facials, and an extensive list of beauty treatments.
Check out the full list of participating hotels and resorts here or call us at 402-281-3022 in order to get more details.