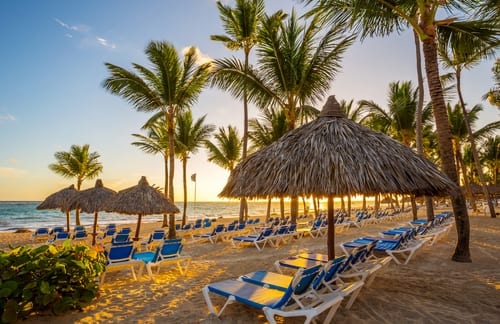 10 Mar

Book an All-Inclusive Resort in the Caribbean for Under $200 per Night

Want to escape the cold for under $200? Check out our list of the best all-inclusive resorts in the Caribbean with packages starting at less than $200 per night for 2 adults. With options in both Jamaica (Negril and Runaway Bay) and the Dominican Republic (Punta Cana and La Romana), you're sure to find the perfect fit for your getaway needs. Read on for more details!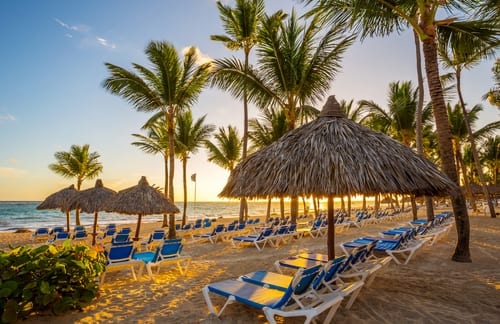 Caribbean Under $200: Dominican Republic
Riu Naiboa, Punta Cana
Firstly, this budget-friendly all-inclusive resort in Punta Cana offers a comfortable and laid-back setting by the beach, with lush surroundings and gorgeous views. Both the beach and the grounds are dotted with hundreds of palm trees on this relaxed property in the Caribbean. You'll find tons of restaurant options including buffets, live cooking stations, an Italian restaurant, grill, and steakhouse. In addition, the resort has 2 bars including one that is poolside.
Packages start at $166/night for 2 adults. 
Riu Bambu, Punta Cana
Next, Riu Bambu is the ideal budget-friendly all-inclusive property in Punta Cana for families. Set amidst exotic gardens and a white-sand beach, this inviting Caribbean resort also appeals to spa-lovers and dive enthusiasts. With a lively atmosphere appealing to various vacation styles, adults of the spacious resort will love the bungalow-style accommodations with a fully stocked mini-bar and liquor dispensers. Kids will love "RiuLand" kids club, the playground, and the kid's pool and waterpark.
Packages start at $184/night for 2 adults.
Iberostar Punta Cana
This large, family-friendly property in the Caribbean is like it's own little world right on the beach. Iberostar Punta Cana is a classic Caribbean resort, with over 400 rooms, childrens' programs, several pools, a great spa and much more. In addition, you'll find Caribbean-style shopping streets on the property, multiple specialty restaurants, and even a casino that stays open until 4 AM in peak season.
Packages start at $185/night for 2 adults. 
Iberostar Dominicana, Punta Cana
Located directly on the famed crystal blue waters of Playa Bavaro sits Ibersotar Dominicana. This classic Caribbean resort offers the ultimate family vacation, with incredible dining options, a great spa, winding pools, a casino open 24 hours, and separate children's pools and activities. Additionally, they offer several great specialty restaurants for dinner and nightly shows and entertainment options.
Packages start at $187/night for 2 adults.
Grand Bahia Principe, La Romana
The family-friendly Grand Bahia Principe in La Romana is a quaint, classic Caribbean property with traditional, understated dining rooms and a gorgeous beach.  You'll also find activitiy programs for both adults and kids, daily and nightly entertainment, a variety of restaurant options, sparkling pools and a relaxing spa. In addition, Lastly, the resort is home to an upscale casino and a Caribbean-style shopping and leisure center.
Packages start at $ 194/night for 2 adults. 
Grand Bahia Principe Turquesa, Punta Cana
Designed for families, spa-lovers, golf-enthusiasts and couples looking to tie the knot, this expansive Caribbean getaway provides all-inclusive comfort in an atmosphere ideal for rest, relaxation and romance. Sitting on the pristine white-sands of Playa Bavaro, this inviting getaway offers upscale, all-suite accommodations, plus dynamic bars and a selection of à la carte specialty restaurants. In addition, you'll find a first-class spa; sparkling swimming pools and children's areas. In addition, Grand Bahia Principe Turquesa offers 24-hour baby-sitting services and a supervised kids' activity club; romantic wedding services and picturesque ceremony locations, tennis courts and mini-golf, a casino, discotheque and daily entertainment at Pueblo Príncipe and a great location near a variety of local golf courses.
Packages start at $198/night for 2 adults. 
Caribbean Under $200: Jamaica
Samsara, Negril
Samsara All-Inclusive Resort in Negril has much to offer, including a classic Caribbean feel, gorgeous pool, and excellent staff. Perched atop Negril's famous cliffs, this modest getaway offers quaint accommodations with shuttle service to Seven Mile Beach. It also has a beach in front of it's pool, and you can dive right into the crystal clear waters from the cliffs of Samsara.
Packages start at $142/night for 2 adults. 
Legends, Negril
Fronting Negril's Seven Mile Beach, this colorful hotel offers budget-minded couples and singles comfortable accommodations amidst fragrant tropical gardens. Across the street from first class, duty-free shopping, guests will enjoy traditional dining at the beachfront restaurant and bar, a popular nightclub and a convenient cyber cafe. In addition, the resort has a great pool and gorgeous white-sand beach. Finally, enjoy many restaurant options and a great buffet open for breakfast, lunch and dinner. 
Packages start at $146/night for 2 adults.
Royal Decameron, Runaway Bay
Lastly, boasting gorgeous yet modest facilities, friendly services and a welcoming environment, this hotel provides a family-friendly oasis. Casual and relaxed, this beachfront resort features a supervised kid's clubhouse, a disco, and an enjoyable activities program in addition to nightly entertainment. From sun up to sun down, guests of all ages will enjoy visits to this classic resort.
Packages start at $186/night for 2 adults.
Book your own Caribbean getaway for under $200. Call us today for more information on these all-inclusive resorts under $200 per night for 2 adults. Call 402-390-9291 in order to book your stay. In addition, you can get started here.