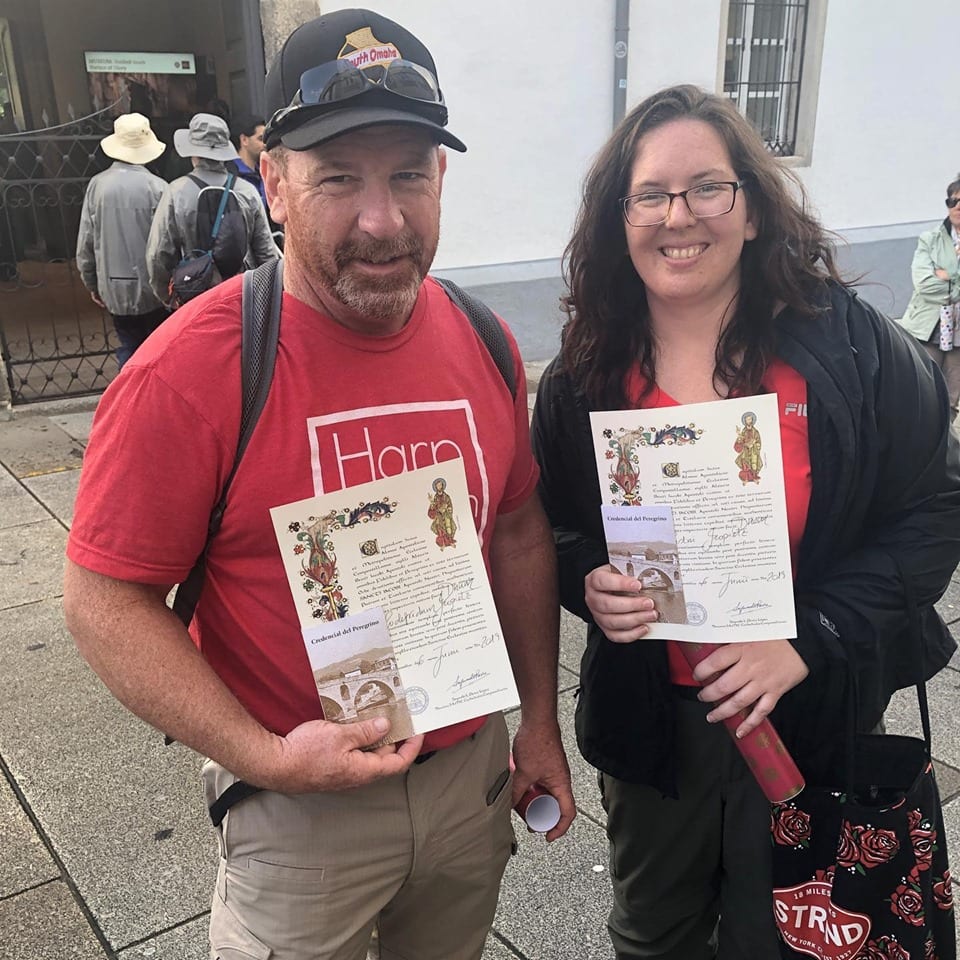 12 Jul

Camino del Norte: An 8-Day Hike Through Northern Spain: Part 2
Camino del Norte: An 8-Day Hike Through Northern Spain
Part 2: The Last 4 Days of the Hike + Santiago
---
Check out Part 1 of this epic hike through Northern Italy here. Part 1 left off in Miraz on day four. Here is the full itinerary in case you missed part 1:
---
5/26: 8 pm flight from Chicago to Bilbao, Spain
5/27 Land in Bilbao at 4:15 PM local time.
5/28: Stay in an AirBnB in the Old Town area of Bilbao.
5/29: Private transfer from Bilbao to Mondonedo, about a 4 hour trip.
5/30: Hike Mondonedo to Abadin: 16.8 km (10.4 miles).
5/31: Hike Abadin to Vilalba: 21 km (13 miles).
6/1: Hike Vilalba to Baamonde: 14.6 km (9.9 miles).
6/2: Hike Baamonde to Miraz: 13 km (8 miles).
6/3: Hike Miraz to Sobrado dos Manxes: 25.6 km (15.9 miles).
6/4: Hike Sobrado dos Manxes to Arzua: 22 km (13.7 miles).
6/5: Hike Arzua to Arca: 18 km (11.2 miles).
6/6: Hike Arca to Santiago: 21 km (13 miles).
6/7: Explore Santiago + afternoon trip to Padron via taxi.
6/8: Day trip from Santiago to Finisterre and other coastal towns.
6/9: Fly from Santiago to Dublin with a 5:05 PM departure and overnight in Dublin.
6/10: Fly from Dublin to Chicago, arriving 2 PM local time.
---
*Note: we are using 5/28, the group's first full day, as "Day One". This post will start with Day 7 (6/3), when Courtni and her crew hike from Miraz to Sobrado dos Manxes.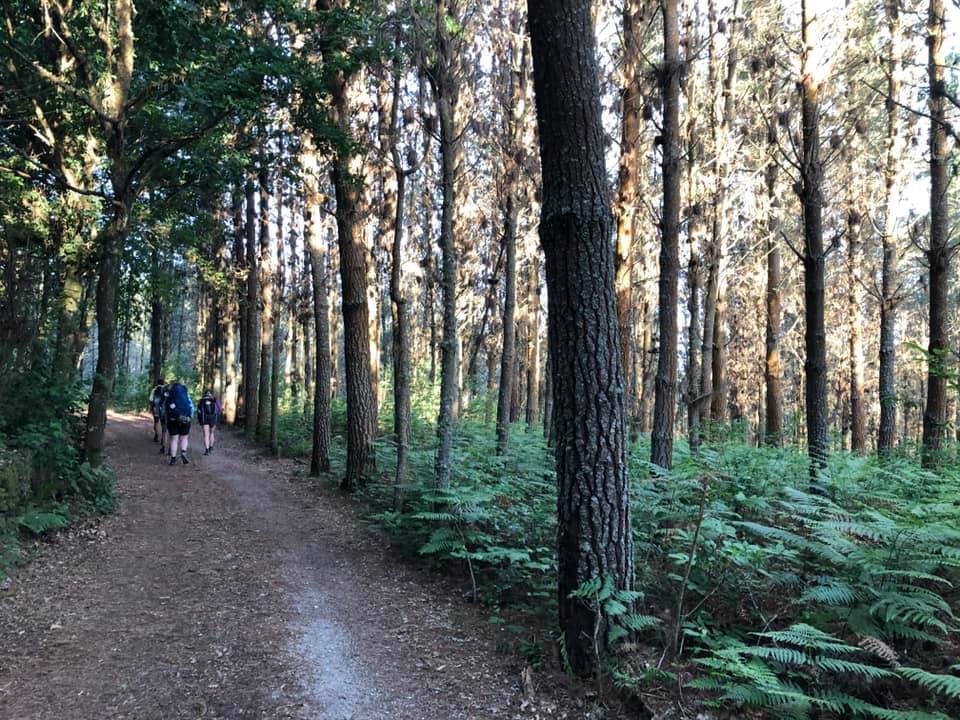 Day 7 (6/3): Hike Miraz to Sobrado dos Manxes
The hike from Miraz to Sobrado dos Manxes is a 25.6 km (15.9 mile) trek. This was the group's longest distance hiked in one day. Thankfully they left the heat behind in Miraz and enjoyed a more pleasant temp with light rain and misty conditions for their fifth day of hiking.
While there, the group stayed at the Monasterio de Santa Maria de Sobrado. The Sobrado dos Manxes is a monastery, which also offers an albergue for pilgrims. "It was definitely the most unique place we stayed – it had the s=usual bunk beds and decent shared bathroom facilities, but also beautiful stonework and courtyards and art," Courtni explained.
---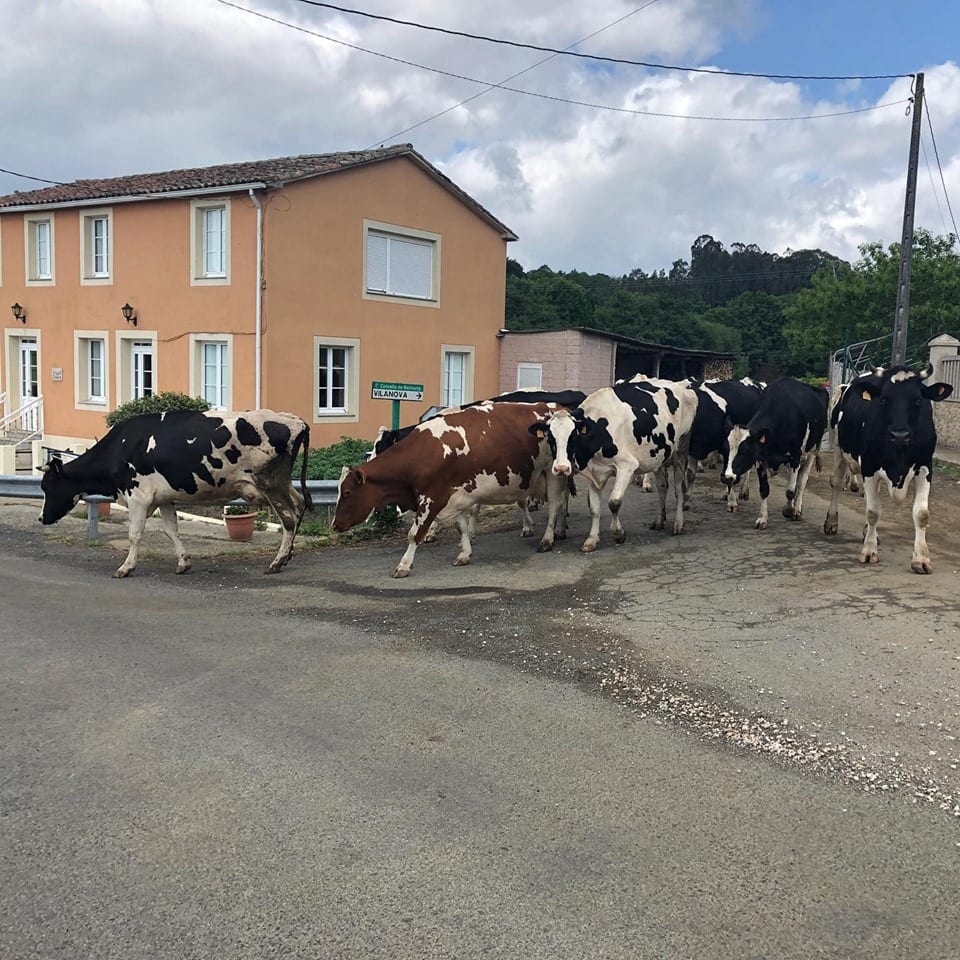 Day 8 (6/4): Hike Sobrado dos Manxes to Arzua
The group had more rain on their sixth day of hiking, which entailed 22 km (13.7) miles of terrain. They stayed at the .Albergue O Santo, which was a very nice and more private hostel. They also make and serve their own ice cream here! For dinner, they enjoyed a warm dish of paella at Bar o Casqueiros, just across the street from O Santo.
---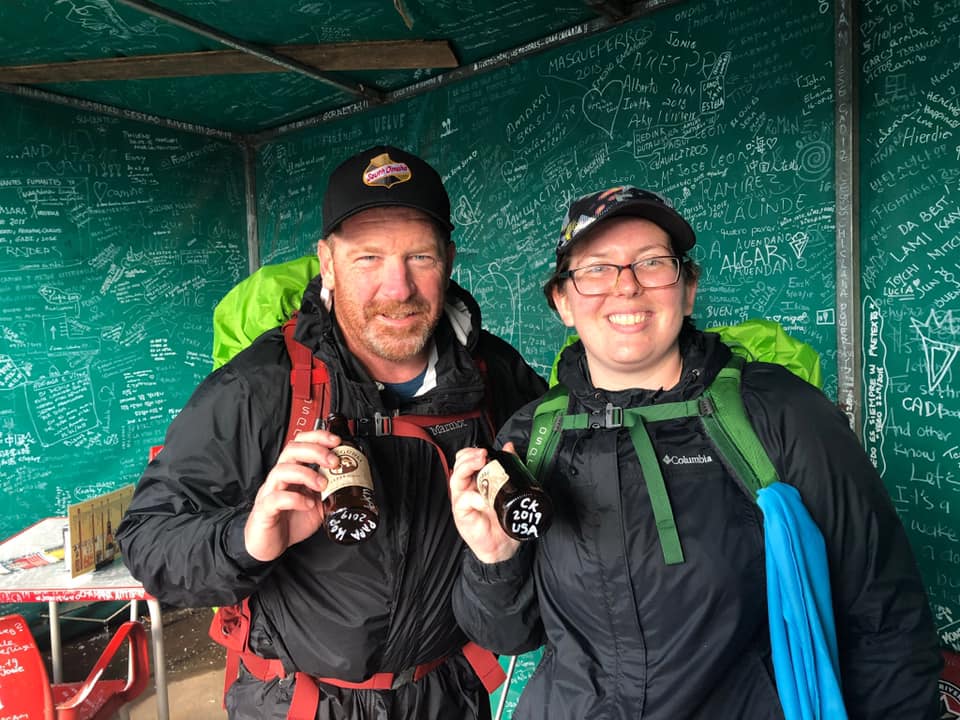 Day 9 (6/5): Hike Arzua to Arca
The hike from Arzua to Arca was 18 km (11.2 miles) and this was where the groups route on the Camino del Norte merged to join the Camino Frances, the original route of the Camino and the most popular. Courtni explained, "the difference was notable, with many more services along the route, as well as many more people. We were no longer alone on the trails for any period of time."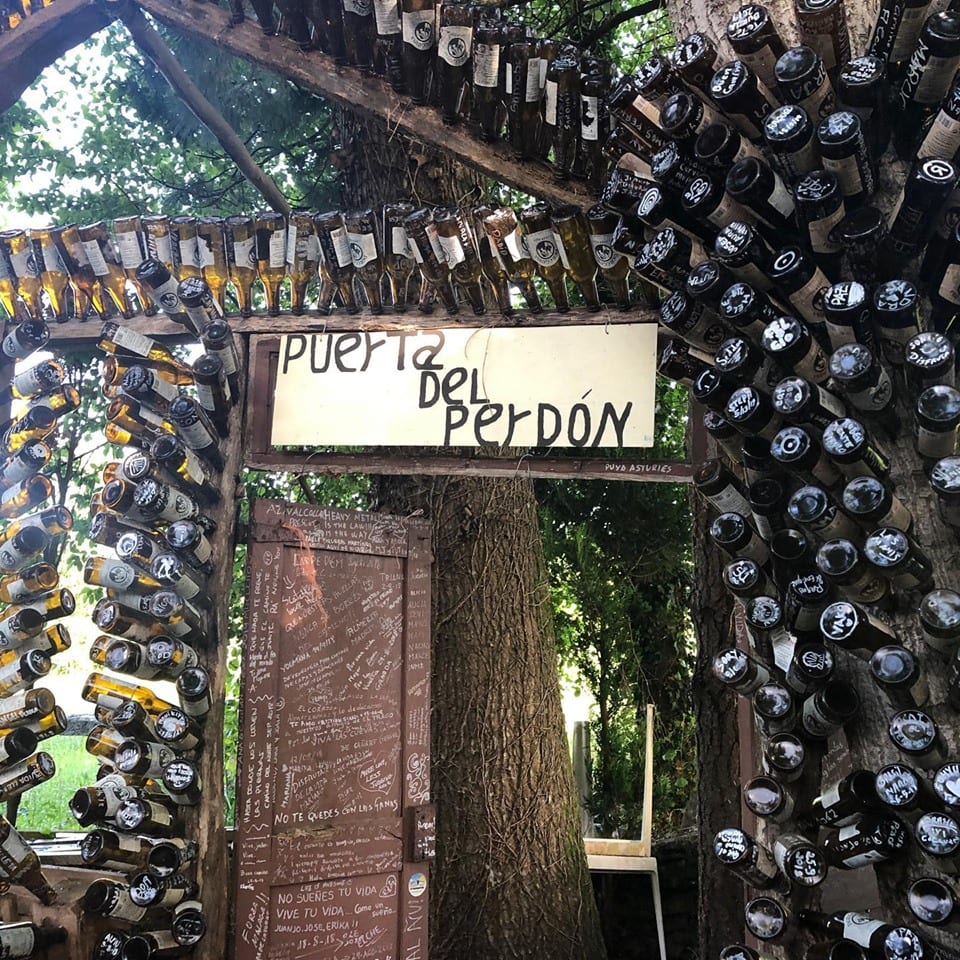 One highlight during this particular day was a a bar on the road selling Peregrino beer and encouraging drinkers to write on the bottle and then hang it on one of the many nails hammered into trees or other structures. "It was a gimmick that had us drinking a beer at 9:30 in the morning, but we appreciated the experience all the same," Courtni says.
That night, the group ate dinner at a place called  Taste the Way. They offered a fantastic gourmet menu for very reasonable prices. The group shared a  cheese plate and also ordered the menu del dia, which consisted of choices of two courses plus desert and wine, coffee or tea. The Galician soup was an overall favorite, especially since this was their third day of rainy hiking weather. That night they stayed in the Albergue Porta de Santiago.
---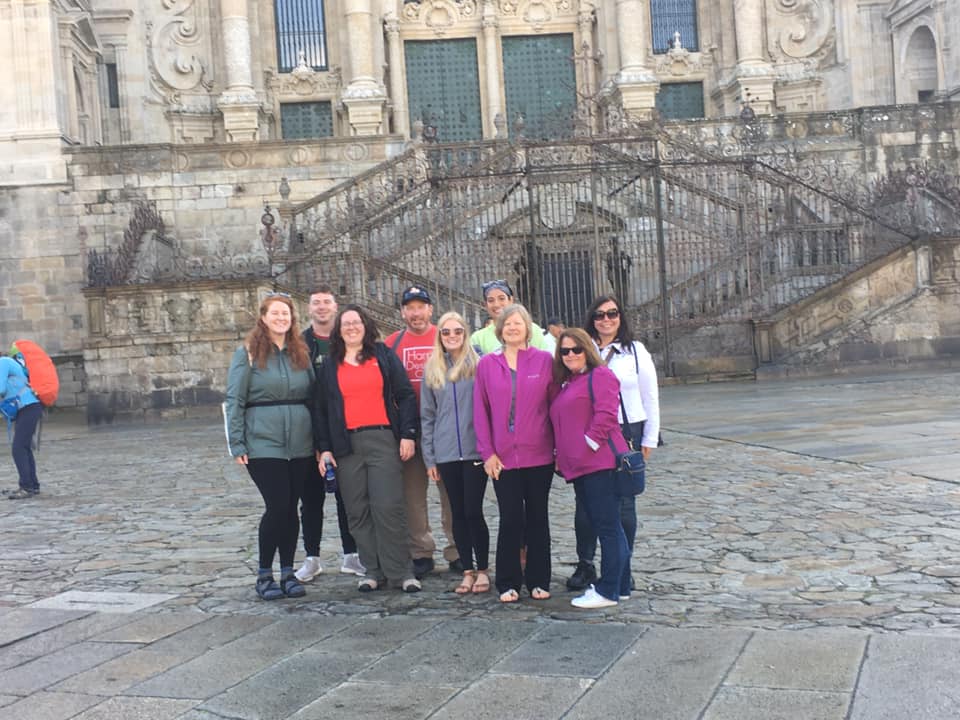 Day 10 (6/6): Hike Arca to Santiago
On this 21 km (13 mile) hike from Arca to Santiago, the group experienced lots of rain and extreme wind. Despite the unpleasant weather conditions, the group made it to the finish line: the Cathedral of Santiago. Now they can officially say they have walked the Camino de Santiago! When they arrived, they went to the pilgrim's office to turn in their passports and get their certificates. That night, they stayed in an AirBmB down the street from the Cathedral de Santiago Square.
---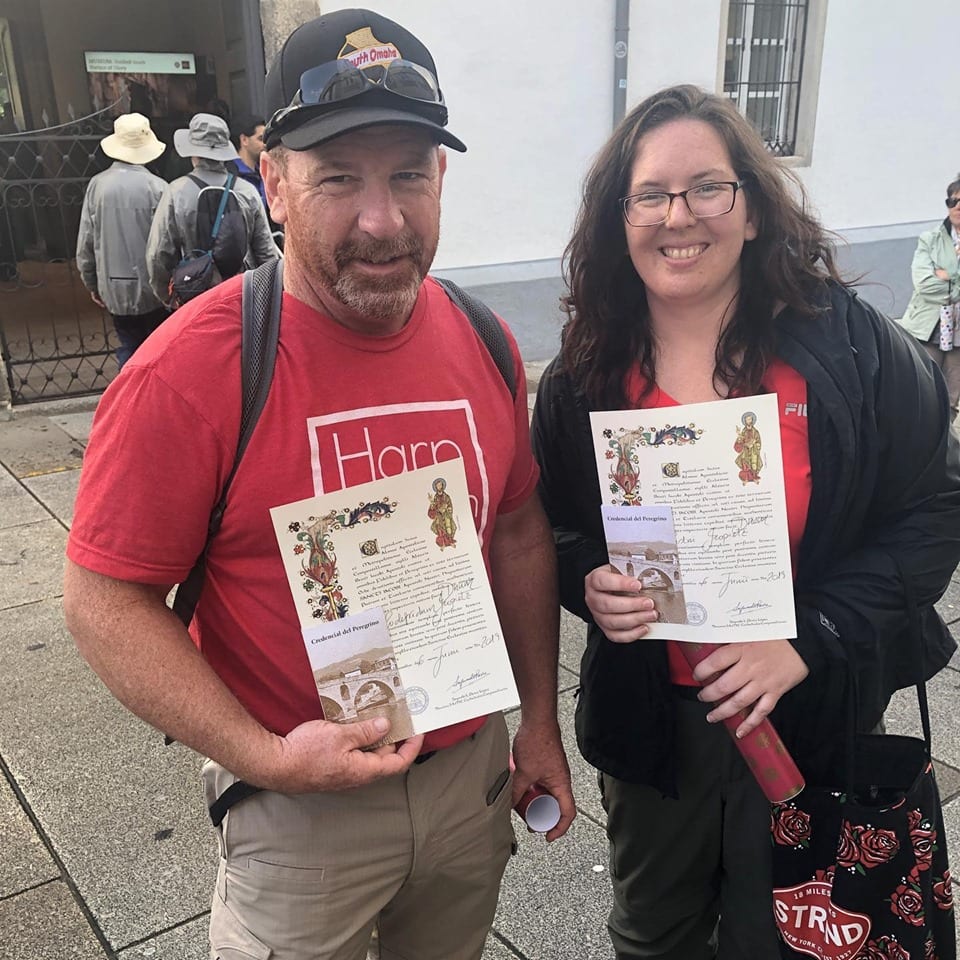 Day 11 (6/7): Exploring Santiago + Day trip to Padron
The next day in Santiago, the group picked up their compostelas/certificates and then explored more of Santiago. They were finally blessed with some sun and also got their first taste of churros with chocolate. Courtni and her crew spent the afternoon in Padron, a city about 15 miles south of Santiago. They ate the famous Padron peppers, explored the natural areas and walked along the water.
---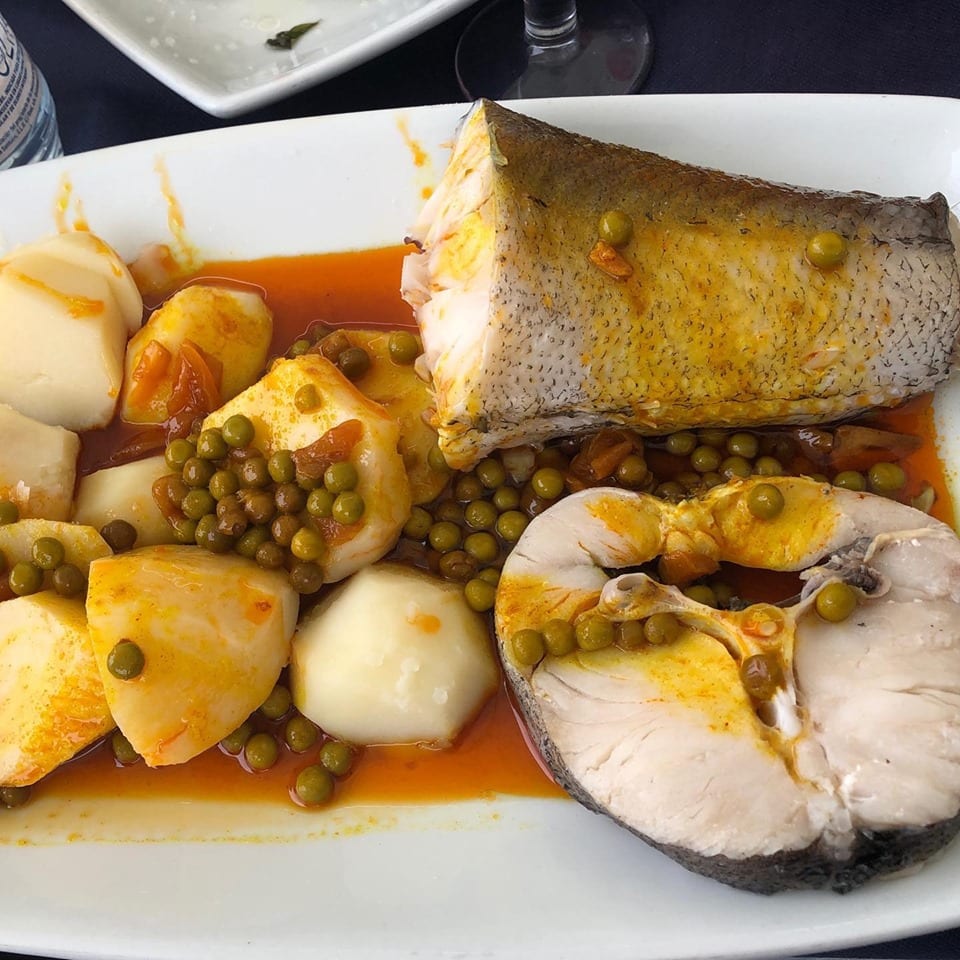 Day 12 (6/8): Santiago + Galicia Incoming Tour to Finisterre and other Coastal Towns
Click here for a full description of their Galicia Incoming tour to Finisterre from Santiago. In addition to this itinerary, this day was the group's opportunity to appreciate the amazing seafood offered int he region. They tasted Galician octopus, hake, razor clams, mussels, shrimp, scallops and more.
---
Day 13 (6/9): Time to Depart – but first, Dublin!
On 6/9 it was time to begin their journey back to the states. The group flew from Santiago to Dublin with an overnight layover in Dublin. They stayed in StayCity apartment in the Temple Bar area for the night. That night, they at at the Old Storehouse for dinner and enjoyed live Irish music and a lively atmosphere for a Sunday night.
---
Day 14 (6/10): Fly from Dublin to Chicago
Finally it was time to head back to the states. The group departed Dublin at 11:30 AM and landed in Chicago around 2 PM local time.
Want to learn more about the Camino del Norte or any of the towns Courtni's group visited along their route? Call us today at 402-390-9291 to speak to one of our Europe travel specialists or get started here.