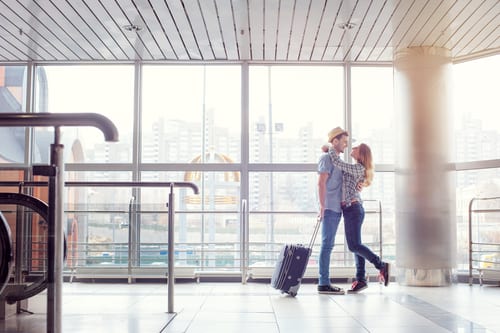 28 Oct

How to Choose Your Honeymoon Destination

Choosing a honeymoon destination should be the least stressful thing on your long list of wedding to-do's. However, with so many options it can become overwhelming quickly. We've developed a few tips for narrowing down your decision when it comes to the first trip as husband and wife.

Choosing your honeymoon destination can be difficult…Here are a few helpful tips.
1. List What is Most Important to You & Your Fiance
Some people live for the beach and want to be pampered on their honeymoon. Others want to explore a new town or do something more adventurous. The first step in deciding which destination to choose for your honeymoon is to complete a list with your fiance on what you are looking for in this trip. For example, if you've decided you want to go to an all-inclusive in Mexico, that's great! But what kind of honeymoon are you looking for? If you want to meet people and go out, look at resorts in Cancun's hotel zone where the nightlife scene is great.
2. Discuss Your Budget
When discussing your wedding budget, you should also discuss your honeymoon budget. How much do you want to spend? Do you want to go all-out or do something more affordable? Our Enchanted Travel honeymoon experts can work with any budget. We can help you narrow down your options so it is easier to decide which properties are affordable to you.
3. Discuss the Timing of your Honeymoon in Relation to your Wedding Day
Do you want to go on your honeymoon immediately after your wedding day? This is what my fiance and I did, and I highly recommend it! However, we did all-inclusive properties in Mexico where I didn't need to plan a whole lot. If we had wanted to go to Italy, for example, I would have put it off for at least a month or so. Another option that is becoming increasingly popular is a mini-moon. You can go somewhere local or stay somewhere for just 3-4 nights right after the big day, then plan something more extravagant and longer for later on down the road.
4. Consider the Season
If you have your heart set on a honeymoon destination, make sure to do your research on the best seasons to visit. For more details on that, visit our blog post: How to Choose Your Honeymoon Destination Based on Seasons.
5. Do You want to Honeymoon at an All-Inclusive Resort?
All-inclusive resorts are a great honeymoon option because many cater to couples, are adults-only, and most are built for relaxation and romance. Of course, there are plenty of other options when it comes to hotels if all-inclusive resorts aren't your thing. The biggest upside to an all-inclusive resort, in my opinion, is that everything is already paid for and you don't have to budget out spending money if you don't plan to leave the property much.
6. Talk to a Travel Agent
This is the most important piece of advice I can give to you. Yes, it is quite possible to book your honeymoon online these days. However. every resort you see is going to look great online. It's true: their are catfishes in the Online Travel Industry as well. Our agents have been almost everywhere, or have at least sent our clients to most destinations. We can give you first-hand knowledge on resorts you may be considering. Our Enchanted Travel experts can help you with your budget, narrowing down options based on your list of what's most important to you, and most importantly – take care of every last detail so you can focus on enjoying yourself.
Enchanted Honeymoons Travel | Choosing Your Next Honeymoon Destination is our Speciality
Planning your perfect honeymoon, destination wedding, romantic getaway or the perfect vacation of a lifetime has never been easier with Enchanted Honeymoons.
Contact us today to book your next getaway get started here. In addition, follow us on Instagram at @enchantedtravel_ and on Facebook for the latest travel news updates and stories.