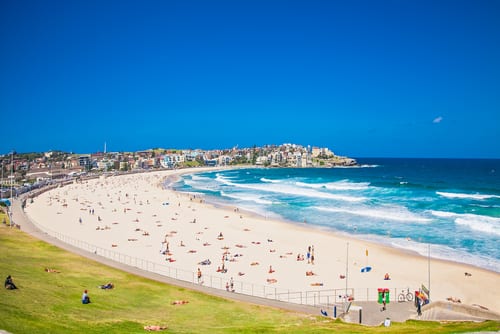 13 Jun

Everything You Need to Know before Traveling to Australia

Australia is a land of vast and varied landscapes, unique wildlife, and white-sand beaches. Read on for everything to plan and expect if you are visiting Australia.
Four of the most popular cities in Australia include Brisbane, Melbourne, Perth & Sydney. Brisbane is a modern city that sits on the Brisbane River, with many things to do for nature lovers, architecture enthusiasts, and foodies. Melbourne is the second largest city in Australia and is known as Australia's culture and style capital. Melbourne is a great place for families and shoppers. Perth is the sunniest Australian city. Here you will find many outdoor activities and plenty of beaches. Lastly, Sydney is the most famous and well-known Australian city. It is home to the iconic Sydney Opera House. Here you will find many family activities, sunny beaches, and adventure activities.
Brisbane
The Collective Market is one of the best Australian experiences in Brisbane. The market is held on Friday evenings as well as weekends, in Stanley Street Plaza. Here you will find live music, and goods for sale which include handmade jewelry and vintage clothing.
The South Bank is another area that cannot be missed in Brisbane. Here you'll find parks, restaurants, bars, shops, museums, and art galleries. You'll also find Streets Beach, a man-made beach right in the city center (pictured above).
You won't want to leave Brisbane without climbing Brisbane's Story Bridge. You will find an amazing view of the city at the top of the iconic Story Bridge. You can climb at sunrise, sunset, or any time of day and into the night.

For those interested in the art scene in Brisbane, you should check out GoMA and the Queensland Art Gallery.  GoMA is Australia's largest gallery of modern and contemporary art. Both GoMA and the Queensland Art Gallery are architectural wonders themselves, and inside you will find Australian and international art.
Roma Street Parkland is the world's largest subtropical garden within a city. Hike one of the many forest paths or marvel at the beautiful lake.
Melbourne
Can't-miss sites in Melbourne include the Royal Botanic Gardens. Here you will find One of the world's finest gardens located right in the heart of Melbourne. The area has many walking trails, amazing views, and activities like outdoor movie screenings in the summertime.
The Eureka Skydeck  is a great place to catch an amazing view from the 88th floor. This is the highest viewing platform in the southern hemisphere.
Werribee Open Range Zoo is located just 30 minutes from Melbourne's city center. Sign up for the special safari tour which takes you on a safari-style bus ride through the habitats of rhinos, giraffes, zebras, hippos, and more.
The Melbourne Museum is surrounded by beautiful gardens and greenspace. Many famous artworks can be found inside. They also have a children's gallery for kids. The Royal Exhibition Building is adjacent to the museum. Regular tours of the stunning build are available.
Lastly, do not visit Melbourne without hanging out at the Southbank Promenade. The Southbank Promenade (pictured above) sits on the Yarra River and is full of indoor/outdoor restaurants, live entertainment, an arts and crafts market, and many festivals. Many theatres are located here.
Perth
First-time visitors to Perth must see Kings Park & the Perth Botanic Garden(pictured above). This is one of the biggest city parks in the world with amazing views of the Swan and Canning Rivers and the city skyline.
The Seaside Port of Fremantle is located just 30 minutes from Perth's city center. This is home to the Maritime Museum and Shipwreck Galleries. 
Heirisson Island is located right at the main part of the city and in the middle of the Swan River. It is a quiet and relaxing island with lots of bird watching and its own population of kangaroos.
Sydney
Lastly, Sydney is one of the most well-known cities in Australia. Bondi Beach is one of the world's largest beaches and is located in Sydney.. It is a great place to watch surfers and to learn how to surf yourself.
Sydney Harbour Bridge is a huge structure (pictured above) that can be seen from almost anywhere in Australia. The best way to experience it is on foot; climb the stairs up the bridge which leads to a footpath and a bike path.
One of Australia's most famous landmarks is located in Sydney. The Sydney Opera House is a World Heritage-listed building. The complex is huge and beautiful from the outside and on the inside it houses five performance spaces for dance, opera, theatre, and concerts. The best way to experience it is to attend a performance, but they also offer guided tours.
Lastly, The Royal National Park is home to great surfing beaches (11 total beaches), family-friendly restaurants and activities, bush and biking trails, and serene swimming holes.
Weather & Climate in Australia
The seasons in Australia are opposite to those in the Northern Hemisphere:
Spring is September – November
Summer is December – February
Fall is March – May
Winter is June – August
Australia does not see too many extremes in temperatures, but you should be aware of the distinctions between seasons here and down under. There are two broad climate zones in Australia: about 40% is in the Tropical Zone (north); the remaining 60% lie in the Temperate Zone. This includes Brisbane, Sydney, Melbourne, & Perth.
Passport & Visa Requirements
You will need a passport that is valid for at least 6 months after the completion of your trip to enter Australia. You will also need a pre-arranged entry authority known as an 'ETA' (Electronic Travel Authority). An ETA is equivalent to a visa, but there is no stamp or label in your passport.
The tourist ETA is valid for multiple entries into Australia (each entry to a maximum of three months) over a period of one year. A business ETA is available, which allows multiple entries into Australia for the life of your passport. Restrictions apply. You should obtain your ETA at least ten days prior to your trip.
Direct Flights between New Zealand & Australia
New Zealand has five international airports: Auckland (AKL), Wellington (WLG), Christchurch (CHC), Queenstown (ZQN) and Dunedin (DUD). All of which operate flights direct between Australia. Flying direct not only tends to be the most inexpensive way to travel between New Zealand and Australia, but it is a huge time-saver too. 
As the largest international airport in New Zealand, Auckland has frequent flights to all of the destinations mentioned above. Wellington has frequent direct flights to/from Sydney and Melbourne and less-frequent flights to/from Gold Coast, Canberra and Brisbane. Christchurch is the 2nd largest international airport in New Zealand w/ regular flights operating to/from Sydney, Melbourne, Brisbane & the Gold Coast. Flights to Perth operate 2x/week. Lastly, a number of airlines fly between Queenstown and Australia every day, mostly to Sydney and Melbourne.
Call us today at 402-281-3022 to plan your own trip to Australia or to learn more about traveling to this gorgeous country!