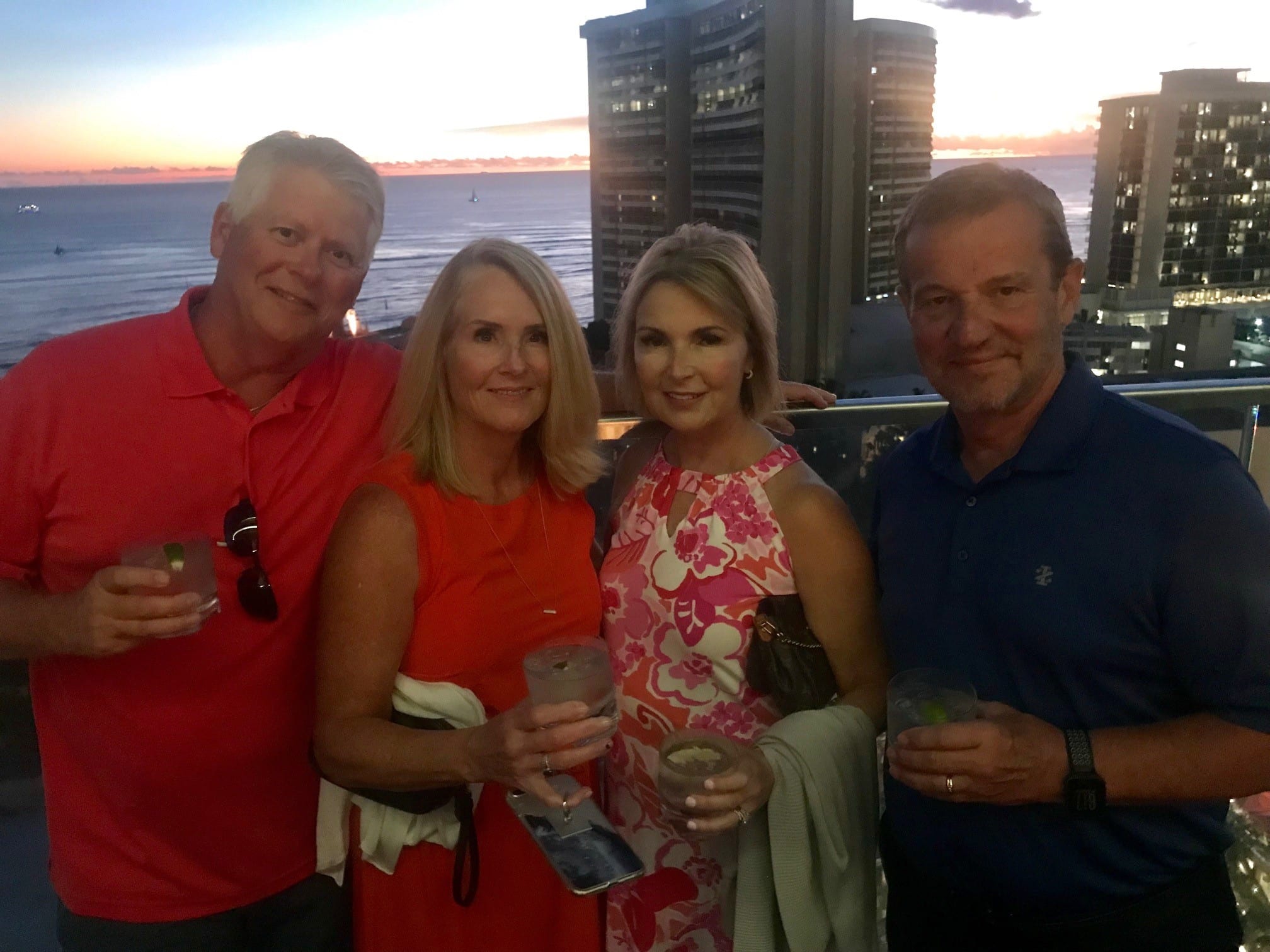 21 Nov

Kem & Lori's Hawaii Vacation 2019
Enchanted Travel owners Kem & Lori recently returned from their Hawaii Vacation trip. During their time in Hawaii, they stayed in Maui, the Big Island of Hawaii, and Oahu. Read on for everywhere they stayed, some of their activities and the sites they visited, and their favorite restaurants on the islands.
Kem & Lori's Hawaii Vacation 2019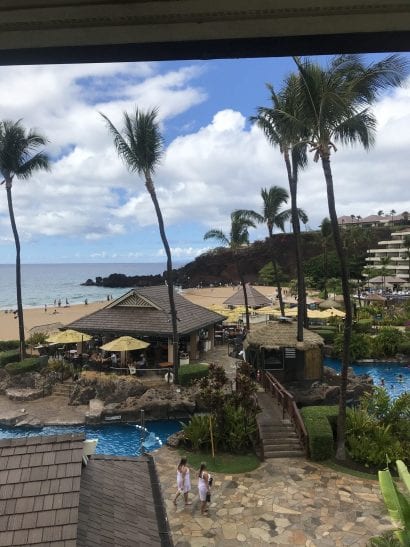 First Stop: Maui, Hawaii
Sheraton Maui Resort & Spa
Kem & Lori flew into Maui and stayed four nights at the Sheraton Maui Resort & Spa. This property is located on 23 oceanfront acres at the legendary Pu'u Keka'a, aka Black Rock on Ka'anapali Beach. This is an amazing location and Black Rock is known for having some of the best snorkeling in all of Hawaii.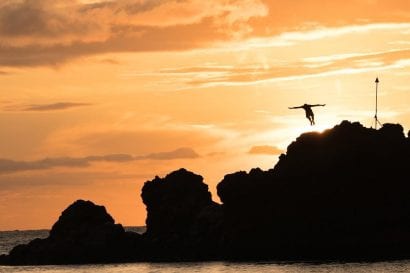 In addition to being an amazing site for snorkeling, it is also a popular place for cliff-diving. Every night at sunset, the resort holds its iconic cliff dive ceremony, a tradition since the resort's opening in 1963. On each of the three islands they visited, they did a city tour.
Sheraton Maui is also within walking distance to Whalers Village. Here you'll find great restaurants and shopping right on the water.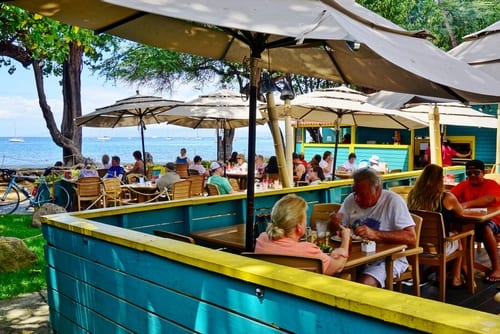 Lahaina is also nearby. This quaint little fishing village is a great place to shop, eat, and peruse art galleries.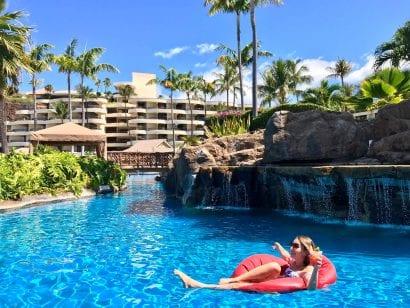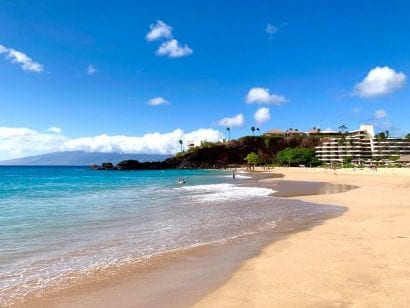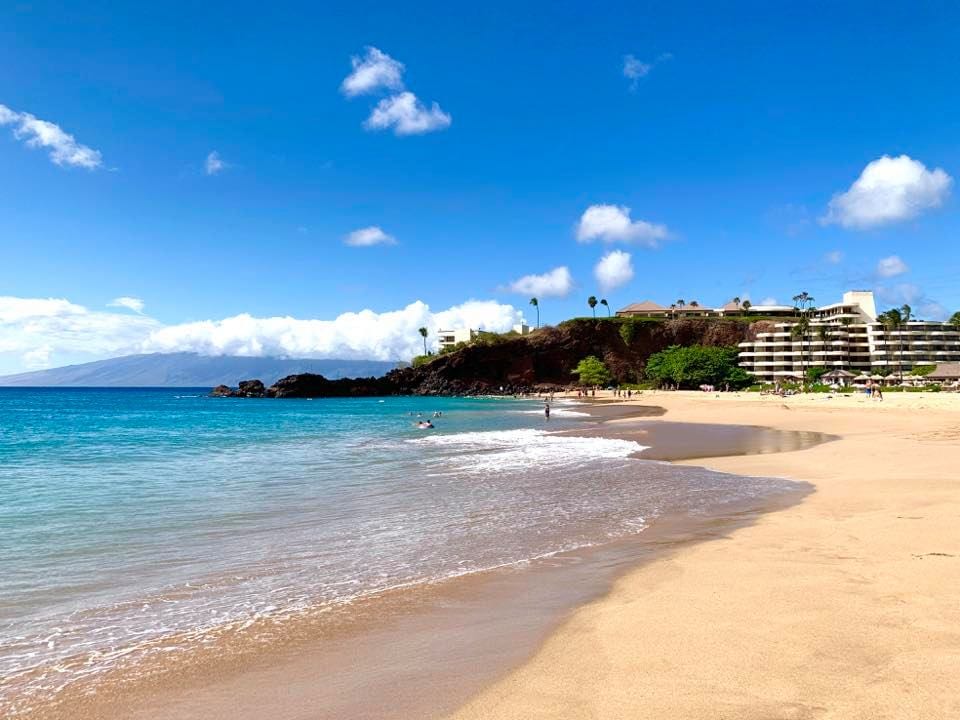 The biggest draws for this property besides location and Black Rock include the amazing Ka'anapali Beach – the largest in Maui – and the gorgeous 142- yard lagoon-style pool.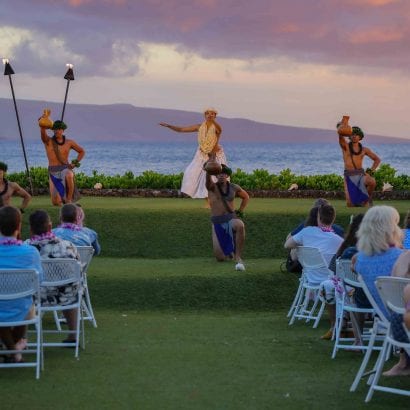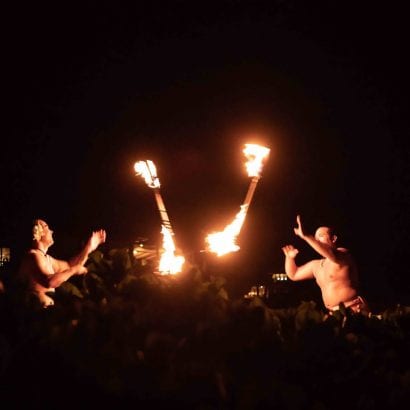 It is also home to the Maui Nui Lu'au, featuring music, dance and history of the islands right at the foot of Black Rock. "We have been to 3 luaus before and this is by far the best one," Lori says. Read more about this property in our recent blog post: A Review of the Sheraton Maui Resort & Spa.
Maui Restaurants
Kem & Lori's favorite restaurant in Maui was Hula Grill Kaanapali in Whalers Village. Located right on the water's edge, Hula Grill serves fresh local fish and farm-to-table dishes. This restaurant is a three-time recipient of the Aipono Friends of Agriculture Award. This award is given by Maui's mayor for supporting local agriculture. Popular dishes include Hawaiian Ceviche and Crab Topped Macadamia Nut Crusted Mahi-Mahi. Delicious!
Kem & Lori also dined at Mama's Fish House in Kaua Cove, Maui for dinner one night. This famous Maui staple is family-owned restaurant that opened in 1973. You'll find amazing seafood here and a great atmosphere close to the beach.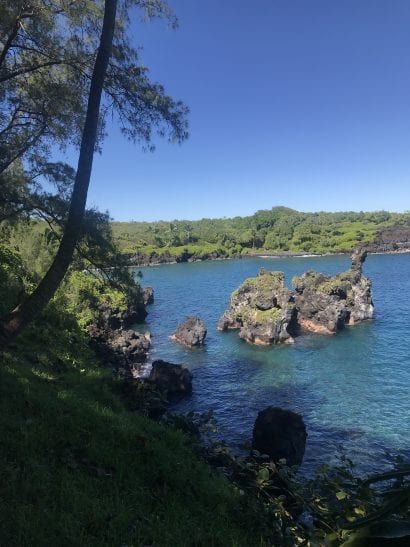 The Road to Hana
In addition to exploring Maui's great restaurant scene and Sheraton Maui's famous lu'au, they also experienced the Road to Hana in Maui. One thing to note is that they have driven this themselves before, and also rented a car for this trip on each of the islands. However, this time they booked a Road to Hana tour. Lori recommends this tour because of all the curves and cliffs. In addition, a tour guide is able to explain what everything is and knows all of the best areas to stop.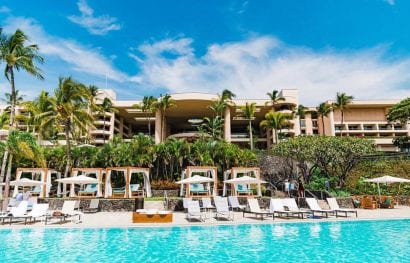 Stop 2: The Big Island of Hawai'i
Westin Hapuna Beach Resort
After spending four nights in Maui, Kem & Lori flew to the Big Island of Hawaii. Here they spent the next four nights at the Westin Hapuna Beach Resort in the Waikoloa area. You can read our full review of this Hawaii vacation resort here: A Review of the Westin Hapuna Beach Resort on the Big Island in Hawaii. This property is home to one of the only great beaches on this island.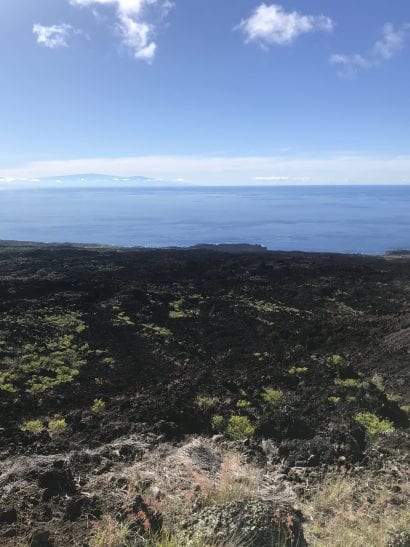 The Lava Fields
Here they visited the Lava Fields of Hawai'i, picutred above. Although there was no flowing lava, you can still see many volcano-related things such as the Hawaii Volcanoes National Park and the lava tubes. These "lava tubes" are caves that can be explored on your own. Alternately, you can book a spelunking guided tour into the caves if you want.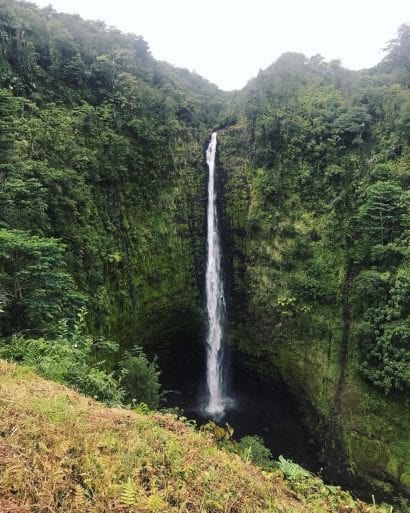 Akaka Falls State Park
They also visited Akaka Falls State Park on the Big Island. Here you can experience a self-guided walking tour through the lush, tropical vegetation to see the cascading Kahuna Falls and teh free-falling Akaka Falls, which plunges 442 feet into a stream-filled gorge below.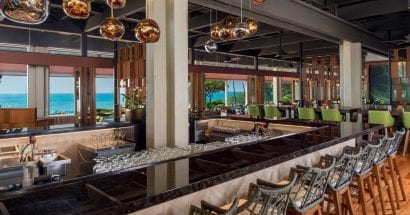 Manta Restaurant
Their favorite restaurant on the Big Island was Manta. This is located at the Westin Hapuna's sister property which is right next door. Here you can watch the giant manta rays feed which they loved.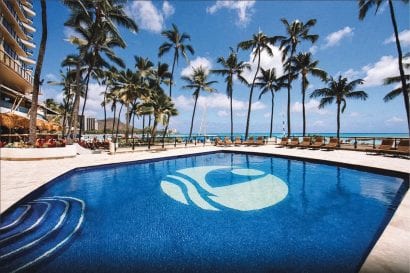 Stop 3: Oahu, Hawaii
Outrigger Waikiki Beach Resort
After four nights on the Big Island, Kem & Lori flew to Oahu for their final two nights in Hawaii. Here they sated at the Outrigger Waikiki Beach Resort. This is located on the legendary Waikiki Beach with views of Diamond Head. It sits on Kalakaua Avenue which has tons of entertainment, shopping and dining.
Pearl Harbor Tour
While here, Kem & Lori's friends experienced the Pearl Harbor Tour (Kem & Lori have already done this multiple times so they opted out of it this time).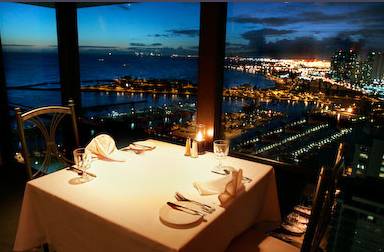 Top of Waikiki Revolving Restaurant
Their favorite restaurant here was Top of Waikiki Revolving Restaurant. The restaurant is round and turns for 360 views of the water and city below. It is also home to a great bar, SkyView which is made completely of glass. A truly unique dining experience with breathtaking views!
Enchanted Honeymoons Travel | Destination Travel | Best Packages
Our ultimate goal is to make the destination wedding planning process as stress-free as possible. Planning your perfect honeymoon, destination wedding, romantic getaway or the perfect vacation of a lifetime has never been easier with Enchanted Honeymoons.
Contact us today to book your next getaway get started here. In addition, follow us on Instagram at @enchantedtravel_ and on Facebook for the latest travel news updates and stories.