30 Jul

Mexico Travel: Everything you need to know
Mexico Travel: Everything you need to know.
Mexico is one of the top ten countries in the world for tourism (World Travel & Tourism Council) and its doors remain open to American tourists amid the coronavirus. Our travel industry colleagues have been busy getting back to top resorts throughout the region and have been very impressed with how the hotel and airline industry have handled big changes in safety, health and other precautions.
Let's take a closer look at Mexico Travel & what areas of Mexico are open for tourism.
Quintana Roo – Cancun, Playa del Carmen, Riviera Maya, Akumal & Tulum
Quintana Roo is a tourist hotspot on the Caribbean side of Mexico. It is home to top Mexico travel destinations including Cancun, Playa del Carmen and Tulum. Quintana Roo plays a huge role in the country's tourism economy with 110,000 hotel rooms. This is the highest in Mexico! They reported 22.8 million tourists in 2019.
Marisol Vanegas, the state's tourism secretary, said that, as of May 18, Quintana Roo began implementing new health and safety standards for any sector related to tourism including hotels, restaurants, bars and tour companies. Every business must receive a certification indicating that it has met these standards before reopening.
And according to the 
WTTC website
, Carlos Joaquín, Governor of Quintana Roo, said: "Cancun and the Mexican Caribbean have implemented the new safety measures for travelers that WTTC has recognized and approved through the Safe Travels stamp."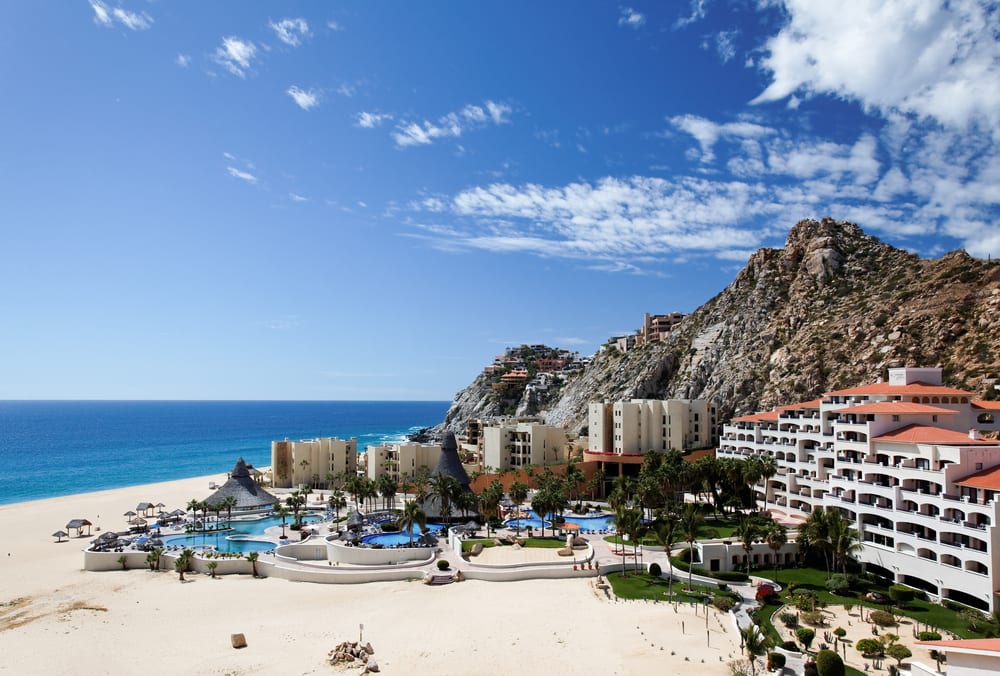 Los Cabos
Los Cabos is located on the Pacific side of Mexico, at the southernmost tip of Baha California Sur. It offers 18,000 hotel rooms and hosted 3 million visitors in 2019. Cabo began reviving their tourism industry in June with a five-phase plan: First, they focused on healthy and safety guidelines. Most importantly, they issued "Clean Point" quality certifications to travel suppliers that met high hygiene standards.
Hotels in the region began accepting visitors in the beginning of July. The international terminal at the airport also reopened. In the coming months, travelers from within Mexico and internationally are welcome. By the first quarter of 2021, they hope to restore 60 percent of air connectivity and 80 percent of bookings.
Riviera Nayarit
Riviera Nayarit is located north of Puerta Vallarta. This popular beach destination for Mexico travel began gradually reopening hotels, restaurants and businesses on June 15. They were strict on abiding by protocols and health measures and began operations at 30 percent capacity. The tourism bureau debuted a Tourism Wellness and Best Practices Guide with new sanitation protocols for travel related entities like hotels, tour operators, spas, restaurants and airports. These standards are a compilation of hygiene guidelines from various sources including the World Health Organization, the Center for Disease Control and Prevention and a handful of countries including the US and Canada.
Book your stay in Mexico now! Check out these amazing deals to Cancun, Akumal & Tulum. Call us at 402-390-9291 to get started.
Enchanted Honeymoons Travel | Destination Travel | Best Packages
Our ultimate goal is to make the destination wedding planning process as stress-free as possible. Planning your perfect honeymoon, destination wedding, romantic getaway or the perfect vacation of a lifetime has never been easier with Enchanted Honeymoons.
Contact us today to book your next getaway get started here. In addition, follow us on Instagram at @enchantedtravel_ and on Facebook for the latest travel news updates and stories.