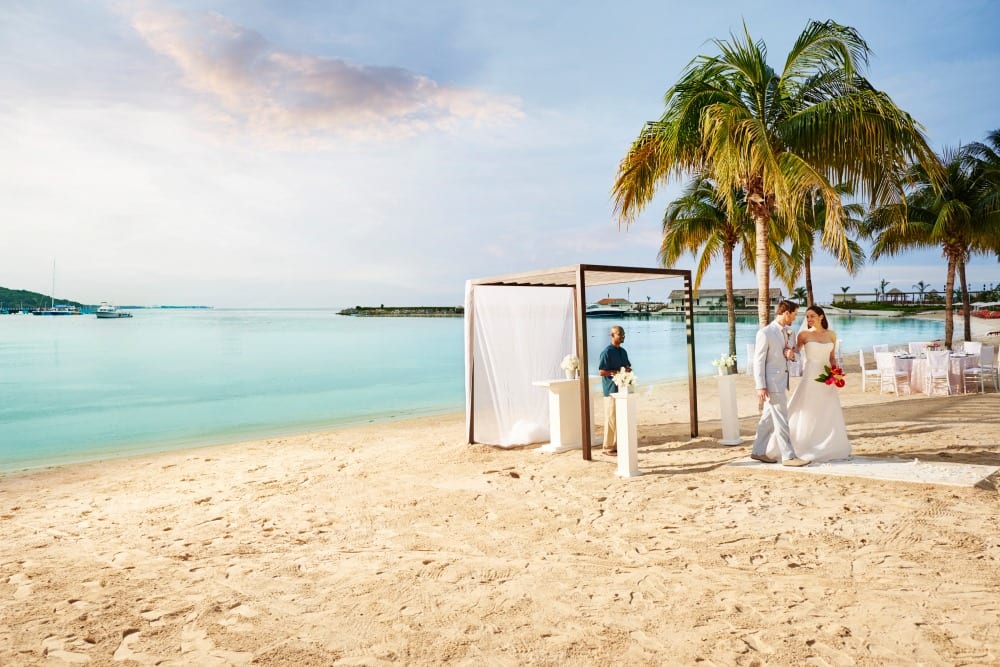 10 Dec

Planning a Destination Wedding: The Good, the Bad & the Budget

Destination weddings are becoming increasingly popular over the years, with couples wanting to turn their big day into a long weekend for their friends and families. That's just one of the great things about planning a destination wedding! However, there are of course a few drawbacks to destination weddings as well. And of course, the budget is something that needs to be considered right away whether you are getting married in your hometown or on a remote island. Let's take a look at the good and the bad that come along with destination weddings, as well as the budget.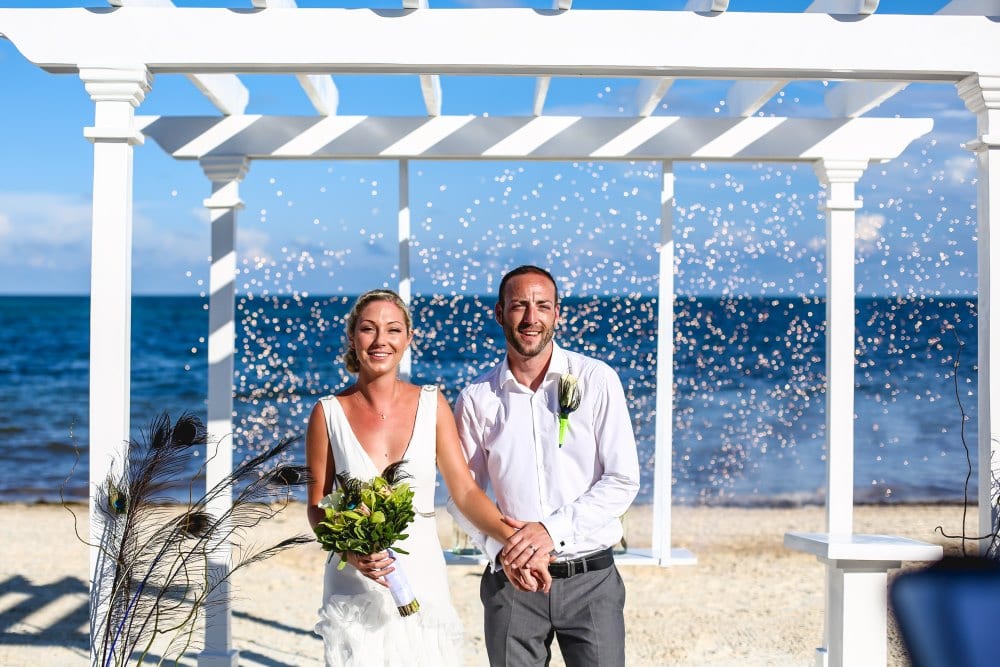 Destination Weddings: The Good
1. A Complete Wedding Package
Resorts and tour companies pride themselves on providing packages that make the wedding planning process stress-free and simple. At Enchanted Travel, we add an extra level of service when you book a package with one of our Destination Wedding Experts. In addition to your Enchanted Travel Destination Wedding Expert, most resorts that we work with offer their on-site wedding consultant free of charge. We work closely with these on-site consultants to help you coordinate all of the ceremony essentials like a marriage license, flowers, officiant, etc.. At many properties, the on-site wedding coordinator also serves as your concierge and can organize activities for your guests outside of the ceremony and reception.
2. Smaller Guest List
If you want to keep things on the less expensive end, a smaller guest list is the best place to start. This goes for any wedding, but a destination wedding almost guarantees that you will have less 'Yes' RSVP's than if you held your nuptials in your hometown. This means that in most cases, spending a luxurious wedding weekend in a beautiful location can cost less than a plated dinner reception in your home state. Another upside is that your smaller guest list will most likely consist of the people you actually want to be there, and not your Mom's neighbor's daughter's new boyfriend you've never met.
3. You Can Celebrate for More Than One Day
I don't know about all brides, but my wedding day was a complete blur. With a destination wedding, you'll have days before and/or after your wedding to continue celebrating with your loved ones. You can also turn it into a complete multi-day celebration with special events like a welcome cocktail hour, day excursions, day-after brunch and more.
Planning a Destination Wedding: The Bad
1. Planning Remotely Can be a Struggle
If you refer back to #1 under 'The Good' category above, there is one thing that you must keep in mind. These complete wedding packages are only offered at resorts that specialize in them. There are many to choose from, but if you decide to book your destination wedding on a remote island or in, say, Paris, the same rules do not apply. If you choose to arrange your destination wedding on your own, you should consider hiring a professional wedding planner unless you are extremely organized with a lot of time on your hands.
In addition, you may run into complications when trying to get a marriage license for a destination wedding in another country or even just another state. Your Enchanted Travel Expert can help you over these speed bumps, but it is a much more stressful process.
2. People You Care About May Not Make It
I got married in September in Chicago and both my husband and I are from Omaha, Nebraska. While this isn't what most would consider a destination wedding, it still required guests to pay for gas or airfare plus hotel stay. Because of this, some of the people we wanted at our wedding were not able to make it. The farther away and more expensive the destination is, the less likely you are to have everyone you love in attendance. However, you will have more time to spend with guests who do attend if you make your destination wedding into a wedding weekend, which is what we did in Chicago!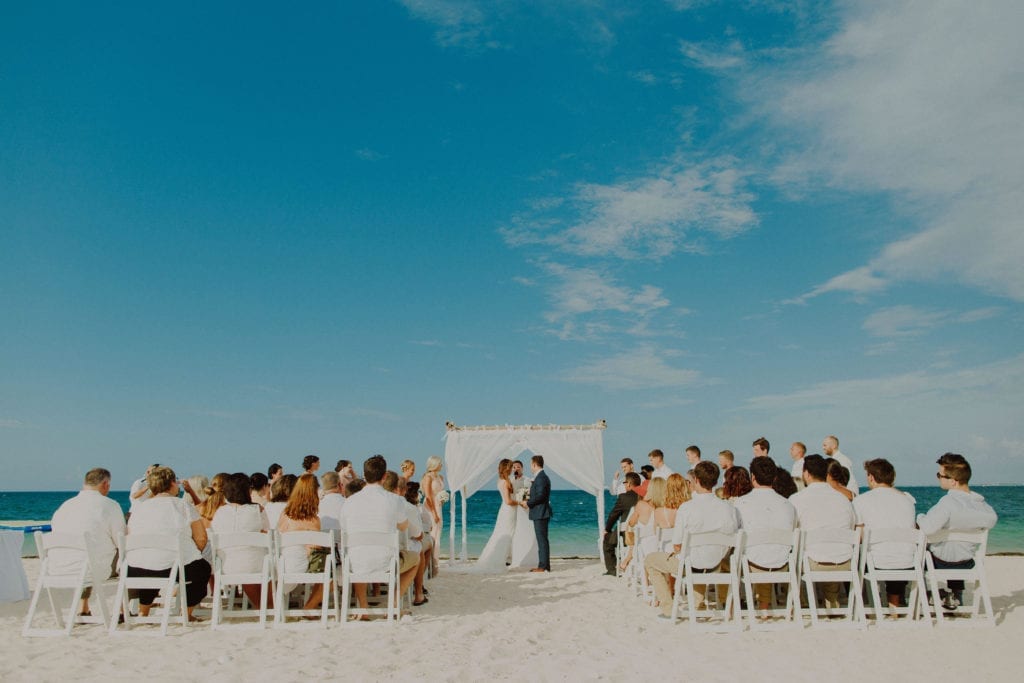 Planning a Destination Wedding: The Budget
Now we get down to what your dad probably thinks is the most important part of your wedding day: the budget. The good news is that if you do opt for a destination wedding, you'll most likely save money. Let's take a look at some factors that effect the budget.
1. Inclusive Packages Keep Budget Manageable
Generally speaking, destination weddings cost a fraction of what a traditional wedding costs because many resorts and tour companies offer lower priced, inclusive packages that include essential vendors and services. This was mentioned above under 'The Good'. In addition, you won't need to hire a wedding planner if you choose a resort with packages that have this built in.
2. Less Guests Equals Less Cost
Also mentioned above, the easiest way to cut costs when it comes to planning any wedding is to have a smaller guest list. Food and drinks are typically one of the most expensive items in your budget. Cut your guest list in half and voila! You'll pay less and still have that dream wedding you've always envisioned.
3. All-Inclusive is the Way to Go
As we mentioned, food and beverage are two of the most expensive items when it comes to planning a wedding. A smaller guest list helps in any wedding situation. However, to save even more money, you absolutely must consider an all-inclusive resort for your wedding day. Your guests' food and drinks will be completely covered for the entirety of their stay. Plus, usually destination wedding guests pay for their own room and the price of the room includes the all-inclusive food and booze. So really, you're not even paying for it at all.
Enchanted Honeymoons Travel | Destination Travel | Best Packages
Our ultimate goal is to make the destination wedding planning process as stress-free as possible. Planning your perfect honeymoon, destination wedding, romantic getaway or vacation of a lifetime has never been easier with Enchanted Honeymoons.
Contact us today at (402) 390-9291 to book your next getaway or get started here.
Recent Destination Wedding Articles