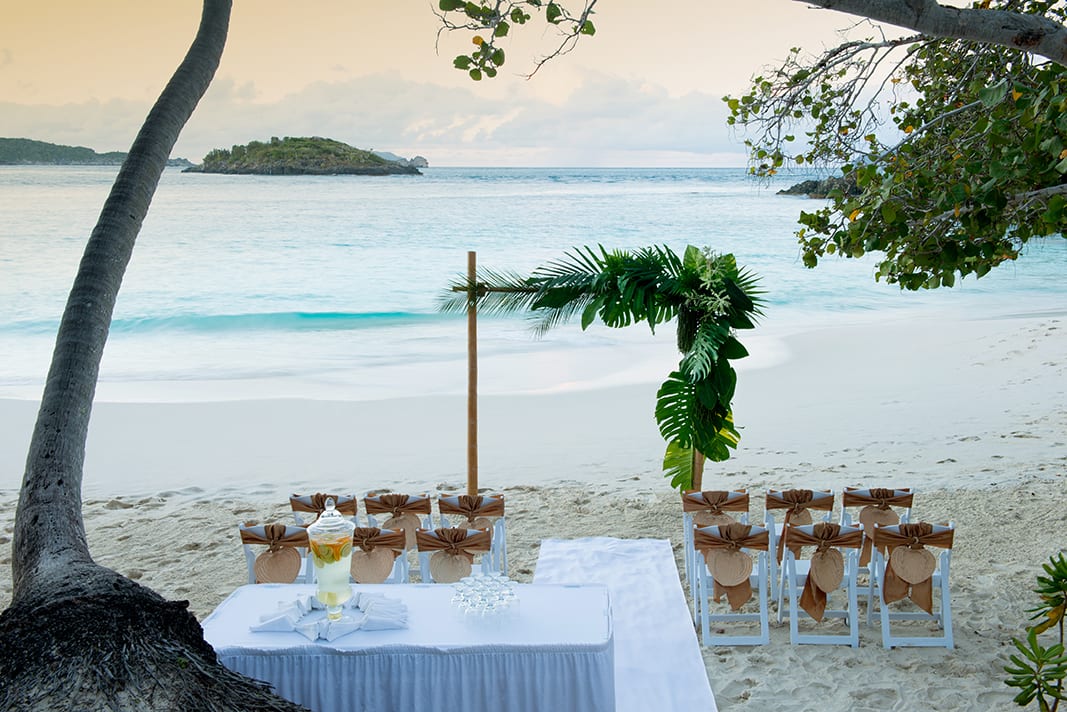 11 Dec

Private Beach Wedding Venues

There are few things more romantic than a private beach wedding. What could be better than a secluded stretch of sand with only you and your closest loved ones?
Let's take a look at some of the most private beach wedding venues.
Marco Island Marriott Beach Resort, Golf Club & Spa – Marco Island, Florida
This is a truly unique wedding venue in the U.S.! Marco Island is located just south of Naples. It is famous for its breathtaking and large white beaches. Marco Island Marriott Beach Resort has one of the most popular ceremony venues on this beach: a thatch-roof Tiki hut. It is one of Florida's largest private strands, so you don't have to worry about any passerbys or crashers.
For even more seclusion, the resort recently introduced a program in which couples marry in a national wildlife refuge on the sparsely populated Caxambas Island. How do you get to this island you ask? The resort's 55-foot pontoon can take you and up to 49 guests on a 15-minute ride to gorgeous Cape Romano Beach on the island.
Fairmont Mayakoba – Riviera Maya, Mexico
Located on the Yucatan Peninsula, about an hour south of Cancun, sits the Fairmont Mayakoba Riviera Maya. The 401-room resort may not seem like the most private beach for your vows, but you'd be surprised. It is surrounded by 45 acres of mangroves and freshwater lagoons, plus a 700-foot, white-sand beach. Opt for the shell-strewn aisle on the far end of the beach for the most privacy. The reception can be thrown right on the sand, creating one of the most elegant beach parties you can imagine. Alternately, reserve the lagoon-facing infinity pool. Here, you can arrive via the lagoon on a thatch-roof boat complete with  "just married" sign.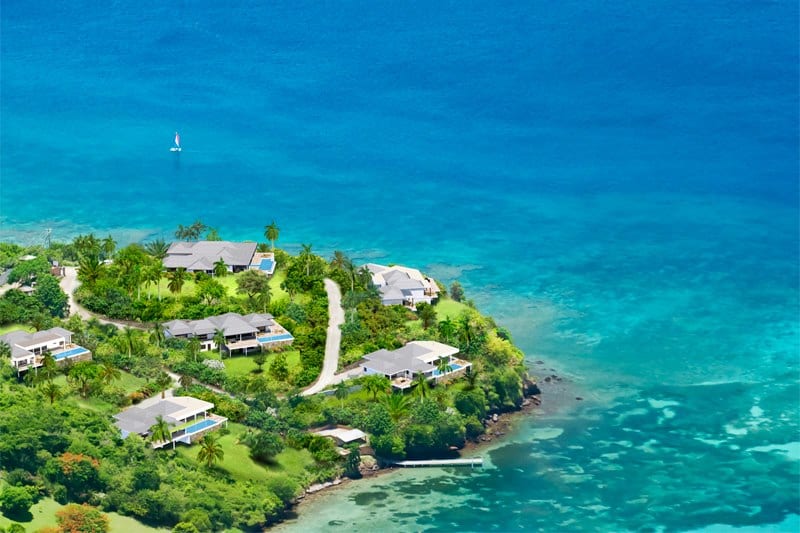 Laluna – St. George's, Grenada
If you're looking for a destination that is a bit more unique, consider the Spice Island. This is one of the Caribbean's lushest isles and little-known gems. The resort itself, Italian-owned Laluna, is an intimate private estate in the Morne Rouge area, which is one of the most stunning beach-wedding venues.
Laluna sits on a scenic cove with 16 indoor-outdoor suites. This is the perfect place – if you've got the funds – to rent out all 16 suites for just your friends and family. This way, you are sure to have a wedding day that is as private as it can get. One of the best ceremony spots is beside scenic rocks on the north end of the beach.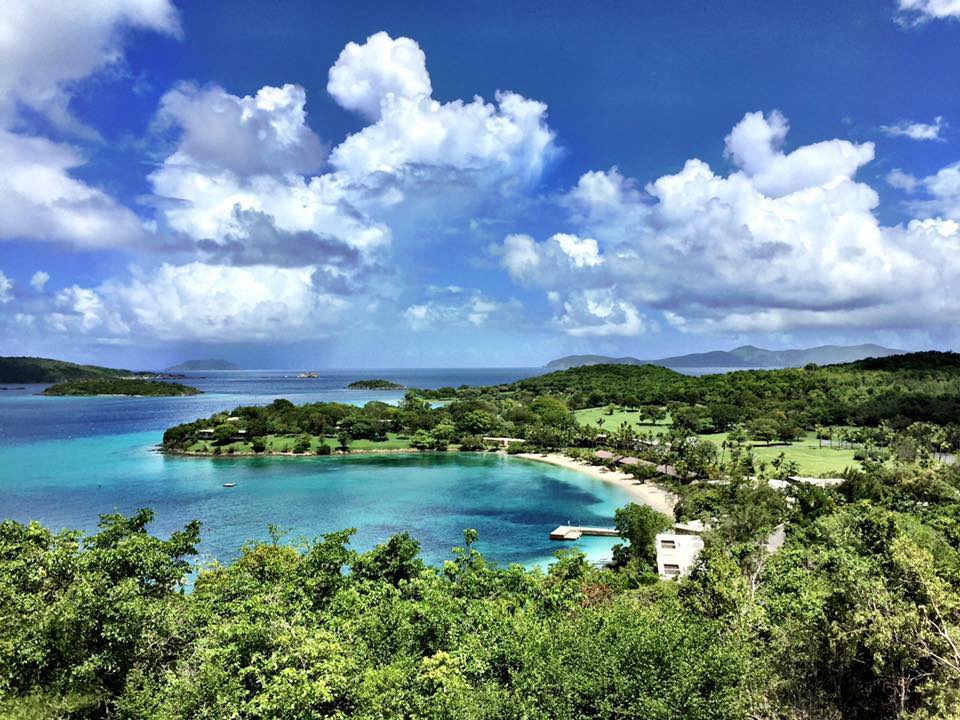 Caneel Bay – St. John, U.S. Virgin Islands
Caneel Bay is the only resort located in the preserved national parkland of St. James. Nearly three-quarters of the island is preserved, so it is already a very secluded and untouched land. Caneel Bay sits on a former sugar plantation on its own remote peninsula. It's not unlikely to see white-tailed deer and wild donkeys roaming the area. The resort's Turtle Beach, with picturesque overhanging seagrape trees, is the most popular place for couples to say "I do" and has room for 75 of your guests.
If you are looking for even more seclusion, head to Scott Beach, which is smaller than Turtle Beach. Here you can say your vows under floral arches.
After the ceremony, couples can hold their reception in Turtle Bay Estate, an 18th-century plantation house. In addition, the intimate Sugar Mill Ruins is a great reception venue with romantic candles and torches to set the mood.
*Caneel Bay is currently under reconstruction following Hurricanes Irma and Maria. They are not taking reservations until after 2020.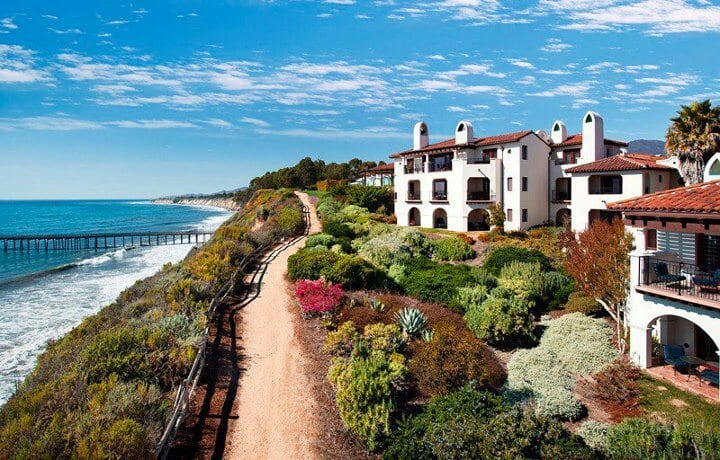 Bacara Resort & Spa – Santa Barbara, California
Bacara Resort & Spa in Santa Barbara is the perfect private beach wedding venue because of its rare location perched above the Pacific Ocean. The property hosts about 60 weddings here per year and the on-site creative director can help you with all of your needs, including florals and pre- or post-wedding events. Couples can choose from a seaside ceremony on the Ocean Lawn or Miró Lawn which offers panoramic views of the bluffs and beaches. For the reception, guests can celebrate in the open-air Ocean Terrace with cozy fireplaces for chillier evenings. Another great option for your reception is the Bacara Ballroom, with 23-foot-high ceilings, gilt-framed mirrors, and six balconies.
Enchanted Honeymoons Travel | Destination Travel | Best Packages
Our ultimate goal is to make the destination wedding planning process as stress-free as possible. Planning your perfect honeymoon, destination wedding, romantic getaway or vacation of a lifetime has never been easier with Enchanted Honeymoons.
Contact us today at (402) 390-9291 to book your next getaway or get started here.