17 Jan

The Most Romantic Destinations to Spend Valentine's Day

Valentine's Day falls on a Thursday this year, which means its the perfect time for a romantic getaway! Surprise your honey with a swanky getaway to NYC or Paris, or enjoy some relaxation in the laid-back atmosphere of Montego Bay, Jamaica. Whichever destination you choose, you can be sure that romance will be the top priority. So leave your worries behind, grab your sweetheart, and escape for a last minute romantic Valentine's Day getaway.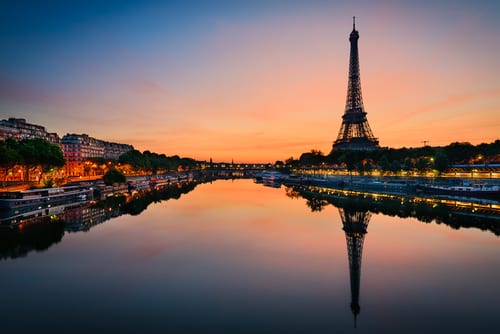 1. Paris, France
It should come as no surprise that Paris tops our list of the most romantic destinations to spend Valentine's Day. The City of Light has so much to offer, and many of the best hotels offer specials during the month of February in honor of Valentine's Day. For instance, Le Royal Monceau Hotel in the eighth arrondissement offers a Valentine's Day special which includes champagne, Pierre Hermé pastries, and breakfast at the Michelin-starred restaurant, La Cuisine. In addition, certain room categories include a "surprise" piece of jewelry from Messika which will be waiting in your room upon your arrival.
2. Playa del Carmen, Mexico
Playa del Carmen is one of the most fun areas in Mexico, and it is also one of the most romantic for Valentine's Day. You'll find special offers here as well. For instance, you can book Banyan Tree Mayakoba's "Magical Moments" package. This special romance package includes rose petals in your suite upon your arrival, and a private dinner complete with Dom Pérignon, Sevruga caviar, and a live jazz trio. To end the night, the hotel will draw you an outdoor bath with rose petals and candles.
3. San Francisco, USA
If you don't want to travel too far, book a romantic Valentine's Day weekend in San Fran. There's plenty to do in the romance arena in San Francisco, including trendy coffee shops, shopping, and of course relaxing seaside with your loved one. They didn't write "I left my heart in San Francisco" for no reason! In addition to a romantic ambiance found throughout the city, you'll find an unlimited amount of restaurants that offer stunning views that are prefect for couples.
4. Montreal, Canada
For those of you who have not visited Montreal in the past, we think you will be blown away by its beauty. With its European influences and cobblestone streets, Montreal is pure romance. Be sure to go ice-skating in Montreal's city center, then indulge in all of the best Canadian winter treats like poutine (fries and cheese curds covered in a layer of gravy).
5. New York City, USA
If you really want to impress your Valentine's Day date, and you have $10,000 to spend on your sweetheart, head to NYC and book the "VIP Valentine's Day" special at the Conrad Hotel. This promotion books you and your honey in the 1,500 square foot Conrad Suite. It includes a private helicopter tour of the city, jewelry from David Yurman, breakfast in bed, and a private tasting menu dinner.
6. Las Vegas, USA
Sin City isn't just for bachelor parties any more. There's a more romantic side to Las Vegas that you should take advantage of! For instance, the Mandrain's "Lovers Toast" package is an ideal way to spend your Valentine's Day. It is offered year round, but it is truly made for this romantic holiday. The package includes a ton of bouji perks, like a private visit to the Kiki de Montparnasse boutique, unlimited access to the Tian Quan Thermal Experiences at The Spa at the Mandarin, breakfast in bed, and more.
7. Montego Bay, Jamaica
What's more romantic than complete relaxation and a laid-back attitude? Throw that together with an amazing beach and sunshine, and you've got the perfect recipe for an enjoyable Valentine's Day. We suggest you book Round Hill Hotel's "One Love Romance" package, which includes daily breakfast, couples massages, and more.
To book your own romantic Valentine's Day getaway, call us today at 402-390-9291.