27 Aug

Sandals Resorts Reopen to Guests

Welcome back to paradise! Sandals Resorts have started to reopen! Read below for details on the Sandals properties that are now open and when the rest of their all-inclusive resorts will start welcoming guests.
Sandals Resorts Open Now
There are 5 Sandals properties that are open to guests now. These properties are in Antigua, Jamaica and Saint Lucia. Read on for details on each and when more Sandals Resorts plan to reopen.
Sandals Grande Antigua
Sandals Grande Antigua is the Caribbean's most romantic resort. It sits on Dickinsen Bay, one of the best beaches in Antigua. The property has 2 unique villages: Caribbean Beachfront Village & Mediterranean Oceanview Village.  Guests can enjoy 5-Star "Global Gourmet" dining at 11 unique restaurants and sample delicious beverages at 7 bars, all serving unlimited premium liquors. In addition, guests will never get bored with 6 pools and 6 whirlpools. They can also enjoy the Red Lane Spa & onsite fitness center. Plus, land and water sports, including daily scuba for certified divers, are all included.
Sandals Royal Caribbean Resort & Offshore Island
If you're looking for exotic adventure in Jamaica, look no further than Sandals Royal Caribbean. Resort highlights include over-the-water Butler Villas and Bungalows and a private offshore island! In addition, the property offers 232 gorgeous and newly renovated rooms and suites, 9 unique restaurants and 5 bars. Don't miss the brand-new Bombay Club onsite for fine dining! You'll also find 7 swimming pools, including 1 scuba pool for dive lessons. Enjoy daily scuba for free here, as well as unlimited water sports.
Sandals Montego Bay
Known as "the Original Sandals Resort", Sandals Montego Bay is set on Jamaica's largest exclusive white-sand beach and located just minutes from Sangster International Airport. It was voted Jamaica's Leading Resort at the World Travel Awards. The property has 272 beautifully appointed rooms and suites, plus 12 unique restaurants. In addition, guests will love the cocktails at their choice of 6 bars, including an over-the-water bar! You'll never be searching for a place to cool off with the resort's 7 pools and 3 whirlpools. Plus, it is a great property for weddings with the Over-the-Water Serenity Wedding Chapel.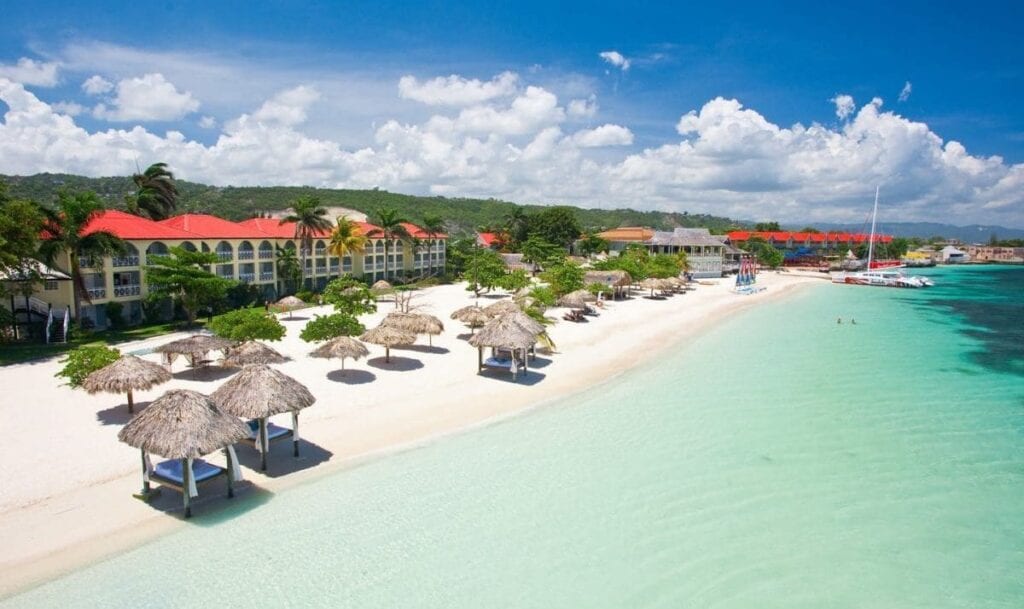 Sandals Negril Beach Resort & Spa
Sandals Negril is Jamaica's ultimate beach resort located on the famed Seven Mile Beach. Choose from beachfront Swim-Up Suites, Millionaire Suites and two-story Loft Suites, in addition to standard rooms and suites. There are 7 unique restaurants and 5 bars on the property, plus 3 pools and 1 scuba pool for dive lessons. Certified divers can enjoy daily scuba as well as unlimited water sports.
Sandals Grande St. Lucian Spa & Beach Resort
Enjoy grand views on your own peninsula at Sandals Grande St. Lucian! This property won 2 awards at the World Travel Awards: Caribbean's Leading Honeymoon Resort and Saint Lucia's Leading Resort.In addition, this property is set on a stunning peninsula with views of the Caribbean Sea. The property offers 311 beautifully appointed rooms and suites, including Over-the-Water Bungalows. Plus, you'll find 12 unique restaurants and 8 bars, plus 4 pools and a scuba pool for dive lessons. In addition, there are 2 nearby golf courses with complimentary green fees.
Sandals Resorts Opening August & September
August 31st – Sandals Regency La Toc (Saint Lucia)
September 9th – Sandals Royal Barbados & Sandals Barbados
Sandals Resorts Opening October & November
October 1st – Sandals South Coast (Jamaica) & Sandals Grenada
October 8th – Sandals Royal Plantation (Jamaica)
November 1st – Sandals Ochi (Jamaica), Sandals Royal Bahamian, Sandals Emerald Bay (Bahamas), & Sandals Halcyon Beach (Saint Lucia).
Are you ready to travel to the Caribbean right now? We are ready to plan your getaway! Call us today with any questions or concerns you may have. You can reach our experienced travel agents at 402-390-9291 or get started here.