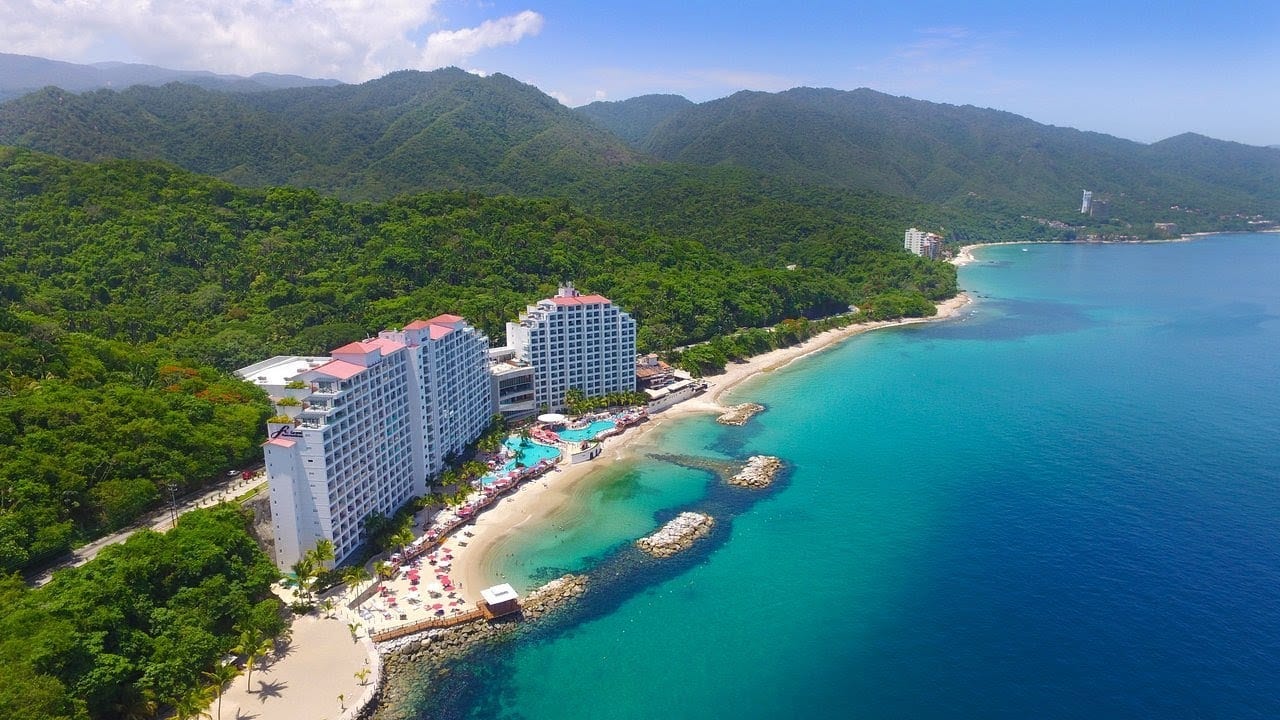 19 Feb

Save $75 on Select Luxury Resorts Now Through February 24th

Thanks to our partners at Funjet Vacations and Apple Leisure Group, we are offering $75 off each reservation at select luxury resorts! This exclusive promotion is going on now through February 24th, so don't wait! Participating hotels include AMResorts, RIU, Iberostar, Barcelo, Palladium and Hard Rock. In addition, it includes Blue Diamond, Karisma & Posadas resorts. Call us now in order to book your reservation and save $75.
Let's take a look at some of the luxury resorts that are participating in this promotion! Read on.
AMResorts
Firstly, this promotion includes AMResorts. AMResorts are the perfect luxury resorts for romantic retreats, family and friends reunions, weddings, honeymoons, anniversaries and more. This luxury hotel group includes Secrets, Dreams and Breathless properties, in addition to Now, Zoëtry and Sunscape resort brands. AMResorts properties offer guests just about everything they could need for a relaxing escape to Mexico or the Caribbean, including prime locations, full-service spas, and gourmet restaurants.
Some of our favorite AMResorts properties include Secrets Maroma Beach Riviera Cancun, Secrets St. James Montego Bay, Breathless Punta Cana Resort & Spa, and Dreams Tulum Resort & Spa.
RIU Hotels & Resorts
Next, this promotion includes RIU Hotels & Resorts. RIU Hotels & Resorts has over 60 years of experience, starting with their first small hotel in Playa de Palma, Spain. Now they cater to guests in the world's best destinations, with impeccable service focused on the mission of the company: the well-being of their guests. They now have 100 hotels in 19 countries, with most situated in Mexico, the Caribbean, and the Mediterranean.
Some of our favorite RIU hotels & resorts include Riu Palace Jamaica, Riu Palace Pacifico, and Riu Palace Cabo San Lucas.
IBEROSTAR
In addition to AMResorts and RIU, this promotion also includes IBEROSTAR properties. IBEROSTAR Group owns and operates more than 100 stunning beach accommodation properties in over 30 countries around the world. Travelers adore the brand for its incredible beachfront locations, upscale designs, exceptional customer service, celebrity-worthy dining options, and the brand's commitment to providing a relaxing and stress-free vacation.
There are so many IBEROSTAR hotels and resorts around the world, including some of the best beachfront spots in Mexico and the Caribbean. Although there are several adults-only resorts, IBEROSTAR also has plenty of choices that are family-friendly.
Some of our favorite IBEROSTAR hotels & resorts include IBEROSTAR Grand Hotel Rose Hall, IBEROSTAR Grand Paraíso and IBEROSTAR Grand Hotel Bávaro.
Barcelo
With one of the best all-inclusive experiences and urban-centric hotels, Barceló Hotel Group is separated within four distinctive brands: Royal Hideaway Luxury Resorts, an elite group of luxury resorts; Barceló Hotels and Resorts, a resort brand that provides original and exciting experiences; and Occidental Hotels and Resorts, committed to delivering guests serenity and comfort. In addition, Barcelo includes Allegro Hotels, offering joyful and affordable experiences.
Some of our favorite Barcelo hotels & resorts include Barceló Bávaro Palace, Barceló Tambor and Barceló Gran Faro Los Cabos.
Palladium Hotels & Resorts
In addition to those listed above, this promotion also includes Palladium Hotels & Resorts. With Grand Palladium Hotels & Resorts, you'll experience a true Caribbean getaway like no other. Beachfront locations in the most desirable destinations as well as state of the art facilities, dining and entertainment make these resorts the ideal choice for an unforgettable vacation. In addition, the unique, sprawling layout of the resorts sets them apart and allows guests to admire breathtaking natural surroundings.
Some of our favorite Palladium hotels & resorts include Grand Palladium Bavaro Suites Resort & Spa, Grand Palladium Punta Cana Resort & Spa, and Majestic Mirage Punta Cana.
Hard Rock Hotels & Resorts
In addition, this promotion also includes Hard Rock Hotels & Resorts. With Hard Rock Hotels & Resorts, all-Inclusive means everything from the in-room top-shelf drinks to the nightly entertainment and kids clubs is included in your stay. Whatever your pleasure, there's something for everyone with this brand of luxury resorts. Whether it's the beachfront celebrity playground at Cancun, the sprawling property at Punta Cana complete with the biggest casino in the Caribbean, the tranquil and mesmerizing views of Vallarta, or the hotel inside a hotel at Riviera Maya – you're sure to have a blast. In addition, they just opened a newly all-inclusive property in Los Cabos. Plus, they offer both family-friendly and adults-only sections at each of their all-inclusive properties.
Some of our favorite Hard Rock hotels & resorts include the brand new Hard Rock Hotel Los Cabos and Hard Rock Hotel & Casino Punta Cana.
Karisma Hotels & Resorts
Karisma Hotels & Resorts offer the ultimate luxury all-inclusive experience. In addition, with their exclusive Gourmet Inclusive Experience, Karisma guests can experience a vacation that is as delicious as it is unforgettable. It's a promise of cuisine crafted to perfection and superior accommodations featuring indulgent amenities. In addition, it includes service above and beyond expectations, globally sourced premium libations and exclusive activities designed to create lasting memories.
Some of our favorite Karisma Hotels & Resorts include El Dorado Maroma and Generations Riviera, Maya.
Posadas Hotels & Resorts
Lastly, this promotion includes Posadas Hotels & Resorts. Posadas represents the very finest in luxury hospitality. They have several brands under their umbrella. Live Aqua hotels open the doors to all your senses. In addition, Grand Fiesta Americana resorts are designed for travelers seeking true luxury in an exclusive atmosphere. Fiesta Americana hotels blend Mexican hospitality and architecture with the service, charm, and quality of the world's finest hotels. The Explorean blends romance, adventure, and luxury with the natural surroundings of the Mayan jungle.
In order to be eligible for this promotion, you must book a new reservation with one of the above-listed resort brands. In addition, your reservation must be booked by February 24th.
Enchanted Honeymoons Travel | Destination Travel | Best Packages
Our ultimate goal is to make the vacation planning process as stress-free as possible. Planning your perfect honeymoon, destination wedding, romantic getaway or vacation of a lifetime has never been easier with Enchanted Honeymoons.
Contact us today at (402) 390-9291 to book your next getaway or get started here.