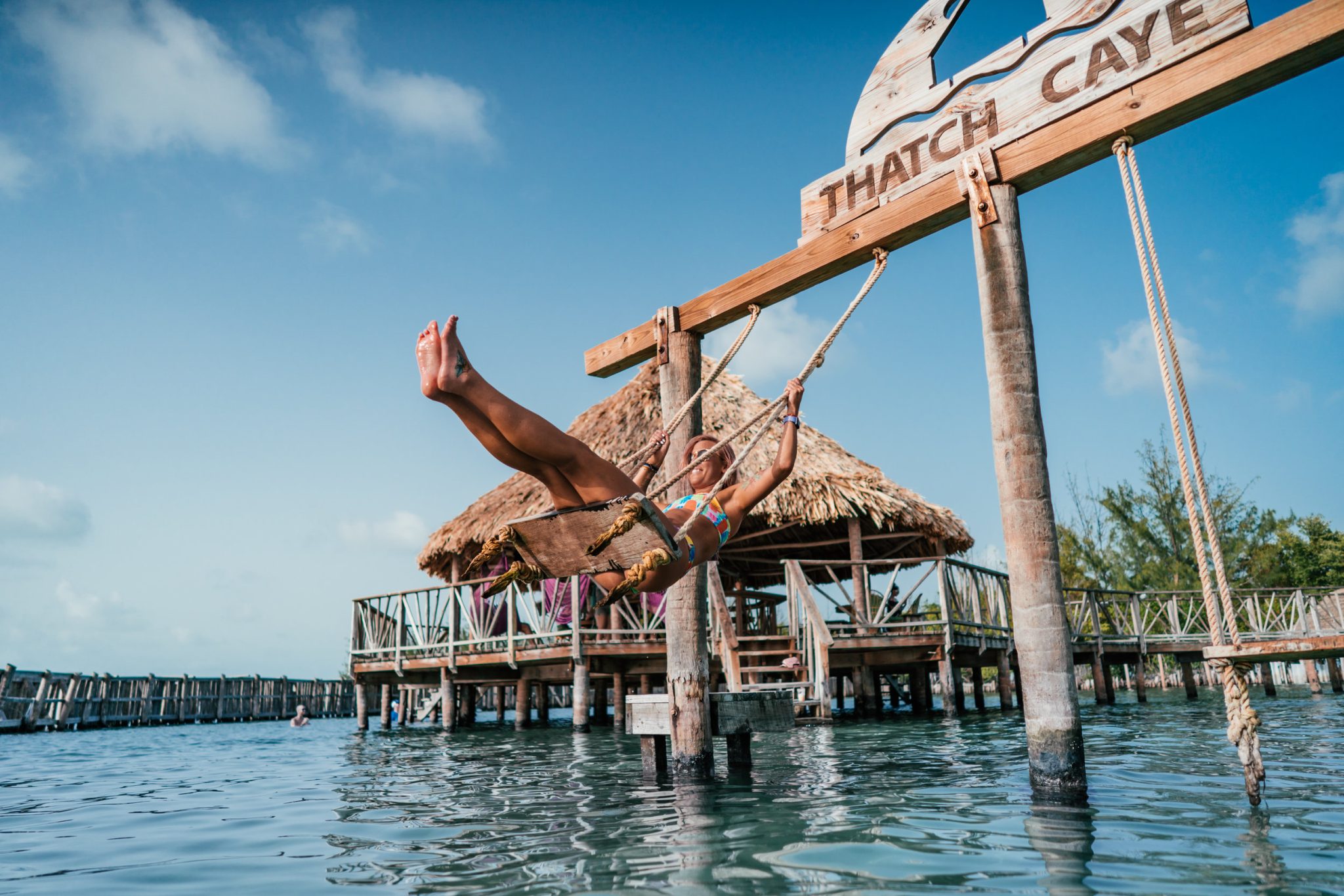 22 Mar

Destination Spotlight: Thatch Caye, a Muy'Ono Resort

This week we are bringing back our Destination Spotlight series with a look at Thatch Caye, A Muy'Ono Resort. Thatch Caye is located in Belize and offers a truly unique experience for its guests. This all-inclusive, private island resort in Belize hosts only 30 guests at a time, making it the perfect place to unplug. Our travel advisor, Krete, recently booked the entire island for a group of clients so we wanted to share more about it.
Destination Spotlight: Thatch Caye, a Muy'Ono Resort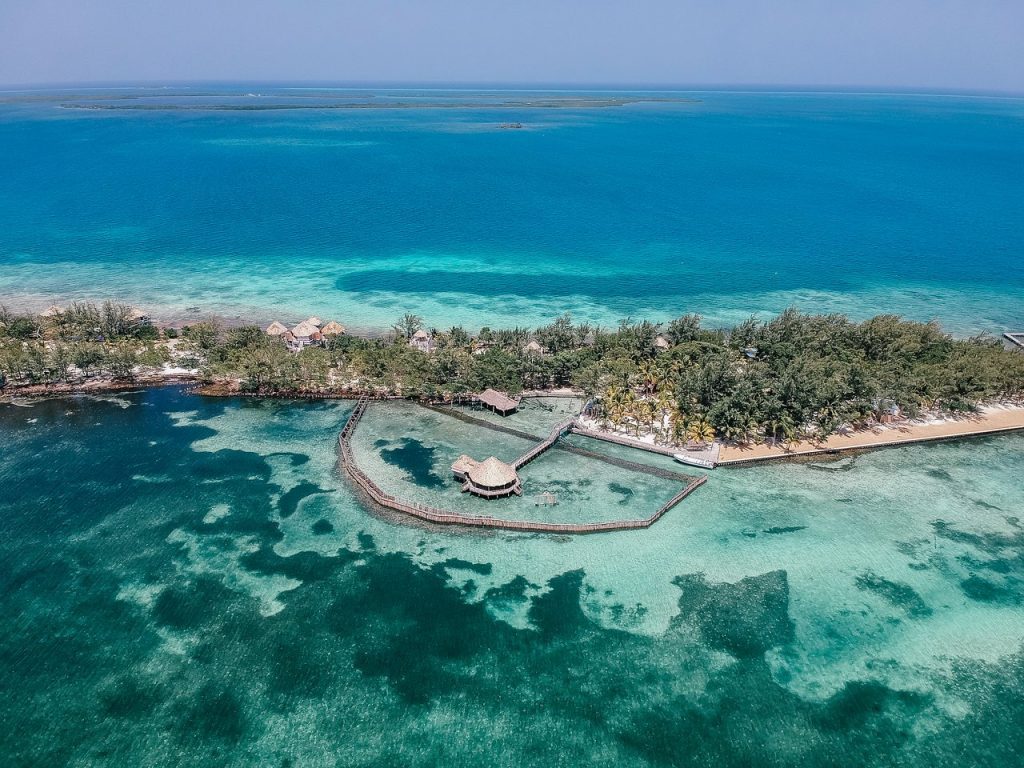 Read on for everything you need to know about this undiscovered paradise!
Thatch Caye is the perfect resort to unplug and enjoy a relaxing getaway. In fact, WiFi is only available in the common areas, allowing you to fully immerse yourself in vacation mode. Check into one of the overwater bungalows or island cabanas and get ready to relax. Spend your days sunbathing on a beach hammock, swimming in the natural saltwater pool, getting a seaside massage, or enjoying one of the many water toys available. Although Thatch Caye is an eco-resort, it is so luxurious you won't even notice!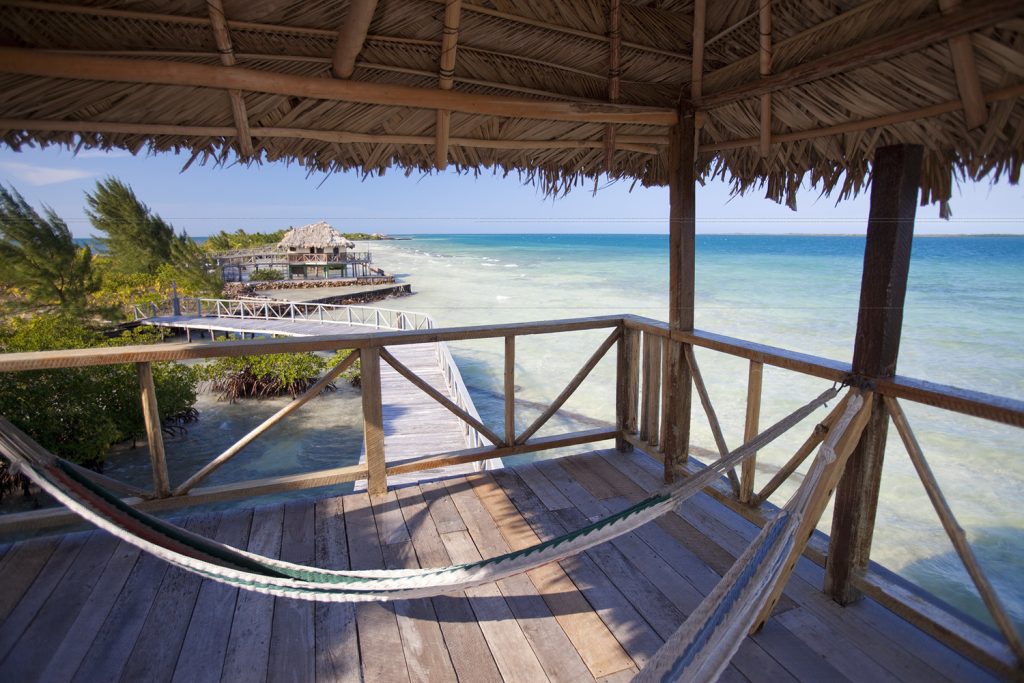 All-Inclusive, Island Style
The All-Inclusive, Island Style package is included with all reservations at Thatch Caye Resort. However, this isn't your typical all-inclusive experience. Although the property does not have typical restaurants, the resort serves fresh meals daily.
This package includes three meals per day, plus snacks, and all local alcoholic and nonalcoholic beverages. In addition, your roundtrip boat ride/transfer to and from Dangriga Airport, as well as your Marine reserve access fee are included. Finally, all guests have exclusive use of the property's kayaks, paddleboards, snorkel gear, fishing poles, and other non-motorized island toys.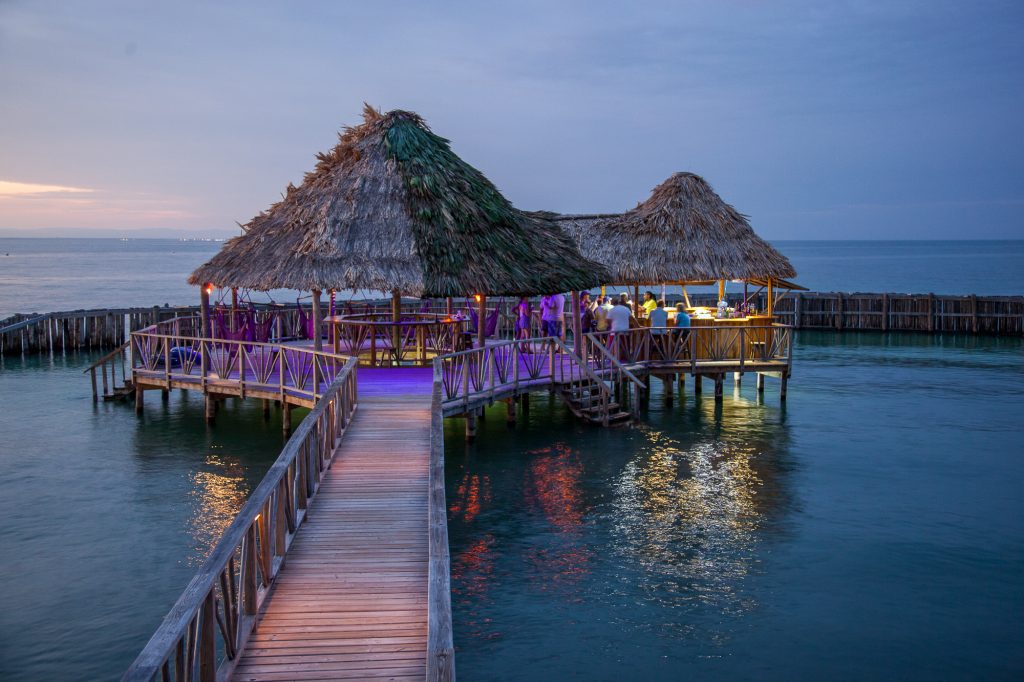 Dining at Thatch Caye
Typical daily dining at Thatch Caye consists of made-to-order breakfast, a traditional Belizean lunch, an afternoon snack, and an authentic Belizean three-course dinner. Unlike many other All-Inclusive resorts, Thatch Caye does not offer traditional menus. Instead, this resort serves all meals family-style and uses fresh ingredients from Muy'Ono Farms.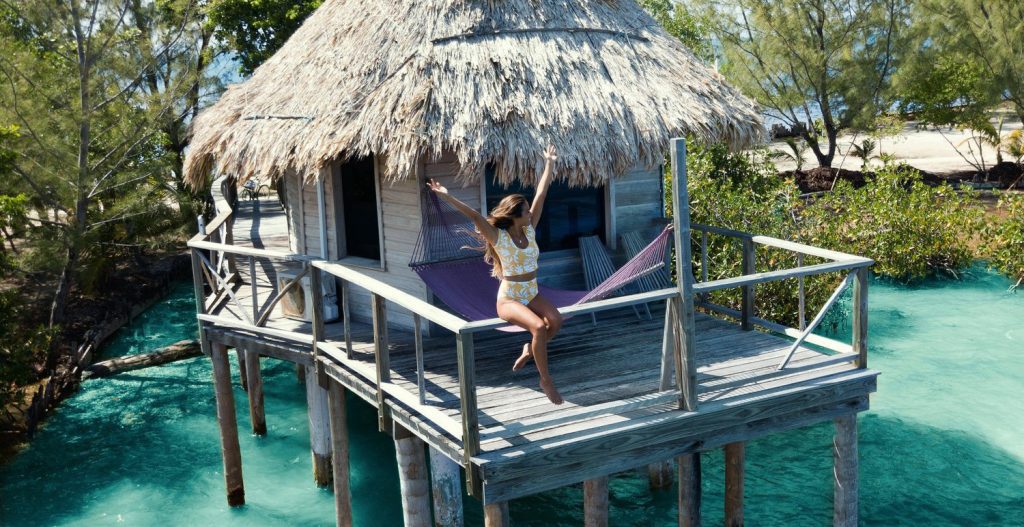 Dreamy Tropical Accommodations
Every overwater bungalow and oceanfront cabana has been recently renovated using reclaimed island materials. Each overwater bungalow and cabana has a private outdoor space and zero distractions. You won't find a phone, TV, or WiFi in your room, but these are all available in the Coco Lounge.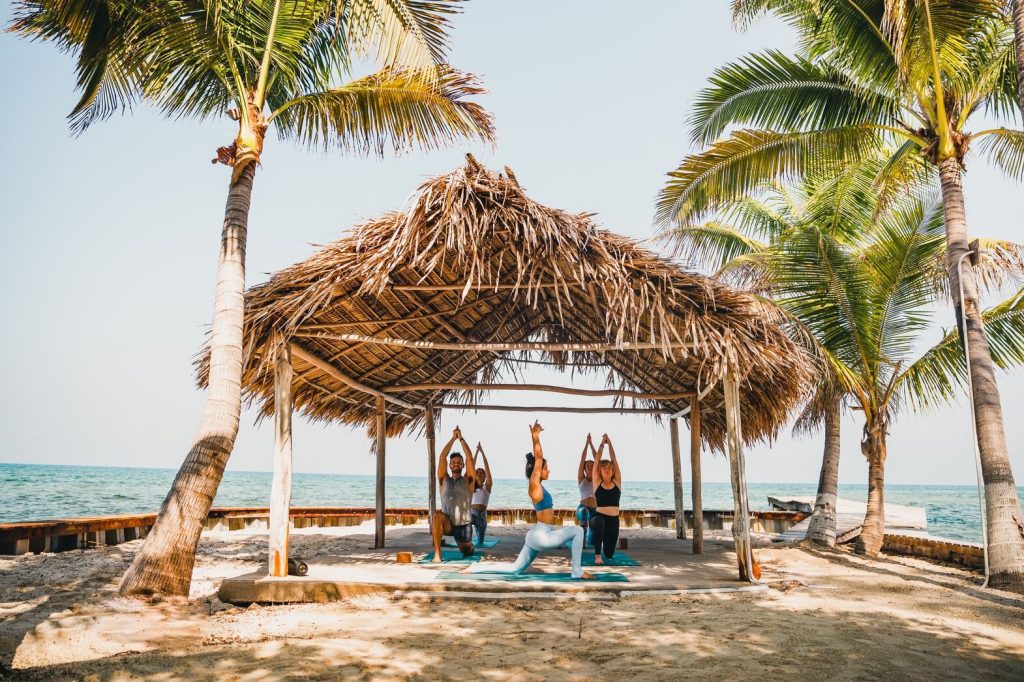 Customizable Packages
There are many ways to enjoy the Thatch Caye All-Inclusive Resort. In fact, there are several different vacation packages for you to choose from. Some of their most popular packages include those for honeymoons, yoga, scuba diving, fly fishing, and cultural immersion.
In addition to these tailored vacation packages, you can also rent the entire island. This is what Krete's clients chose to do. Spend a week with just your family and friends on a beautiful private island. Renting this pristine island in Belize gives you access to all 15 villas, in addition to exclusive use of the beautiful beaches and private yoga palapas.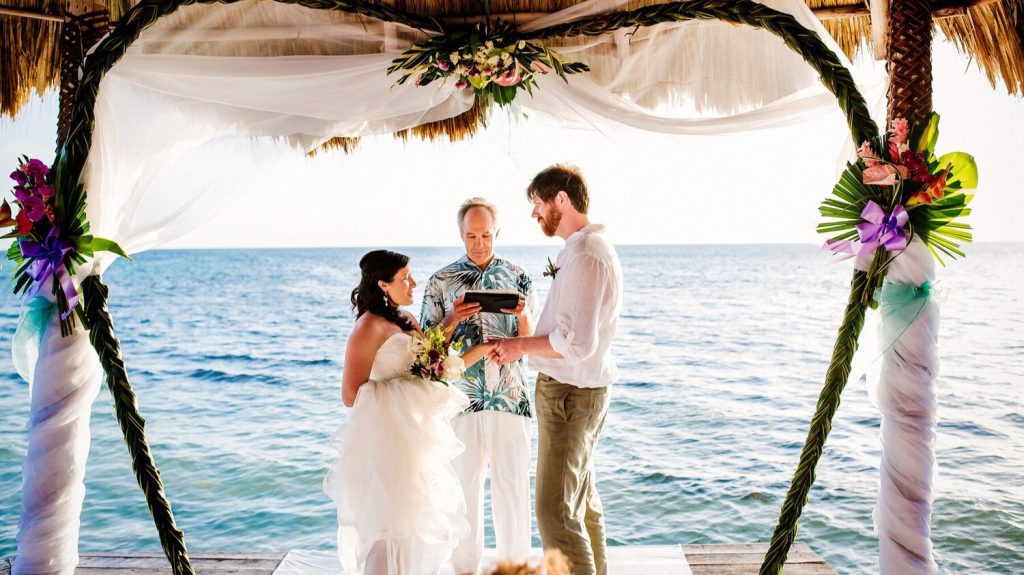 Wedding Packages
Thatch Caye is a stunning and unique property to host an intimate destination wedding in Belize. Many of the resort's wedding packages include a minister or priest for the ceremony, flowers, cake, a live Belizean band, on-site coordinator, a snorkel excursion or island-hop for the wedding party, a pig roast reception option, a bonfire reception option, and more.
This resort offers several different venues for your ceremony and reception. These wedding venues include Serenity Point, the Wedding Palapa at Indy Beach, Barefoot Beach, and The Grove outdoor bar.
Enchanted Honeymoons Travel | Destination Travel | Belize Travel
Call us today to speak to one of our Belize travel specialists. You can reach us at 402-390-9291. In addition, you can get started here.