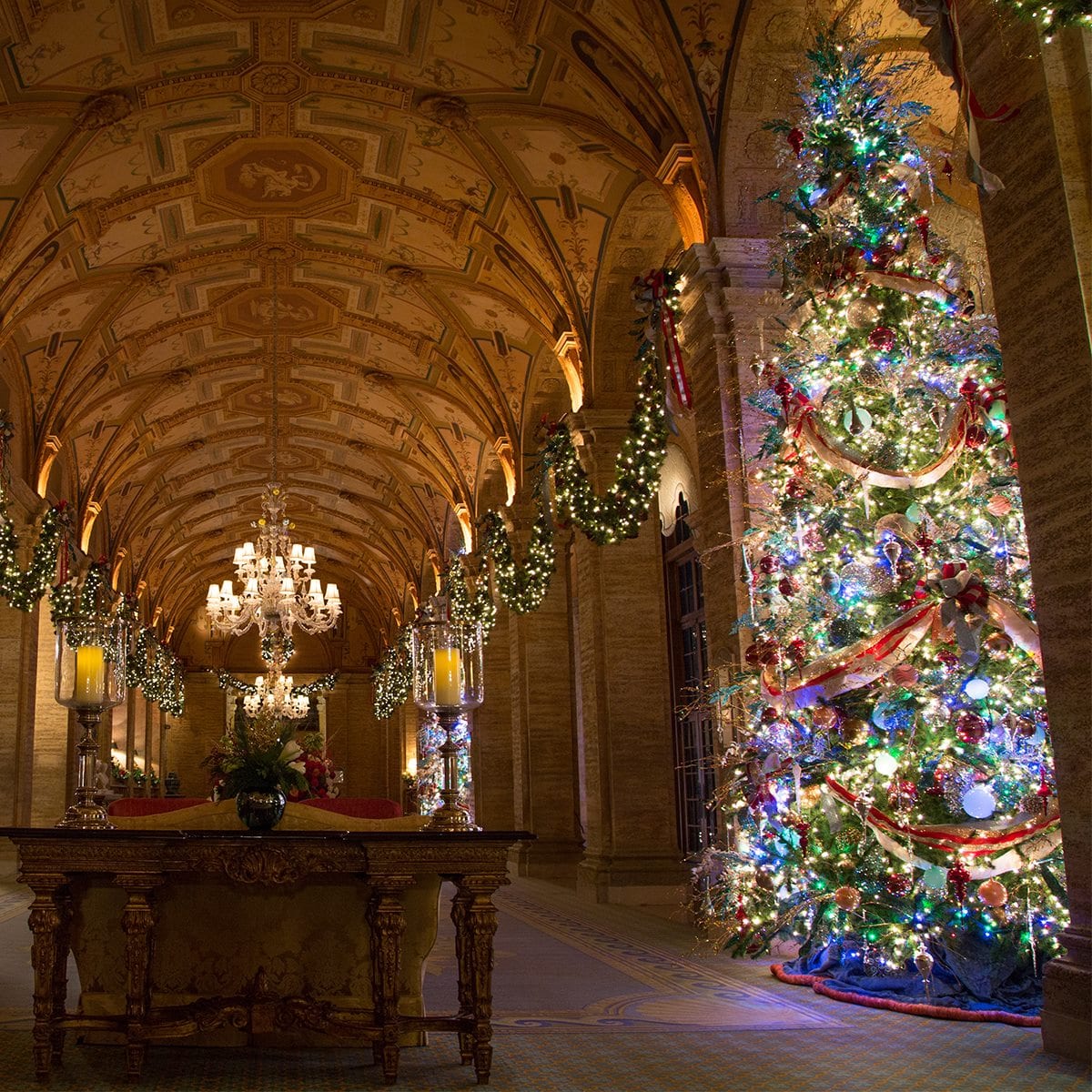 12 Dec

The Best Holiday Hotels

Not feeling like the usual couch and hot cocoa routine for the holidays this year? Skip the hometown Christmas celebration and book a stay at one of these magical holiday hotels instead.
We've rounded up the coziest, most festive bunch of hotels to make for an unforgettable holiday. Read on for the full list of Best Holiday Hotels!
1. The Breakers Palm Beach – Palm Beach, Florida
Trade the snow and cold for sun and fun at The Breakers Palm Beach for Christmas. Trust us, you will not miss out on any of the festive vibes you're used to during December. The Breakers Hotel is decked out from head to toe for the holidays each year. We're talking 170,000 twinkle lights, 8,000 ornaments, 12,000 feet of ribbon, 126 bows, and an two 18-foot evergreen trees. In addition, the restaurants at The Breakers don't hold back either. HMF, located on the North Loggia just off the grand lobby, holds Holiday Tea starting December 20. Flagler Steakhouse gets into the spirit too with special Christmas Eve and Christmas Day lunches and dinners. And the festivities continue through New Year's Eve! HMF and Flagler Steakhouse both host parties, but the main attraction is the annual New Year's Eve Fantasy Ball in The Breaker's newly renovated Ponce de Leon Ballroom. Tickets to this black tie event run for $750 per person.
2. The Ritz – London
The Ritz has been a London staple of British elegance since 1906. It's opulent interior and lavish furnishings are breathtaking even without the added holiday decor, but experiencing this holiday hotel in December is an unforgettable experience. Fans of the beloved TV drama "Downtown Abbey" will be especially keen to celebrate the holidays here because their Christmas Eve and Christmas Day dinners are held in the Michelin-starred Ritz Restaurant which was featured on the show. In addition to great food and festive surroundings, they will have a live band and professional dancers both nights. And of course, you can't leave without experiencing the traditional Christmas afternoon with in the Palm Court during the holiday season. Champagne is served, too!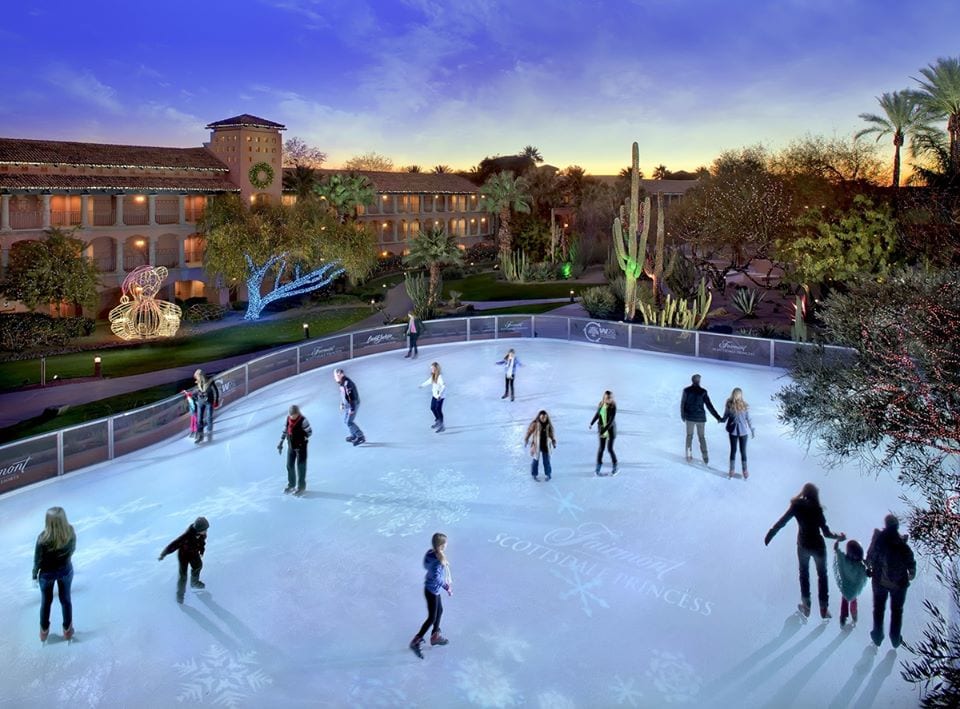 3. Fairmont Scottsdale Princess – Scottsdale, Arizona
If you are looking for a more kid-friendly holiday hotel, head to desert and stay at the Fairmont Scottsdale Princess. You won't believe the calendar of events and activities they have for the season! It's so extensive, they even gave it it's own name: Christmas at the Princess. Take a lap around the desert ice skating rink, spend some time at the Build-A-Bear Workshop, and visit Santa's Secret Headquarters. You also won't want to miss S'mores Land, where you can roast marshmallows around a campfire in a Christmas Tree Forest. And of course the decor is beyond over-the-top, with 4.5-million twinkling lights and an 80-foot Christmas tree complete with a light show. The winter wonderland is so huge that it operates two trains so guests don't miss even an inch of the holiday goodness.
4. Fairmont Banff Springs – Banff, Canada
Known as Canada's Castle in the Rockies, Fairmont Banff Springs feels like the holidays year-round. Once Christmastime nears, however, the season truly comes to life with a towering tree, poinsettias and other classic Christmas decor throughout the property. Plus, this is another great option for families with plenty of seasonal activities. Adults and children alike will love the afternoon Christmas teas, snowflake scavenger hunts, Christmas caroling, and a holiday pajama party. Families can also tour the Santa Suite, where the bearded man gets ready for his around-the-world voyage. And of course, guests all gather on Christmas Eve to send him off on his present-delivery expedition.
5. The Westin St. Francis San Francisco on Union Square – San Francisco, California
The Westin St. Francis overlooks San Francisco's iconic ice skating rink and festive Christmas tree, making it the perfect holiday hotel to book. In addition, inside the hotel you'll find the 12-foot tall Medieval Sugar Castle. It is located next to the St. Francis Enchanted Castle and both castles are open to the public. You'll also want to make time to stop in the Sweet Boutique for delicious holiday treats. Families will love the Holiday Hideaway, which is new for the 2019 holiday season. The Holiday Hideaway is a floor dedicated entirely to families. When you book a room on this floor, kids will be delighted by their welcome gift of candy canes and coloring books, plus a ticket for the in-room sweets and a "Letter to Santa" kit. The fun doesn't end there, though. At night, magical elves deliver special treats to your door and in the morning you'll wake up to San Francisco-inspired gifts.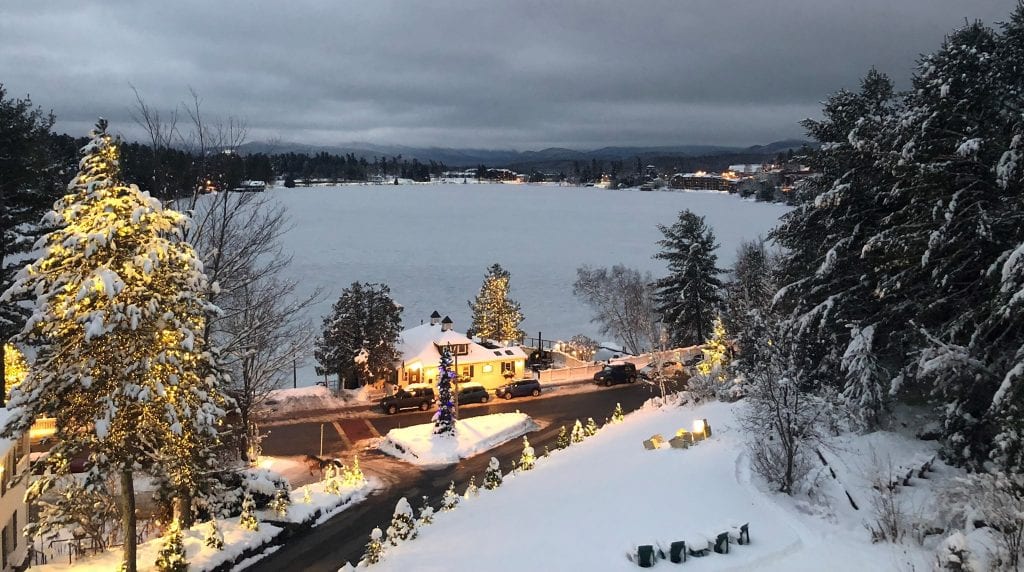 6. Mirror Lake Inn – Lake Placid, New York
For the quintessential holiday hotel experience, head to Lake Placid and stay at Mirror Lake Inn. Christmas trees are literally everywhere on the property, both inside and outside – you can even request to have one placed in your room. The hotel holds plenty of fun holiday activities for families including skating on the lake, free hot chocolate, cozy bonfires, Toboggan rides, and a horse-drawn sleigh ride. And of course all the kids receive a visit from Santa, complete with milk and cookies.
Enchanted Honeymoons Travel | Destination Travel | Best Packages
Our ultimate goal is to make the vacation planning process as stress-free as possible. Planning your perfect honeymoon, destination wedding, romantic getaway or vacation of a lifetime has never been easier with Enchanted Honeymoons.
Contact us today at (402) 390-9291 to book your next getaway or get started here.
More Articles on Best Holiday Hotels