06 Sep

The Best Venues for a Destination Wedding in Hawaii

If you are planning a destination wedding in Hawaii, check out this list before you choose a venue or resort. Hawaii – made up of Oahu, Maui, Lanai, Kauai, and the Big Island – is home to some of the world's most romantic resorts and beaches. The right venue for your destination wedding in Hawaii depends on your vision for the big day. For instance, if you want something over-the-top romantic, you may opt for the St. Regis Princeville Resort in Kauai. If you want something more laid-back, you may consider planning your destination wedding at Olowalu Plantation House in Lahaina, Maui. Read on for more options!
For Couples that want a Unique Destination Wedding in Hawaii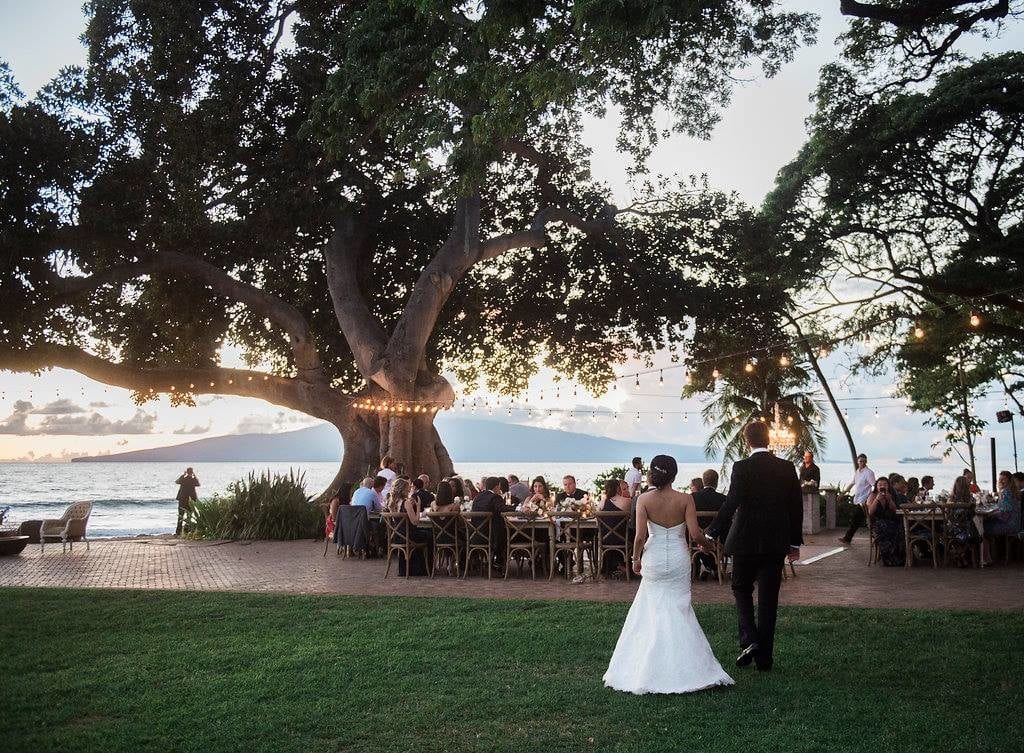 Olowalu Plantation House – Lahaina, Maui
If you don't want to say "I do" at a resort, Olowalu Plantation House may be perfect for you. This charming plantation house is located directly on the ocean. Onsite you'll find a bridal suite, a wraparound porch, and a sprawling back lawn with views of Lanai and Molokai. In addition, an on-site kitchen is available for catering and there is parking for up to 200 guests.
Kualoa Ranch – Kahaluu, Oahu
You may instantly recognize Kualoa Ranch from scenes in Jurassic Park, Godzilla, Lost, and Mighty Joe Young. This 4,000 acre venue on Oahu's eastern coast is a working cattle ranch and nature preserve. You can make your nuptials as unique as you want here, by frolicking with horses out by the Ka'a'awa Valley, exchanging vows in the tiered Moli'i Gardens, or opting for a sunset ceremony on Secret Island.
For Couples that want a Destination Wedding in Hawaii with a Chapel Ceremony
Grand Wailea, a Waldorf Astoria Resort – Kihei, Maui
For couples that want to say "I do" on a romantic Hawaiian resort, but also want to honor their religion with a chapel ceremony – Grand Wailea is a great choice for you. Facing Wailea Beach, you'll find the small stained-glass Seaside Chapel. After you exchange vows in the chapel, you and your guests can enjoy a reception on the Chapel Lawn which fronts the beach. In addition, for groups of 120 or less, you can hold your reception on an outdoor lanai.
Ko Olina Resort – Kapolei, Oahu
While Grand Wailea would be my personal choice for a chapel ceremony, Ko Olina Resort in Kapolei, Oahu has three chapels to choose from. All of the gorgeous chapels have huge windows overlooking the ocean, gardens, or a lagoon. Ko Olina is best known as being the playground of Hawaiian royalty, due to its tranquil lagoons and white-sand beaches. Ko Olina Beach is one of the island's most gorgeous and your wedding guests are sure to never forget your special day. If you are looking for something more luxurious for the honeymoon afterwards, head to the new Four Seasons Resort Oahu at Ko Olina.
For Couples that want an Ultra-Romantic and Luxurious Destination Wedding in Hawaii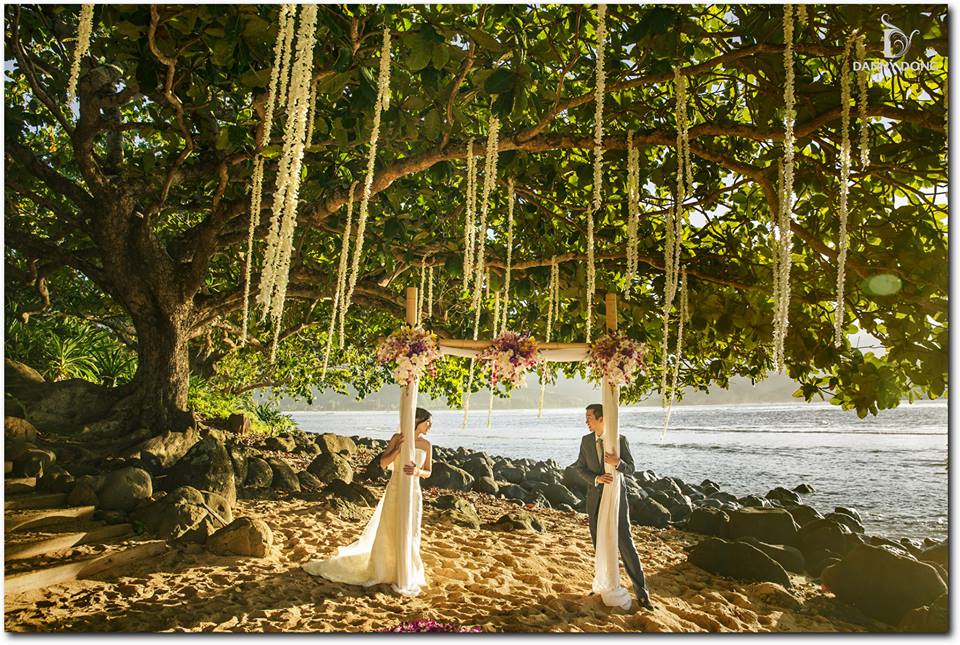 St. Regis Princeville Resort – Princeville, Kauai
St. Regis Princevill Resort is a great option for couples looking for an extremely romantic and luxurious wedding venue. This property is perched over Hanalei Bay and ceremonies are held on the Kamani Cove beach lawn. This looks over Hanalei Bay to the Makana Mountain. Perhaps the most romantic aspect of this venue is the amazing sunset over the bay and mountain. If your guests are looking for more accommodation options near this venue, they can stay at the studios or condos at the Westin Princeville nearby.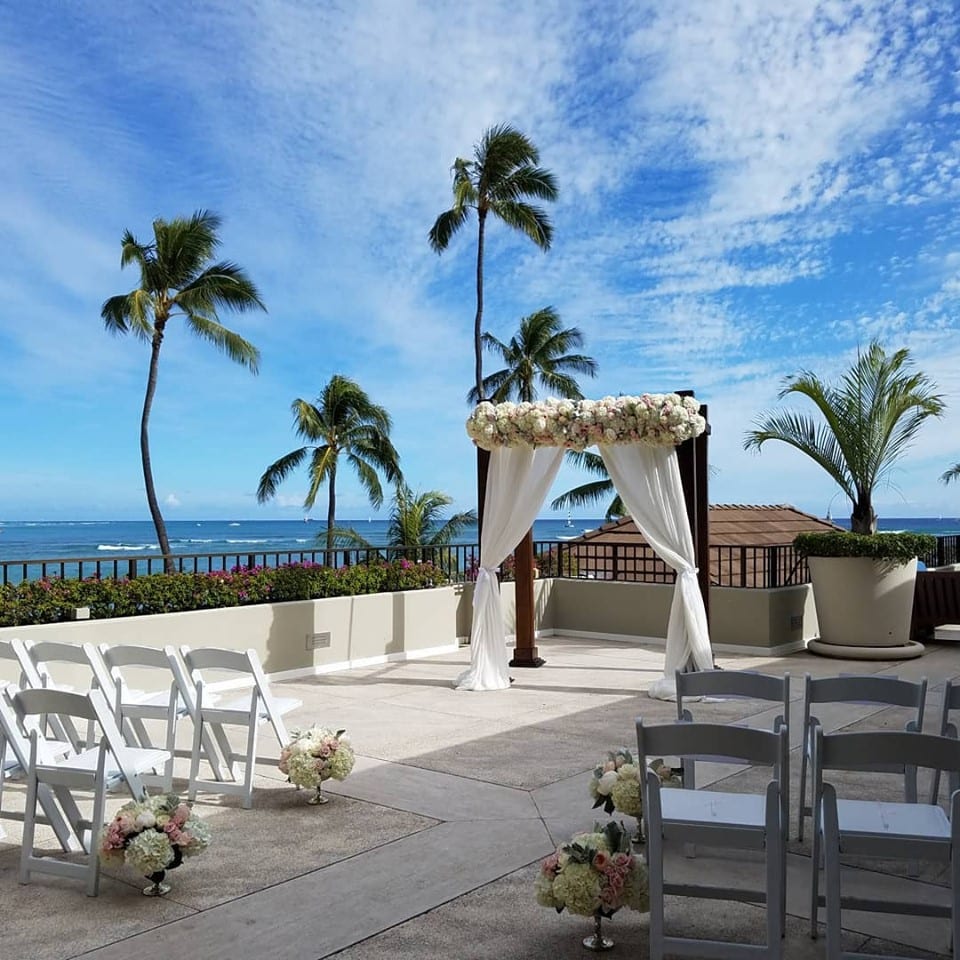 Halekulani – Honolulu, Oahu
Halekulani, known as the gold standard of Oahu hotels, radiates luxury and romance. You can opt to make your nuptials at Halekulani as lavish or exclusive as you want. Intimate gatherings can be held on Kawehewehe Lawn, which overlooks Diamond Head. If you have a larger group, you can exchange vows on a lanai that seas up to 120 guests. In addition to amazing luxury and views, Halekulani is home to some of the best restaurants on the island including La Mer, Orchids, and House Without a Key. For very small receptions, you can opt to hold them in one of these gorgeous restaurants.
Enchanted Honeymoons Travel | Destination Travel | Best Destination Wedding Packages Hawaii
Call us today to speak to one of our specialists about destination wedding packages Hawaii. You can reach us at 402-390-9291. In addition, you can get started here.