10 Nov

The REAL ID Act: New TSA Regulations for ID Required for Domestic Travel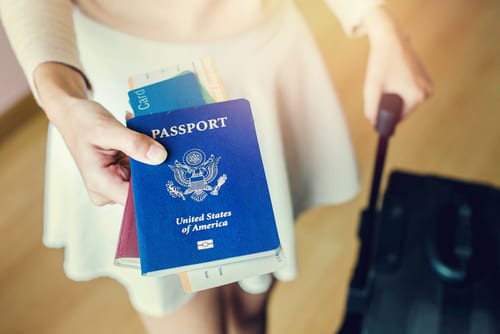 The TSA regulations for domestic travel are changing! Read below for information on the Real ID Act and how it affects your ID requirements for domestic travel based on the state you live in.
In nine states, your driver licenses will no longer be valid identification for domestic flights in 2018. This change comes with the establishment of the REAL ID Act. These nine states do not meet the Act's minimum security standards, therefore you will need your passport to travel domestically.
Despite the confusion stemming from ever-changing dates, deadlines, and extensions related to the REAL ID Act, there is a simple solution to avoid any stress at the airport. A passport card or book will override all state regulations!
For more detailed and specific information by state, here are the rules and dates you need to know:
1. The Real ID Act Compliant States – Citizens can use their state IDs from these states
Alabama
Arizona
Arkansas
Colorado
Connecticut
Delaware
Florida
Georgia
Hawaii
Indiana
Iowa
Kansas
Maryland
Mississippi
Nebraska
Nevada
New Mexico
North Carolina
Ohio
South Dakota
Tennessee
Texas
Utah
Vermont
West Virginia
Wisconsin
Wyoming
2. Extension through October 10, 2018
These states have been granted an extension that goes through 10/10/18. Afterwards, a passport or federal ID will be required to board a domestic flight. Some states have announced dates when their DMVs will start offering a new REAL ID Act. These dates are listed below. If not listed, they have not yet announced the dates.
California – A REAL ID compliant card will be available to citizens starting January 22, 2018.
Idaho
Kentucky – A REAL ID compliant card will be available at the DMV in mid-2019.
Maine –  Expected date to issue REAL ID compliant licenses begins July 2019.
Massachusetts – A REAL ID compliant ID will be available on March 26, 2018.
Minnesota
Montana – citizens can now  buy a compliant ID starting at $25 at their DMV.
New Hampshire – Citizens can now  apply for a compliant ID at the DMV.
New Jersey
Oklahoma –  Oklahomans can expect to be able to apply for a REAL ID compliant ID mid- to late-2019.
Oregon –  Oregonians can get a REAL ID beginning July 2020.
Pennsylvania – The state expects to make REAL IDs available in 2019.
South Carolina – New compliant IDs are expected to be available from the first quarter of next year. State citizens can apply for a new ID online.
Virginia – will begin offering a REAL ID to its citizens that month.
Washington – Citizens can now apply for an ID that meets REAL ID standards in person at the DMV.
3. Under Review for The REAL ID Act Compliance – Request for Extension Submitted but not yet Granted
The following states are currently under review, meaning they have submitted a request for an extension that has not yet been granted. For now, the TSA will continue to accept driver licenses from these states through 1/22/18 as part of a grace period.
Guam
Illinois
Louisiana
Missouri
Michigan
Northern Mariana Islands
Puerto Rico
Rhode Island
U.S. Virgin Islands
North Dakota is the only state that has been granted an extension through October 2020. A passport of federal ID will be required to board a plane after this date. Citizens can apply for a compliant ID.
For more information or questions on any of the details above, contact your travel agent at Enchanted Travel at 402-281-3022!