23 Apr

Travel Agent Favorite: Moon Palace Jamaica

This week's Travel Agent Favorite choice is Moon Palace Jamaica. Read on for everything we love about this stunning family-friendly all-inclusive property.
We LOVE Jamaica
Friendly, Laid-back Locals
First, let's take some time to talk about why we absolutely love sending our clients to Jamaica. First off, the people are some of the kindest you will meet. They are laid-back, friendly, and fun-loving. This is true of the entire staff at Moon Palace Jamaica, as well as anyone you can expect to encounter off of your resort.
Club Mobay
One tip we like to share with every client we send to Jamaica is to purchase a Club Mobay pass. A Club Mobay pass expedites you to the front of the immigration and customs lines when you first arrive in Jamaica. You'll be greeted by a host who meets you from your plane and walks you through customs and immigration. Then they will guide you to the Club Mobay Lounge to wait for transportation to your resort. Here you'll find snacks, drinks, comfortable seating, and friendly service. They'll let you know when your transportation has arrived and handle your bags until then. The pass costs $50 per person for arrival only and $80 per person for arrival and departure.
Perfect Beach Weather
Another reason we love Jamaica is the gorgeous tropical warm weather. With an average temp of 81° F, you can visit the beaches of Jamaica at any time of the year.
One-of-a-kind Culture
Besides the friendly locals and beautiful weather, we also can't get enough of the Jamaican culture. In fact, hospitality is one of the aspects of Jamaican culture that sets it apart from other countries. In addition, Jamaica embraces amazing food and music. You can learn about the history and culture of Jamaica at many cultural spots included the Bob Marley Museum and Devon House.
We LOVE Moon Palace Jamaica
Great for Families
We are constantly recommending this property for families because there is so much for kids to do here. The main pool has a huge water slide, for starters. This is known as the "Activity Pool". You'll also find tons of daily entertainment here like trivia and dance contests. The property also has a Splash Park that is great for kids ages 1-4.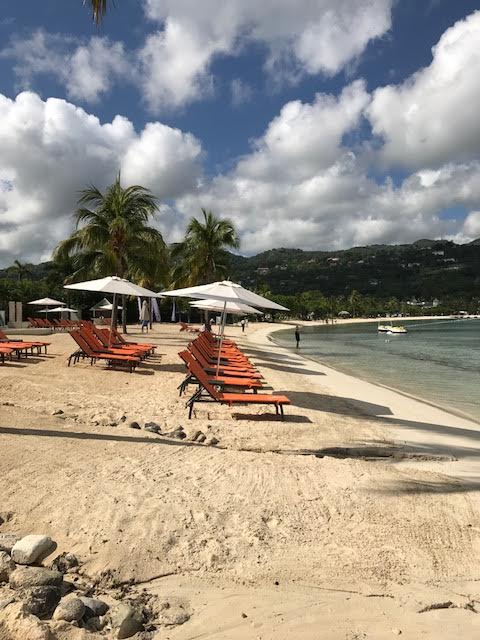 The beach here is also great for small children. It is quiet and private. In addition, the water is shallow and there aren't any large waves. There are also tons of water activities for kids at the beach on property. You can take your kids sailing or kayaking, and they can use the water bikes and paddleboards as often as they want – it's all included.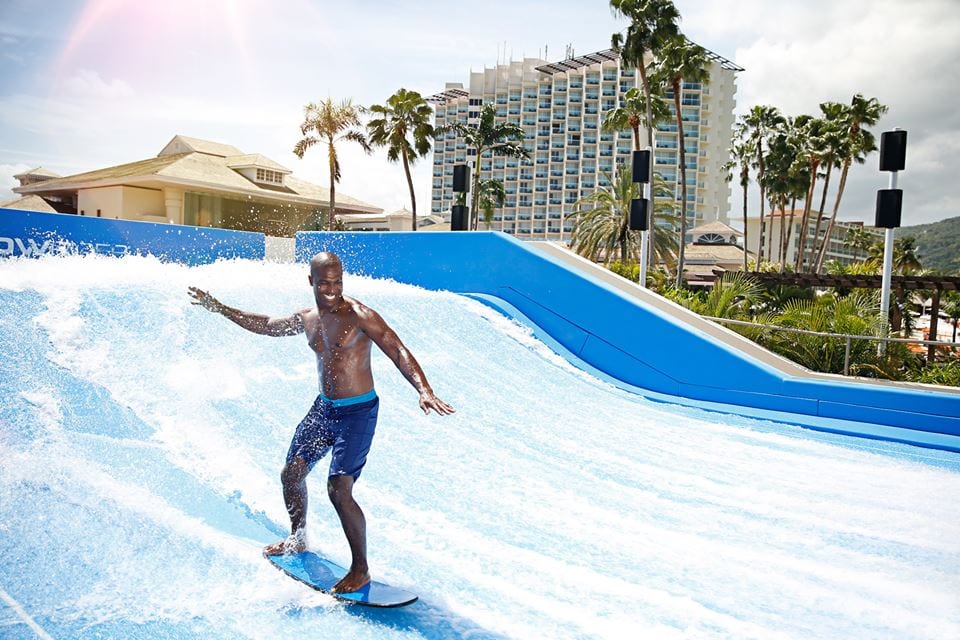 The Flow Rider is another big attraction for kids. This is a simulated surfing experience for all ages. It's harder than it looks but once you try it once, you'll want to keep trying until you master it.
Your kids will also love the Wired Lounge on the property. This is for kids of all ages, and you can drop the kids off here with their staff who are very hands-on. Here you'll find a snack bar that serves ice cream and slushies all day, video games, air hockey, and a movie room.
Incredible Food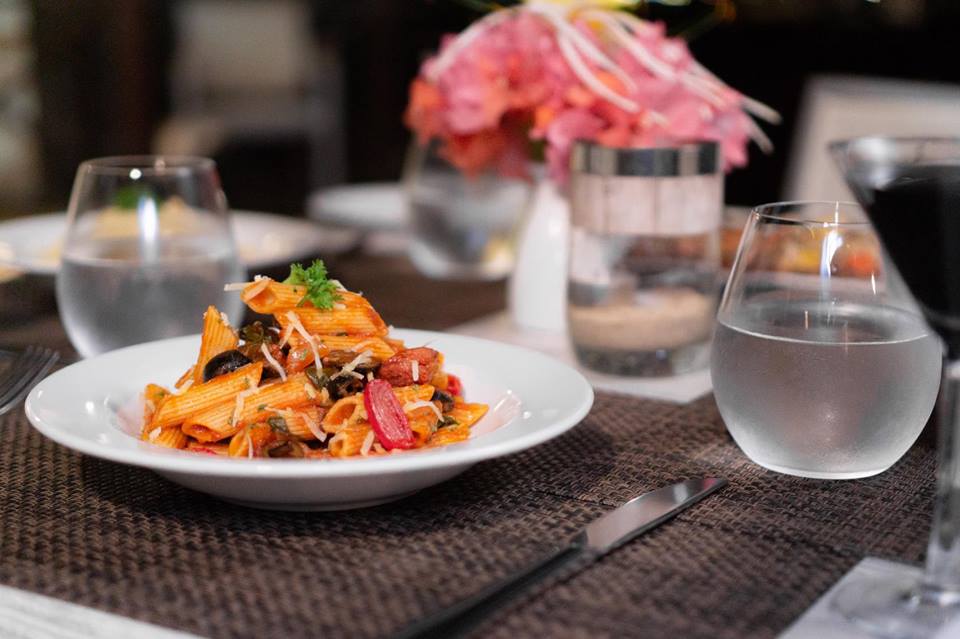 Moon Palace Jamaica is home to 7 restaurants. Momo is a Hibachi restaurant that is open for dinner nightly. You do need reservations here and men must wear long pants and closed toed shoes (including children). You will also need to make reservations and adhere to the dress code at Gondola, Moon Palace Jamaica's fine dining Italian restaurant. Gondola is also only open for dinner.
For daytime, head to Buccaneers Reef. This is a full-service buffet restaurant open to breakfast, lunch and dinner. You'll find about 40+ food options for each meal here. This is a great choice for families with picky eaters or different tastes.
Pier 8 was my favorite! This seafood restaurant sits right on the edge of the ocean and they have a great kids menu. It is open for breakfast, lunch and dinner and serves a variety of seafood, steaks and salads.
Sundeck Grill & Bar also overlooks the ocean. Menu items include pizza, pasta, steaks, salads, and soups.
In addition to the fab specialty restaurants, there is also a snack bar located next to the activity pool. Here you can order hamburgers, hot dogs, nachos, etc. For more snacks and sweets, head to Boulangerie. This bake shop and cafe is open 24 hours and a great place to grab coffee in the morning. Gourmet Corner is located across the hall from Boulangerie and serves sushi, pizza and paninis. In addition, there is 24-hour room service here for all guests. You'll also find 3 bars including the Piano Bar, Loud Bar, and the Noir Dance Club.
Other things we love about the resort
In addition to the friendly staff, top notch dining, and kid-friendly activities, there are a few other things to note about this property that set it apart.
The Awe Spa is an incredible spa on the property. I had a great massage here and would highly recommend it. You can use your resort credits to pay for services here – ask your Enchanted Travel expert for more details on this. The fitness center here is also great and open from 6 AM to 10 PM.
The nightly entertainment here is also great, especially for families. They have live shows every night starting at 9 PM.
Want to book your own stay at Moon Palace Jamaica? Call us at 402-390-9291 or get started here.