02 Jul

Travel Talk Tuesday: Fourth of July Travel Tips, How to Stay Safe While Traveling & More

Happy Fourth of July Eve! This week's Travel Talk Tuesday is full of the top travel news stories from around the web to help you with your travels during this busy week. Read on for the top travel destinations for the Fourth of July, tips for road travel over the holiday weekend and more.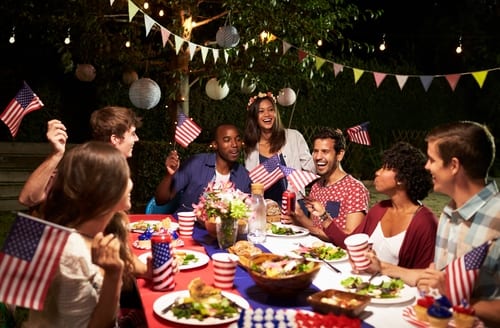 Traveling for the Fourth of July? Here are the worst times to leave your house
Lifehacker estimates that 48.9 million people will be traveling on July 4 this year. That's a 4.1 percent increase from 2018! In addition, it is an Independence Day record. A recent report breaks down the worst times to set out on the road if you are traveling by car Thursday. The main takeaway from this report is that the early- to mid-afternoon will likely be the worst time to start your journey. It will be especially treacherous for those living in New York, San Francisco, Detroit, and Los Angeles. The report notes that you should expect delays up to nearly 4 times as long as normal. Traveling by airplane? Check out this other helpful article for making it through the airport without losing your mind, on July 4 or any other busy travel day.
Source: http://mentalfloss.com/article/586942/traveling-fourth-july-here-are-worst-times-leave-your-house
Top 10 travel destinations for Fourth of July
This article again quotes the Lifehacker estimate of 48.9 million travelers this July Fourth. One of the major factors in this year's surge is lower gas prices as compared to previous years. "Gas prices are, on average, 17 cents cheaper than Memorial Day weekend, which is welcome news for motorists hitting the road to celebrate the July Fourth holiday," said AAA gas price expert Jeanette Casselano. "More so, summer gas prices are poised to continue dropping even lower in coming weeks."
This year's top 10 travel destinations for the Fourth of July include Orlando, Honolulu, Seattle, Las Vegas, Anaheim in California, New York, Boston, Maui, Anchorage in Alaska, and Chicago.
Source: https://www.foxbusiness.com/economy/july-4-travelers-expected-to-reach-record-breaking-48-9-million
July 4th travel and safety reminders
According to the Transportation Security Administration, a record number of travelers will be flying this week. 12 million individuals plan to travel by plane between July 3rd and July 7th this year. The busiest day for air travel will be Sunday, July 7th. According to NCB 25 News, "the TSA anticipates screening approximately 2.7 million passengers and crew members during peak travel days. That's an additional 5-hundred thousand people than on a typical day."
In addition to these helpful statistics, this article shares some important reminders from the Federal Aviation Administration for those traveling by plan this week. One reminder: fireworks are banned on domestic or international flights. They are not allowed in your carry-on luggage or checked bags.
Source: https://nbc25news.com/news/profit-report/july-4th-travel-and-safety-reminders-and-new-tech
How to Stay Safe While Traveling
The recent headlines surrounding travel to the Dominican Republic have left many people worried for their safety while traveling out of the country. However, according to Travel + Leisure: "The Dominican tourism minister, Francisco Javier García, insists that it is safe for tourists, and there's no warning from the U.S. State Department regarding the incidents. (The F.B.I. is helping the country's national police to investigate.)" Travel + Leisure spoke with former critical care nurse and Clinical Director for the STATE MedEvac in Pittsburgh, John Gobbels, on key practices for eliminating risk while traveling. Currently, Gobbels is the VP and COO of Medjet. Medjet is a leading travel protection and medical transport company in the US. Read the full article, linked below, for more details.
Source: https://www.travelandleisure.com/travel-tips/how-to-stay-safe-while-traveling
What you need to know about the Zika virus and travel
The Zika virus made headlines in 2016 and led many to cancel trips to Latin America and the Caribbean. However, just as quickly as it took over the news, it seemed to disappear from headlines. The World Health Organization updated their report on the virus today. They cited it in 87 countries including Brazil, China, India and Egypt. "The good news is that we haven't been hearing about Zika because transmission has been low," said Dr. Eve Lackritz, who leads the Zika Task Force at W.H.O. "Transmission dropped dramatically through 2017 and 2018, but when we have an end of an epidemic we don't stop our work." For more details, head to the article linked below.
Source: https://www.nytimes.com/2019/07/02/travel/traveling-zika-virus-symptoms.html