19 Apr

Travel Talk: Update on Notre Dame Blaze, New Cuba Travel Restrictions & More

In this week's Travel Talk, we're bringing you an update on the Notre Dame blaze, everything you need to know about the new Cuba travel restrictions for Americans, and more. First up, a look at Notre Dame in the wake of the tragic fire earlier this week.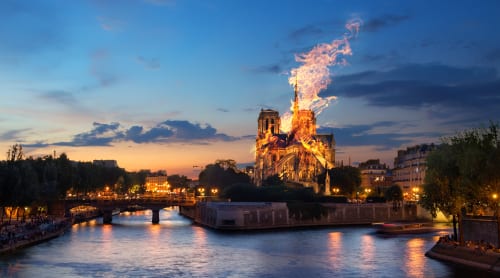 Notre Dame fire cause may have been electrical
According to French investigators, an electrical short circuit may have been the cause of the fire at the Notre Dame Cathedral. So far, investigators are dubbing the fire accidental. The fire ripped through the gothic architectural masterpiece on Monday night, bringing down its spire and destroying most of the cathedral's roof. Before declaring it an accident, investigators questioned about 40 people, including many Notre Dame cathedral staff members. In addition to staff, authorities also questioned workers who were carrying out renovations at Notre Dame. Read the lateset update from the Guardian here.
Source: https://www.theguardian.com/world/2019/apr/19/notre-dame-fire-cause-may-have-been-electrical-official
Notre Dame fire: Everything saved or lost
The world watched in horror on Monday as flames consumed the 12-century Gothic Notre Dame cathedral. French President Emmanual Macron vowed on Tuesday to rebuild the landmark within five years, despite colossal damages". The cathedral has received over $1 billion in pledges, including $300 million euros from two French billionaires. So far we know that the 315-foot-tall oak spire toppled due to the blaze. Also not saved: the copper statues depicting the 12 apostles and four evangelists, located  at the base of the spire. Two-thirds of the cathedral roof also perished. However, despite other items that were lost, much was saved. Most notably, first responders were able to save the crown of thorns. Additionally, rescuers saved the Tunic of Saint Louis and other major works of art. Find out everything that was lost in the blaze and everything that was saved in this article from Curbed.
Source: https://www.curbed.com/2019/4/16/18400170/notre-dame-fire-cathedral-paris-france
Everything we know about the new Cuba travel restrictions so far
Earlier this week, the US and Cuban governments announced  new restrictions for US travelers wishing to visit Cuba. Travel from the U.S. to Cuba has been difficult for decades now, but Obama eased many of the harsher restrictions during his presidency. This sparked a short-lived renewal in interest in travel to Cuba in 2015. Despite some additional restrictions coming about in June of 2018, guidelines remained vague enough for Americans to continue planning vacations to the Caribbean island. Among the new rules debuted this week, the US government announced further restrictions on what they are calling "non-family travel". This limits travel to Cuba for people who do not have relatives on the island. However, Cuba travel has not ended fully for Americans. Read more in this article from Lonely Planet.
Source: https://www.lonelyplanet.com/news/2019/04/18/usa-cuba-new-travel-restrictions/
National parks across the country will be free on April 20
National Park Week kicks off on April 20 this year and runs through April 28. To kick off the celebration, America's national parks will waive their entrances fees on April 20. This is a great time to check out popular parks like Grand Canyon National Park and Canyonlands National Park for free! In addition to free entry, you can participate in special activities the entire week. Examples include National Junior Day when kids can earn junior ranger badges and Transportation Tuesday, when you can learn about the innovations in transportation which have made it easier for visitors to experience the parks over the years. Head to Travel + Leisure for more details.
Source: https://www.travelandleisure.com/trip-ideas/national-parks/national-park-week-free-entry
Soon it will be easier to travel to ancient cities between Thailand and Myanmar
Thailand and Myanmar recently signed a deal which aims to pave the way for the creation of tourism routes and link their ancient cities. This article from Mashable notes that tourism in Southeast Asia is expected to experience a major growth spurt in the next couple of years. The deal between Thailand and Myanmar is in anticipation of this boom and will broaden the appeal for travelers to visit these heritage sites.
Source: https://sea.mashable.com/culture/3316/soon-it-will-be-easier-to-travel-to-ancient-cities-between-t
Call us today to book your next getaway. You can reach us at 402-390-9291 or get started here.