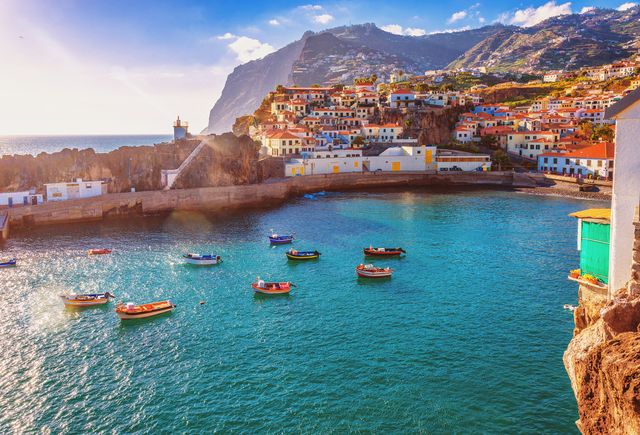 16 Nov

Unique Honeymoon Destinations Around the World

When it comes to choosing a destination for your honeymoon, the options are endless. From sunny beach destinations, glitzy European hotels with all the bells and whistles, a cozy mountain town, or something more rugged and outdoorsy – there are many options to choose from. Where do you go on your honeymoon if you want to do something out of the ordinary? We've gathered some great unique honeymoon destinations that you should consider!
Unique Honeymoon Destinations for Newlyweds
Zermatt, Switzerland
Although Switzerland is somewhat popular when it comes to honeymoons, the quaint mountain town of Zermatt is one of the most unique honeymoon places in the world. If you want to skip a beach honeymoon and want to explore the mountains instead, then you can't find a better spot than Zermatt. Don't leave without sampling some of their cozy food favorites like hot chocolate and cheese fondue.
Algarve, Portugal
The bustling beach town of Algarve is one of our favorite romantic honeymoon destinations – perfect for a one-of-a-kind honeymoon experience. Algarve, Portugal is full of towering cliffs, European flair, and old-world romance, and is surrounded by stunning royal-blue waters. For an unforgettable romantic dinner, head to the oceanfront restaurant Arte Náutica on Armação de Pera beach and sit on the terrace.
Charleston, South Carolina
Charleston is not only super romantic and picturesque, but it is also South Carolina's oldest city. This makes it ideal for history-buff honeymooners! Charleston, South Carolina is also a great honeymoon destination for foodies because it is known as the culinary epicenter of the South. There are more amazing restaurants in Charleston than you can count.
Nantucket, Massachusetts
Nantucket is one of the most idyllic destinations in the United States. There is truly nothing like it! Located 30 miles out to sea off of Massachusetts, Nantucket is home to cobblestone roads, beautiful beaches, a vibrant history, and fantastic food.
Plan to visit during the summer months for a bustling, summer vacation-type stay. Otherwise, plan your honeymoon during the holidays to take part in the Christmas Stroll. During the 'Stroll' each year, downtown Nantucket comes to life with carolers, holiday shopping, and other fun festivities.
Trinidad & Tobago
The Caribbean islands are one of the most popular honeymoon destinations as it has some of the world's nicest white sand beaches and tons of affordable nonstop flights from the U.S.
Trinidad & Tobago are often overlooked for more popular areas like Jamaica, St. Lucia, or the Bahamas. Trinidad (larger island) & Tobago (smaller island) are located just a bit further south than these popular destinations for honeymooners.
Tobago is home to a natural glowing pool, thanks to bioluminescence. Trinidad has some of the world's best street food while Tobago is known for having world-class beaches.
Kenya
Kenya is located in East Africa and is the perfect destination for adventurers who want to explore wildlife, beaches, and the countryside all in one trip. For one of the most unique wildlife experiences, visit the famous Giraffe Manor in Nairobi, Kenya. Here, giraffes on the property will visit morning and evening, even poking their heads in windows while you dine. There are also many safari options and other nature-focused resort and hotel options.
Enchanted Honeymoons Travel | Destination Travel | Unique Honeymoon Destinations
Call us today to speak to one of our Travel Specialists. You can reach us at 402-390-9291 or get started here. In addition, you can email us at info@enchantedhoneymoons.com.