12 Jun

Wanderlust Wednesday: Thailand

Thailand is the top tourist destination in South East Asia, and after reading our overview you'll understand why. It is often called the "Land of Smiles" and is known for its stunning beaches, breathtaking temples, pulsating cities and picturesque villages. In addition, the locals in Thailand are some of the friendliest, most down to earth and genuine people you will find. We're going to take a look at some of the top places in Thailand to visit, including Bangkok, the beautiful islands of Phuket, and Chiang Mai. Read on for more!
Bangkok
Bangkok is the capital city of Thailand. Here you'll find ornate golden temples mixed with an exuberant, colorful nightlife. In addition, Bangkok is home to designer malls and bustling street stalls and seems to be a city that never sleeps.
---
The Grand Palace
The Grand Palace of Bangkok is one its most famous attractions. The palace was home to the king, his court, and the entire government of Thailand as well as the Royal Mint for 150 years. It spans 218,400 square meters and is surrounded by huge walls built in 1782. Keep in mind that there is a strict dress code in the palace so appropriate clothing is required or you will not be allowed to enter.
The Stunning Temples of Wat Phra Kaew, Wat Pho and Wat Arun
One of the things you absolutely must do in Bangkok is visit the temples. The three named above are some of the best you'll find in the area. They are a symbol of the history, culture and religious values in Thailand. The temples are tall white structures with golden rooftops and colorful green and blue mosaic walls. You won't want to miss an Instagram shot of these beauties.
The Damnoen Saduak Floating Market
You'll find several floating markets throughout Thailand, but Damnoen Saduak is one of the biggest. A visit to this market gives tourists insight into the past of Bangkok and what it was like to live here many years ago. The market is located about 100 km outside of Bangkok, but well worth the travel.
The Sathorn Unique Tower
The Sathorn Unique Tower is a huge abandoned skyscraper situated in the heart of Bangkok. It was built in the nineties but was never completed. Though it is not an official tourist attraction, a small payment to the security guards will allow you access. Climb to the top of the 49 story tower for one of the most beautiful views of Bangkok. Keep in mind that Thai people believe the tower to be haunted, so this is not for the faint of heart!
Explore the Street Food
Bangkok has some of the most incredible food in the world. The street food is where you'll find the best delicacies. In addition to being delicious and authentic, they are very reasonably priced. Ask your Enchanted Travel agent about a street food tour which will not only lead you to the best food samplings, but also teach you a lot about the country's culture.
---
---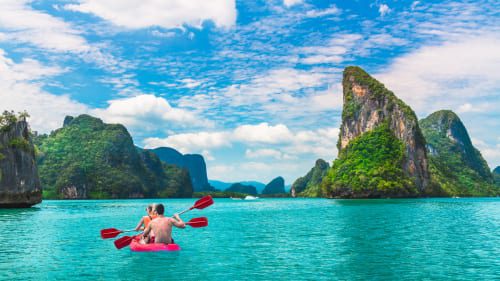 Phuket
Phuket is Thailand's largest and most popular island. It is colorful and cosmopolitan and attracts millions of people each year. This is a great destination for a laid-back yet adventurous vacation.
---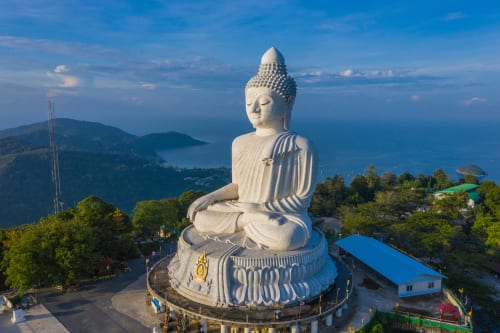 Big Buddha
The majority of the Thailand's population are practicing Buddhists. Therefore, you'll find countless temples and statues demonstrating their faith. One of the most impressive of these monuments is Phuket's Big Buddha. This 45-meter-tall white marble statue must be seen up close. From the summit where it sits, enjoy amazing panoramic views of the islands.
Freedom Beach & Surin Beach
Freedom Beach is one of Phuket's most secluded and pristine beaches. It is a bit more remote which makes it more difficult to access than some of the others, but it's well worth it. It is tree-lined, with soft sand and clear, blue seas.
Surin Beach is another one of Phuket's best beaches and is popular with the Thailand's wealthy and famous locals. In addition to the gorgeous sand and  water, you'll find many high-end resorts, restaurants, and bars here.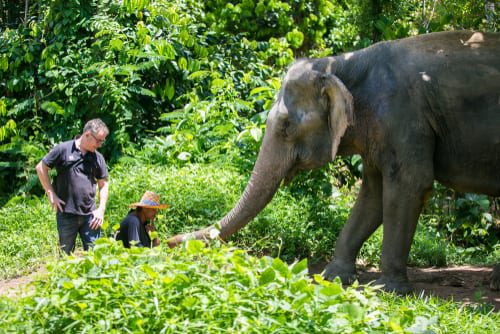 Phuket Elephant Sanctuary
The elephant is Thailand's national animal. Unfortunately, many of these creatures continue to be abused and forced to perform for tourists. However, Phuket Elephant Sanctuary invites tourists to learn about the animal's plight and rehabilitate these once-abused majestic creatures. Visitors can feed the animals and observe them in their newly found freedom.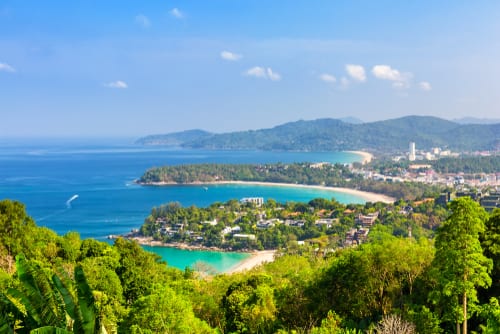 Karon Viewpoint
When you get sick of sitting on one of the gorgeous beaches of Phuket, head to Karon Viewpoint. Kata Viewpoint is another name for it. The elevated location offers unbeatable views of the three bays of Kata Noi, Kata and Karon.
Promthep Cape
The most famous viewpoint in all of Phuket (even better than Karon!) is Promthep Cape. It is the perfect place to watch the sun set into the sea. It is exactly the kind of place those who have been longing to see Thailand have probably imagined in their dreams.
---
---
Chiang Mai
Chiang Mai is located about 400 miles northwest of Bangkok. Its countryside, mountains and scenery are breathtaking. It is often referred to as the "culture capital" of Thailand and boasts over 300 temples.
---
Doi Suthep
Doi Suthep is the most famous attraction in Chiang Mai. This mountain has a fantastic view over the entire city, standing at 5400 meters tall. It is also home to Wat Phra That Doi Suthep, a 13th century temple. This temple is home to a huge white elephant shrine and a replica of the Emerald Buddha.
Doi Inthanon National Park
Doi Inthanon National Park is home to the highest mountain in all of Thailand. Made mostly of granite, the park covers about 186 square miles. In addition to it's beauty, Doi Inthanon is home to more bird species than anywhere else in Thailand.
Mae Ping River Boat Ride
Book a Mae Ping River boat ride for a two-hour trip along the Mae Ping River. Along the way, you'll pass gorgeous traditional teak houses and tons of rural greenery. Ask your Enchanted Travel agent about one of the tours that stops at a local farmers home for lunch. Here you'll get to see how farmers produce jasmine rice and explore the luscious gardens surrounding the river.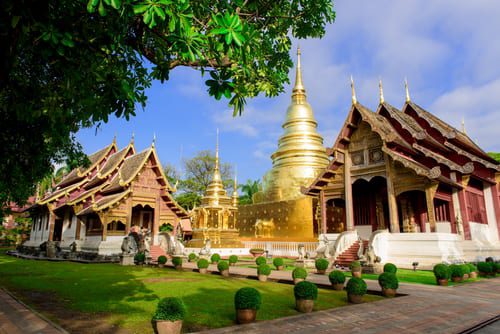 Wat Phra Singh
Wat Phra Sing is a Buddhist temple and monastery. It is known as the Temple of the Lion Buddha and you'll find two Buddhist statues here. 700 monks live in the temple today and are very friendly.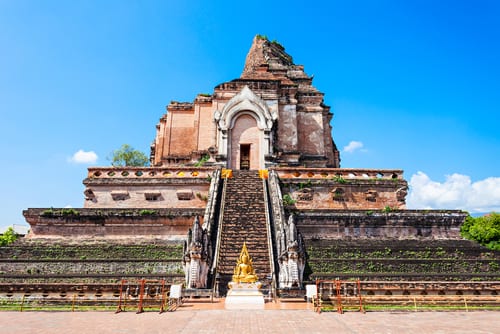 The Ruins of Wat Chedi Luang
Wat Chedi Luang is also known as the Temple of the Big Stupa. The ancient temple ruins are located in the center of Chiang Mai. Previously, it was home to the Emerald Buddha, the holiest religious object in all of Thailand. In 1545 an earthquake badly damaged it. Five years later, the Burmese captured Chaing Mai and the temple remains in ruin today.
Interested in booking your own vacation to Thailand? Call us today at 402-390-9392 or get started here.