28 Aug

Wanderlust Wednesday: Vietnam

Vietnam is a country rich in history, full of ancient buildings, amazing food and natural wonders. Despite it's bloody reputation given its 30th century history, Vietnam should definitely own a spot on your bucket list. Read on for our list of the top three cities to visit in Vietnam.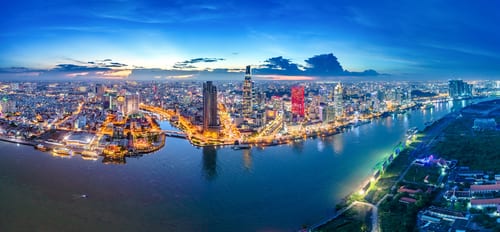 1. Ho Chi Minh City (Saigon)
---
Ho Chi Minh City, also known as Saigon, is the largest city in Vietnam. It is the busiest of the cities and is known as Vietnam's economic powerhouse. Here you'll find a blend of old and new culture, with ancient temples and traditional markets mixed in with modern skyscrapers.
Cu Chi Tunnels
Located northwest of Ho Chi Minh City are the underground Cu Chi Tunnels. It is about a two hour drive from the city. The Viet Cong used these tunnels to mount attacks on South Vietnam during the Vietnam War. The Vietnamese government installed numerous exhibits around the site which provide a look at Vietnam War History. In addition, you can fire automatic weapons at the firing range for about a dollar a bullet.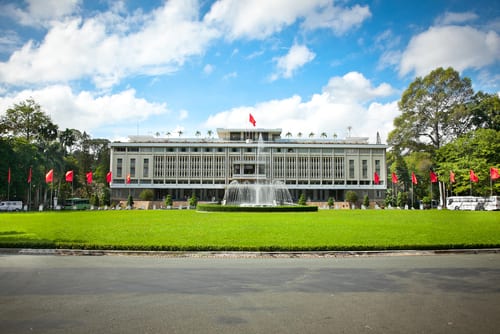 Independence Palace
The Independence Palace was briefly renamed the Reunification Palace after the fall of Saigon to communists, but it now stands with its original name. It is significant because it marks the site where the South Vietnamese government finally submitted to Communist forces in the Vietnam War on April 30, 1975. Today, visitors will be amazed at how unchanged the government building remains since the 1970's.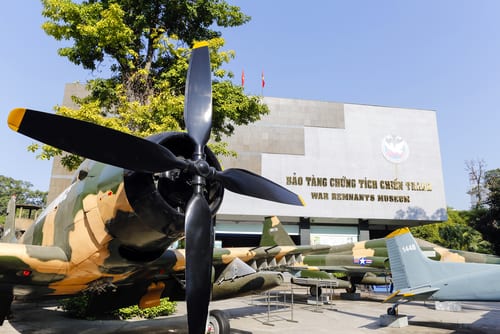 War Remnants Museum
The War Remnants Museum is a must-see Vietnam War Memorial in Saigon. It opened in 1975, shortly after the Vietnam War ended. It is a great place to learn about the war from the Vietnamese perspective. Inside you'll find graphic displays, photographs, and a somber vibe in honor of the horrors that both sides of the war faced. You'll find seven permanent exhibits with captions in both Vietnamese and English.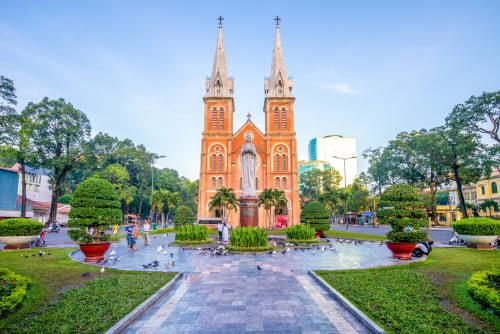 Saigon Notre-Dame Basilica
Ho Chi Minh City's iconic cathedral is one of the most iconic tourist attractions in the city. It's colonial grandeur is enough to bring the tourists, and locals set up makeshift stalls for selling crafts and food items. It was constructed in the late 1800's during the French colonial occupation of Vietnam. It's red brick facade, made from bricks that were imported from Marseilles, was incredibly unique during that time period. The Basilica is currently undergoing a massive renovation project that will last until June 2020. It is closed to tourists during this time but remains a site of worship for Vietnamese Catholics on Sundays, when mass is held at 9:30 AM in both Vietnamese and English.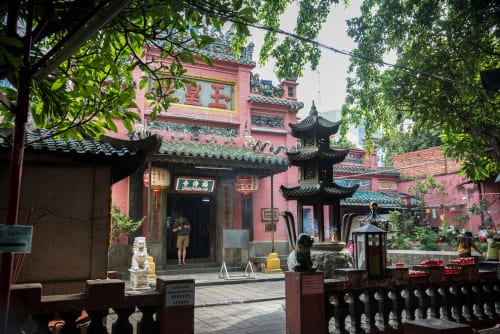 Jade Emperor Pagoda
Jade Emperor Pagoda is one of the most amazing temples in Ho Chi Minh City. It was built to honor the supreme Taoist god (aka the Jade Emperor or King of Heaven, Ngoc Hoang) in 1909. The main attraction is the temple's statues, which depict both Buddhist and Taoist characters. Uniquely, they are made of papier mâché. In addition, the place is full of beautiful woodcarvings and the roof is adorned with elaborate tile work.
Ben Thanh Market
Ben Thanh and its surrounding streets make up one of Ho Chi Minh City's liveliest areas. You'll find traditional Saigonese food and clothing, in addition to souvenirs. Ignore the 'Fixed Price' signs and bargain vigorously at all of the stalls here. Restaurants stalls are open until mid-afternoon and once the indoor market closes, a small night market remains open until midnight.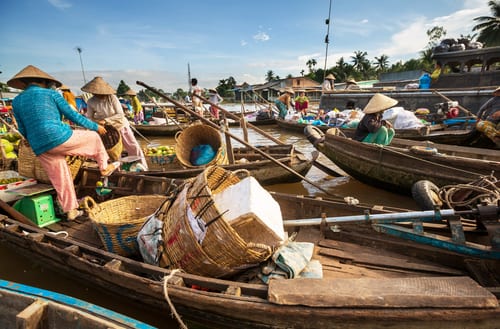 Mekong Delta
When you enter the land of Mekong Delta, you may think you've taken a step back in time. It is an area full of orchards, paddy fields and swamplands. It is known as Vietnam's "rice bowl", producing more than half the country's rice as well as a large fishing industry. Most tourists explore the unique region by boat.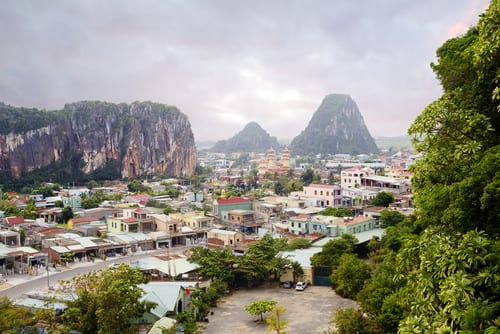 2. Da Nang
---
Da Nang is located halfway between Hanoi in the north and Ho Chi Minh City in the south. It is the fourth largest city in Vietnam. It is full of historical sites and other splendors to explore.
The Marble Mountains
The Marble Mountains, also known as Ngu Hanh Son or "Five Elements Mountains" are a cluster of hills made of marble and limestone. You'll find caves, tunnels and Buddhist shrines to explore in the area. According to ancient folklore, a dragon emerged from the sea and laid an egg on the beach. After 100 nights, an lady emerged from the egg and the remains of egg shells grew into the Marble Mountains that you can visit today.
The Ba Na Hills & the Golden Bridge
The Ba Na Hills are one of the most popular attractions in Da Nang. At the summit, you can see spectacular vistas stretching as far as the sea. You can hike or take a cable car to the top. In addition, newly launched in 2018, the Golden Bridge is one of the most amazing attractions in all of Asia. This bridge is painted a rustic yellow and raised by an enormous pair of hands.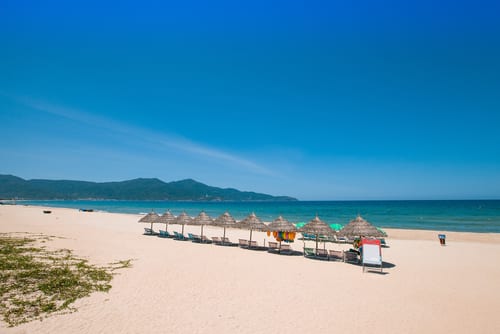 My Khe Beach
Known as one of the most beautiful beaches in all of Vientam, My Khe Beach stretches nearly 20 miles along the eastern coast of Da Nang. There are tons of things to do here, including water sports and surfing. In addition, you'll find plenty of delicious seafood restaurants.
Linh Ung Pagoda
Located at Son Tra Mountain, Linh Ung Pagoda is one of the most famous attractions in Da Nang. It has the tallest statues of the Goddess of Mercy in Vietnam. The statues were built on top of a platform in the shape of a beautiful blooming lotus. In addition, you'll find 21 Buddha statues located inside a larger 67 meter tall Buddha figure.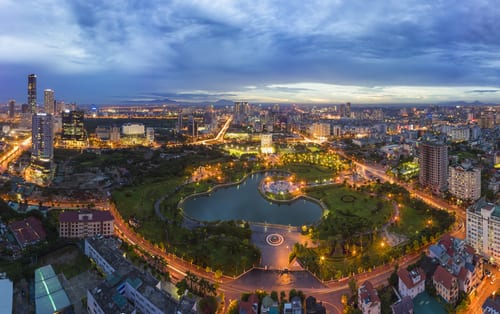 3. Hanoi
---
Hanoi is Vietnam's capital city. It is a vibrant and bustling city, and a very loud one. You'll find layers of history revealing periods of both French and Chinese occupation.
Ho Chi Minh Mausoleum
The Ho Chi Minh Mausoleum holds the embalmed remains of Ho Chi Minh, a revolutionary who commanded the communist North Vietnamese forces during the Vietnam War. He also served as the prime minister and president of the Democratic Republic of Vietnam. In addition, Siagon was renamed Ho Chi Minh City in his honor after his passing. Expect long lines of locals and tourists if you want to visit.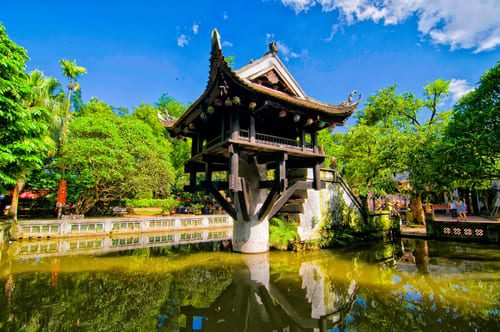 One Pillar Pagoda
Built of wood atop a single stone pillar, One Pillar Pagoda is designed to resemble a lotus blossom. The lotus blossom is a symbol of purity, rising from sorrow. It was originally built by Emperor Ly Thai Tong in honor of his only child and heir in 1049. The French destroyed the original Pagoda but it was rebuilt by the new government.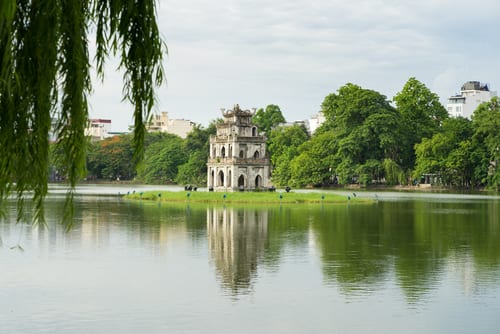 Hoan Kiem Lake
Hoan Kiem Lake, aka Lake of the Restored Sword, is beautiful and steeped by legend. The legend claims that Emperor Ly Thai To was sent a magical sword from Heaven. He used this sword to drive the Chinese out of Vietnam. After the war, a giant golden turtle grabbed the sword and dove into the depths of the lake to restore the sword to its divine owners.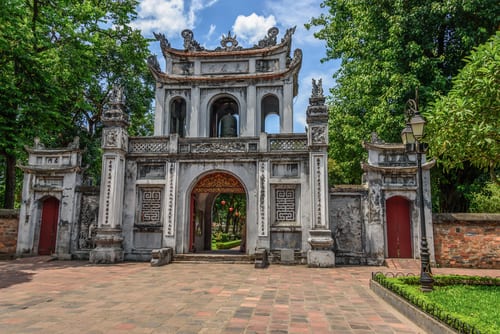 Temple of Literature
The Temple of Literature is a historical monument in Hanoi. It is located behind a walled compound with five separate courtyards. It was built to honor Confucius in 1070. Shortly after it was built, it became the prestigious Vietnam Imperial Academy, Today the temple honors Vietnam's finest scholars. In addition, it signifies the beginning of a uniform education system in Vietnam.
Interested in booking your own getaway to Vietnam? Call us today and ask about our Vietnam tours. You can reach us at 402-390-9291. In addition, you can get started here and one of our travel experts will reach out to you directly.