02 Oct

What We Ate: UNICO 20° 87° Food

My husband and I just returned from our honeymoon this past Sunday. We spent three nights at UNICO 20° 87° Riviera Maya and 3 nights at Le Blanc Spa Resort Cancun. You can read our full review for UNICO here and our full review of Le Blanc here. In addition, we highlighted the key differences between these resorts in a blog post here.

In this post, we are going to show you everything we ate during our stay at UNICO. Stay tuned for a separate blog post on all of the food at Le Blanc, coming soon.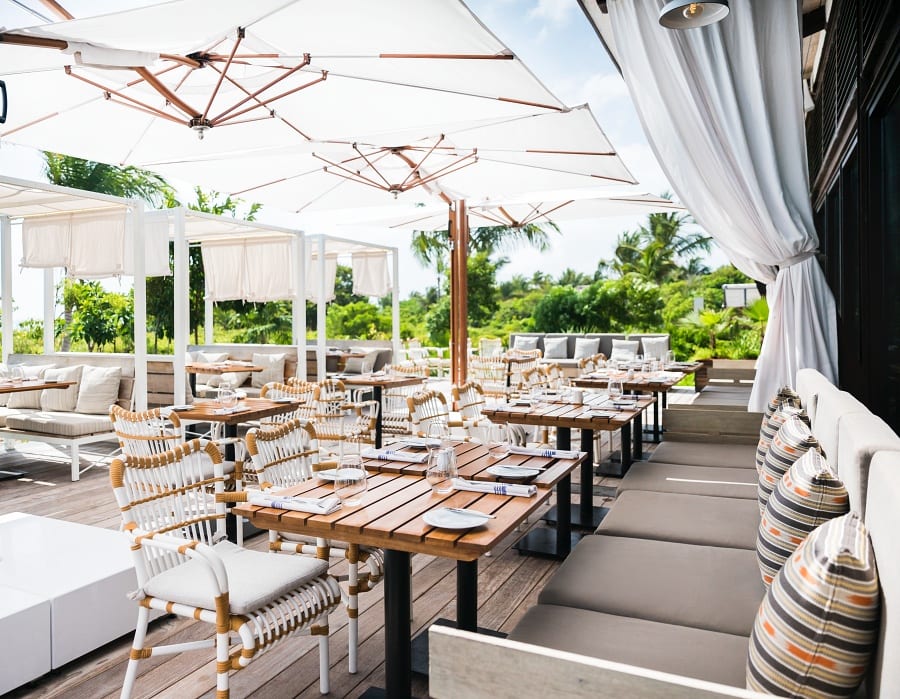 Day One Food & Restaurants:
**Keep in mind when reading this – the first day was the only day that we had meals we didn't love! They get better in the next two days. 🙂 **
We got to UNICO 20° 87° Riviera Maya at about 2 PM last Monday. We were exhausted from the wedding and really craving a great meal. Sadly, the first day was the only time we had food that was sub-par. However, after the first day things really take a turn for the better, so stick with me on this!
Lunch: Pool bar & restaurant.
This was probably the only meal we really did not care for on our whole trip. We started with octopus ceviche, which really tasted weird. In addition, we had chips and guacamole that were so-so, buffalo chicken wings that were also not great, and a Caesar salad. We did end up eating most of the Caesar salad.
Dinner: Cueva Siete Mexican Restaurant
The food here was not bad, but we were in the mood for comfort food that we could stuff our faces with. This was not the place to get that. Instead, the dishes were beautiful and interesting but a bit too funky for what we were looking for. We started with the house tamales which were pretty good. We also had a corn tortilla with black beans, avocado, cheese, tomatoes, and radishes. This was not our favorite. However, Ryan really enjoyed his rib eye steak and all of the sauces that came with it. For my entree, I ordered chocinitas pibil, a Mexican pork dish you scoop into warm corn tortillas. This was my favorite from the meal.
Late Night Snack: Room Service
Later that night we ordered cheese quesadillas and tortilla soup. They were both okay but nothing spectacular.
---
Day Two Food & Restaurants:
Breakfast: 20° 87° Restaurant 
For our first full day in Mexico, we started at the buffet restaurant, 20° 87°. We had eggs, sausage, bacon, fresh fruit, bagels with cream cheese, coffee and mimosas. It was pretty typical for an all-inclusive buffet breakfast but we liked it!
Lunch: Pizza by the pool
After breakfast we headed straight to the pool and had our own little day bed that jutted into the water, plus two lounge chairs directly behind it. We were very comfortable here so we decided to try the pizza and ordered it to our spot. It was pretty good – we had Margarita pizza and pepperoni.
Dinner: Mia Carisa Italian Restaurant
Mia Carisa was probably our favorite meal at UNICO 20° 87°. We started with the pear and arugula salad and the beef carpaccio, which were both excellent. For our entrees, we ordered cheese ravioli, mushroom risotto, and chicken fettuccine. We learned pretty quickly that we should be ordering multiple entrees and appetizers in case we didn't like one. Here, however, we liked everything! For dessert, we had vanilla ice cream with figs.
---
Day Three Food & Restaurants:
Breakfast: Room Service
We decided to give room service another try, this time for breakfast. Our massage was at 10 AM this day, so we figured it would be more convenient to eat our breakfast on our room's balcony. We ordered eggs, bacon, sausage, toast, fresh fruit, and coffee. Everything was pretty similar to what we would find at the buffet. This was also cold, though.
Lunch: 20° 87° Restaurant 
Lunch at 20° 87° Restaurant (the buffet) was great! We loved the taco bar, where they had beef and chicken and warmed our tortillas for us. We also had a few of the pre-made items like meatballs, french fries and rice. 
Dinner: Mura House Asian Restaurant
For our final dinner at UNICO 20° 87°, we ate at Mura House. This Asian restaurant offers both an a la carte menu and teppenyaki. We opted for the a la carte menu and started with California rolls, spring rolls, and tuna tataki (seared tuna). After that I ordered the Miso soup and for our entrees we had beef teriyaki, lobster fried rice, and shrimp pad thai. Everything we ate here was delicious!
---
Day Four Food & Restaurants:
Breakfast: Cafe Inez
For our last morning at UNICO 20° 87°, we got another couples massage and then I grabbed a ham and cheese panini at Cafe Inez, the coffee shop and snack bar in the lobby. I wish I had discovered this panini earlier in the week! It was so delicious that we ended up grabbing another one for our drive to Le Blanc Spa Resort in Cancun.
Overall, I would rank the food here an 8 out of 10. If we had had more time here, we would have been able to go back to the restaurants we loved and avoid the ones we didn't. Our favorite items were the cheese ravioli at Mia Carisa, the beef tataki at Mura House, and the ham and cheese panini at Cafe Inez.
Interested in tasting some of UNICO's food for yourself? Call us today at 402-390-9291 or get started here.