08 Mar

Top 5 Family Spring Break Destinations + Where to Stay

Spring break time is here! Many families will be looking for places to take their kids where both adults and children can enjoy themselves. All-inclusive resorts are the best for families because everything is paid for. This means you can spend less time worrying about what to have for dinner, or how to keep your kids occupied. Here we break down the resorts that offer relaxation and fun for adults as well as family-friendly sleeping arrangements, food options and restaurants, and even babysitters!
1. Costa Rica
JW Marriott Guanacaste
One of the best in Latin America, JW Marriott Guanacaste is a luxury hacienda style resort. Located in Costa Rica's northwestern coast, this resort offers the luxuries you would expect with JW Marriott in an environment that is authentically Costa Rican. This is the only international branded hotel close to Tamarindo town. In addition, it sits next to an 18-hole golf course and offers many off-site activities. These include zip-lining, white water rafting, and tours to nearby parks and volcanoes. On property you will find an infinity pool, Kids Club, and biking trails. For adults and kids over 14, enjoy the spa which is ranked as one of the top five in Latina America by Spa magazine. With five restaurants and two bars, you have endless cuisine options at the JW Marriott Gaunacaste.
The Springs Resort & Spa
Finally, The Springs Resort & Spa is a luxury resort that sits one thousand feet above the Arenal Valley, offering a spectacular view of the Arenal Volcano. Enjoy a dip in the natural hot and cold springs, then tantalize your taste buds at one of five unique restaurants on-site. Be sure to enjoy the full service Spa during your stay here as well. For kids and adults to enjoy, there is the nearby Club Rio Outdoor Center. Here you can enjoy river tubing and horseback riding. Also make sure to take your kids to the on-site animal sanctuary! This is truly a unique experience for families, and one that is purely Costa Rican.
2. Punta Cana, Dominican Republic
Nickelodeon Resort
This 5-Star Karisma Gourmet Inclusive Resort,Nickelodeon Resort, is perfect for family spring break. Located on Uvero Alto Beach in Punta Cana, it is just 25 minutes from the Punta Cana International Airport. This resort has 208 suites (including the Pineapple Villa – a replica of Spongebob's underwater Pineapple home!),  and 12 restaurants (and 24 hour room service!). In addition, you'll find a luxurious spa, and Aqua Nick Playground! With water slides, splash pads, spray grounds and a lazy river, Aqua Nick is the place to hang out and get wild. You can even get "slimed" here!
Iberostar Bávaro Suites
Another 5-star option for spring break in Punta Cana, Iberostar Bávaro Suites is located on the incredible Playa Bávaro and surrounded by lush tropical gardens. This all-inclusive resort is located just 12 miles from Punta Cana International Airport, so your family can get right to the action (or relaxation) upon landing! The Bávaro Suites is one of four Iberostar hotels in Playa Bávaro. A larger family (up to 6 guests) can stay comfortably in one of 75 2-story bungalows. For a smaller family, choose one of our 448 junior suites (up to 4 guests). The resort also boasts a shopping center, pharmacy, nightclub, casino, lounge, spa, fitness center, and a large pool area overlooking the beach.
3. Hawaii
Grand Wailea, Maui
Family comes first at the 5-star Grand Wailea Resort! Connecting rooms are available upon request (this is harder to find than you may think!), and the resort offers plenty of activities to keep your kids busy. With 4 lazy rivers, 4 slides, and an adventure course including a rope swing, you cannot get bored here. On property you will also find Camp Grande Kids Campe. This is a a 20,000 square foot park including an arcade, ping-pong and foosball tables, PS2 games, and a theatre. The restaurants are kid-friendly and reservations are never required!
Aulani, a Disney Resort & Spa, Oahu
Located on Ko Olina, on Leeward Cost in Oahu, Aulani Disney Resort & Spa is a unique resort is a special experience for families. Take your pick of comfortable accommodations including 1-2 bedroom suites, or 1-2-3 bedroom villas. The villas include a full kitchen and a washer/dryer unit. You and your kids will never get bored here! This resort boasts activities from morning to night. Wake up with a surf lesson or guided hike, then relax in the lazy river and hit some of the water slides at the pool. Later, gather the whole family together for a hula party, where you can learn how to make lei's. Before heading to bed, get cozy with the on-site Disney characters at the nightly fireside story.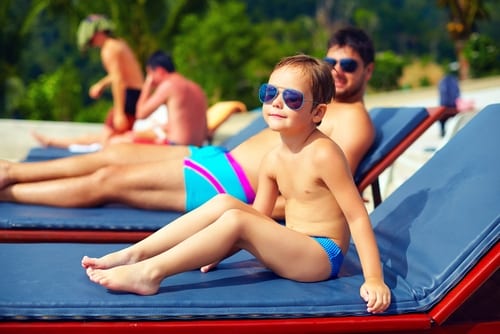 4. Riviera Maya
Generations Riviera Maya by Karisma
This Karisma Gourmet-Inclusive Resort, Generations Riviera Maya, is perfect for families of all ages and GREAT for multi-generational families. In fact, grandparents stay free at this resort! With award-winning cuisine and luxurious infinity pool suites, this resort has it all. It is named one of the Best Hotels in the World by Condé Nast for two years and running, which will come to no surprise to those who have stayed here! Let your personal butler take care of your every wish while you enjoy 24-hour room service, endless infinity pools, and personal concierge services. Kids will find their own paradise with the exciting activities of the Eko Kids Club and Little Eko Chefs programs.
Grand Velas Riviera Maya
Grand Velas Resort is the only family-friendly all inclusive resort in the Mexican Caribbean to be rated Five Diamonds by the AAA. The amazing suites on-site feature native artwork, spa-like bathrooms, and private terraces with views of the jungle and turquoise Caribbean Sea. This is truly a unique experience for your family and you will leave feeling one with nature. The award-winning spa boasts ancient healing rituals in a jungle sanctuary atmosphere. The restaurants serve creative cuisine and chef-inspired food for the soul. You will feel pampered with private butler service, fun resort activities (think kayaking and scuba diving), and a Kid's Club. Just 5 minutes from downtown Playa del Carmen and a 35 minute car ride from Cancun International Airport!
5. Florida
Clearwater/St. Petersburg, FL
This classic beach town is perfect for first-time Florida visitors or those of you who have been everywhere in Florida! Located on Florida's stunning West Coast, Clearwater/St. Pete boasts a lively boardwalk (Pier 60), funky beach shacks, and nightly beach festivals at sunset. Great for every visitor and every budget!  You will find casual and fine dining, and plenty of activities on both land and water. In addition, expect amazing celebrations this summer as Clearwater celebrates turning 100 years old this year!
Marco Island, FL
As the only developed island of Florida, expect to find unspoiled wild parks and pristine beaches on Marco Island. In addition, be sure to check out Briggs Nature Center! This is a 1/2 mile boardwalk where your family can watch wildlife in their natural habitat. Also take a tour of 'Ten Thousand Islands' to see dolphins, turtles, and Manatee's. Lastly, cap it off with dinner or drinks at Quinn's on the Beach to see fire dancers every night at Sunset.
With so many resorts to choose from, it's easy to get overwhelmed by pictures, online reviews, and overall information overload. Get in touch with an Enchanted Honeymoons travel agent today in order to get more in formation on all-inclusive packages in Mexico! You can also reach us by phone at 402-281-3022.