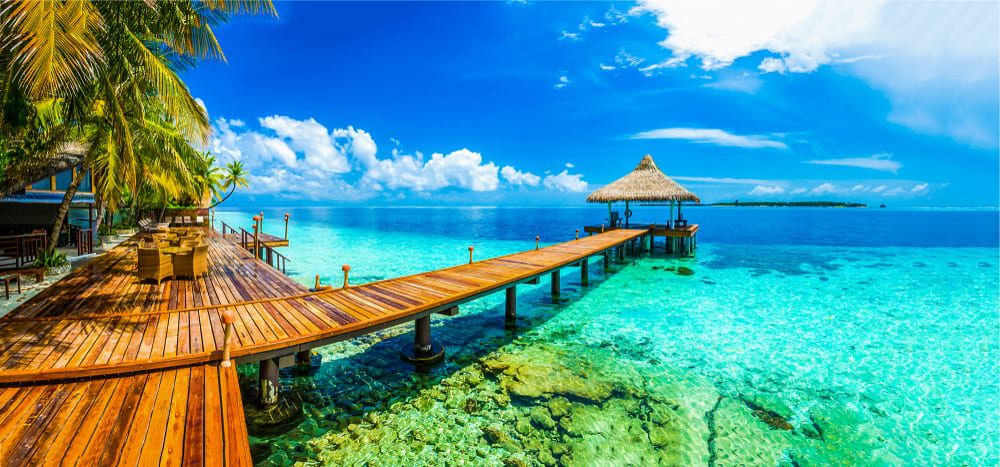 08 Apr

Wanderlust Wednesday: the Maldives

By now you may have heard the controversial story of the couple stranded on their honeymoon in the Maldives amid the Coronavirus outbreak. Whether you're jealous or think that they are irresponsible, you'll still fall in Wanderlust with the beautiful Maldives.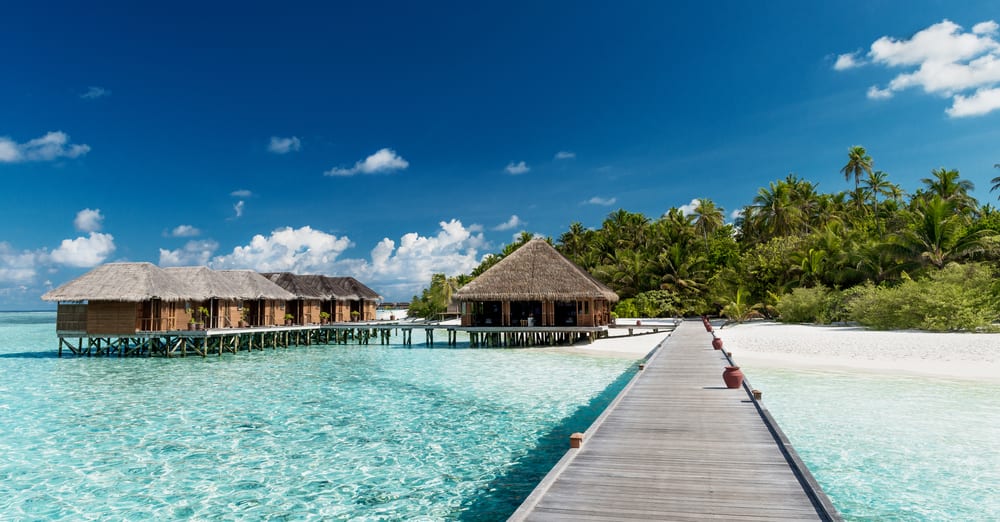 Read on for our Wanderlust Wednesday Pick of the Week: the Maldives
The Maldives is a slice of paradise in the Indian Ocean. You may recognize it as a popular picture-perfect honeymoon destination. The Maldives is made up of more than a thousand tiny islands, known as an archipelago, nestled in crystal clear ocean water. About 200 of these islands are inhabited and another 200 islands are resort islands. Although it has so many islands, it is still the 9th smallest country in the world!
Getting to the Maldives
When you visit the Maldives, you'll fly into Valana International Airport in Male. In addition, many do not realize that the islands are only an hour away from Sri Lanka by plane. Keep this in mind when planning your vacation – you may want to add Sri Lanka onto your trip! You'll find 3 or 4 flights between Colombo International Airport (in Sri Lanka) and Velana International Airport. In addition, you can book 1 of about 3 flights that run each week between Colombo and Gan International if you're headed to the southern atolls. You can also find direct flights to the islands from India, Singapore, Hong Kong, and Malaysia.
You do not need a pre-arrival visa to enter the Maldives. Instead, a thirty-day visa is issued upon arrival. However, you will need to have a passport that is valid for at least 6 months from the date of your arrival. In addition, you'll need to show valid tickets out of the Maldives in order to get your visa.
When to Visit the Maldives
The peak season in the Maldives is from early December to March. You'll find a tropical climate year-round, with an average temperature of about 85 degrees Fahrenheit. However, rainfall increases considerably during the monsoon season. Monsoon season is from April to October. June and August are particularly rainy. You'll find the best weather from December to March, but keep in mind that hotel prices and flights tend to be more expensive during peak season.
Also, keep in mind that the peak surfing season is the opposite of peak tourist season. If you are an avid surfer, the best time to visit the Maldives is actually during the monsoon season. June, July, and August are the best months to catch epic swells.
You'll get used to Island Time
Don't be shocked to find that your hotel runs one or two hours ahead of the official time in the Maldives. Many resorts have their own "island time" – seriously. This is so they can make the most of sunlight hours. Once you get used to it, you'll learn to love it.
Now Time to Choose your Hotel
Choosing a hotel in the Maldives can be overwhelming. The good news is that there are plenty of accomodations and many are affordable. However, there are so many atolls it can be difficult to narrow down your selections. Your best bet is to work with a travel agent on this. They can help you decide which atoll to visit, whether to opt for a guesthouse or a private resort and more. You may also want to consider whether to book a hotel that is accessible by speedboat or one reachable only by seaplane. In addition, do you want a beach villa or overwater bungalow?
Enchanted Honeymoons Travel | Destination Travel | Best Packages
There is much to consider when planning a trip to the Maldives! Call us today and let one of our travel experts assist you. You can reach us at 402-390-9291 or get started here.