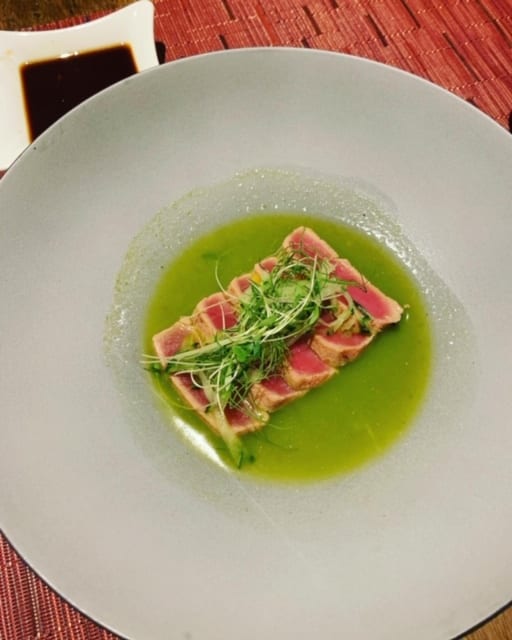 03 Oct

What We Ate: Le Blanc Cancun

My husband and I just returned from our honeymoon, where they stayed for 3 nights at UNICO 20° 87° Riviera Maya and 3 nights at Le Blanc Cancun. Read and see photos of everything we ate at UNICO here. While we liked the food at UNICO (we ranked it an 8 out of 10), the food at Le Blanc Cancun was absolutely amazing. I have never had food like this at an all-inclusive resort before! Check out everything we ate below.
Day One at Le Blanc Cancun
We arrived at Le Blanc Cancun at about 1:15 PM last Thursday. We left UNICO 20° 87° at noon so it is a little over an hour's drive between the two properties. UNICO 20° 87° is located in the Riviera Maya, near Tulum. Le Blanc Cancun is located right in the heart of Cancun's hotel district. We had lunch at UNICO 20° 87° before we left, so we didn't try the food at Le Blanc until dinner – and let me tell you, we wish we had tried it sooner!
Dinner: Blanc Bella Italian Restaurant
This was probably our favorite meal of the entire trip. Blanc Bella is absolutely gorgeous, with white linen tablecloths, glass chandeliers, and beautiful artwork. The staff here could not have been more friendly or helpful.
We started with the house appetizer of beet with blue cheese, mandarin orange, and balsamic. This tiny dish was amazing and we knew we were in for a treat!
After that I had the Duo Soup – half tomato cream and half goat cheese cream. If I had been at home for this meal I would have licked the bowl! It was delicious and the presentation was beautiful: they poured the two creams into the bowl at our table and created the perfect yin-yang design.
Ryan ordered the Caesar salad for his appetizer and it was divine. The dressing ws perfect and it had just the right amount of chopped black olives and cheesy croutons. They also brought us a delicious Focaccia bread with fresh shaved Parmesan and Pancetta to go with it.
After that, the waiter urged us each to order two entrees. I had the Rigatoni Cacio e Pepe which was absolutely amazing. The noodles were cooked perfectly al dente and the sauce was soupy and piping hot. We haven't stopped talking about this dish.
For my second entree, I had the Chicken Parmesan which was great but I was stuffed to the brim already.
For Ryan's entree, he had the Neapolitan Lasagna – similar to the Duo Soup in that it was half tomato sauce and half goat cheese with meat sauce. It was beautiful and delicious!
For his second entree, he had the Shrimp & Mozzarella Ravioli. This was also impeccably cooked – we couldn't believe how perfect the shrimp was. We also loved how unique both of these dishes were.
For dessert, I had the Panna Cotta which was amazing. I wished I had extra room in my stomach for more than two bites.
---
Day Two at Le Blanc Cancun
Breakfast: Blanc International
We ate a little differently at Le Blanc because the food was so good we couldn't stop. Ryan had breakfast at the Blanc International buffet each morning and I waited until they began serving lunch at the pool each day around 11 AM. Ryan had a made-to-order omelette each morning which was literally huge – it looked like a Chipotle burrito. They had great fresh juices, breads & bagels, egg dishes, potato dishes – you name it, they had it!
Lunch: Ordered at the Pool
For lunch on day two we ordered our meals to our lounge chairs at the pool because we couldn't pull ourselves away from the gorgeous view. It was also much cooler here than it was in Tulum (which is an hour and 15 minutes South of Cancun), so we didn't mind staying outside. For lunch this day I ordered the Cuban sandwich and I'm so glad I did! It was truly delicious and came with a side of Cajun-seasoned fries. I ate the whole thing in a matter of minutes. Ryan ordered the Reuben, which on the menu is described as having pastrami, sauerkraut, and long island dressing but they must have been out of these ingredients so he ended up with a roast beef sandwich. This was so-so but still hit the spot.
Dinner: Lumiere Fine Dining Experience
Lumiere is the only restaurant at Le Blanc Cancun that requires reservations. Blanc Bella and Blanc Yama (the Asian restaurant – we ate there on Day Three) take reservations but the resort was not crowded so we just walked in at both of these spots.
Lumiere was delicious, but more importantly it was really fun to try the unique dishes they offered. They started us off with miniature toasts and salmon mousse, the house appetizer. In addition, they brought us these little mushroom truffles that were great. They also came around with a basket of assorted breads and let us choose which ones we wanted.
We also ordered the crab appetizer which was similar to a crab cake. The waiter suggested we try the Seafood Spaghetti too, which was great. We stepped out of our comfort zone with the Beef Tartar, which is actually raw beef with spices. We had never had this before and I was a bit wary but it was actually pretty good!
After the appetizers, we each had the Boston Rock Salad, served on a chilled rock plate. Then we each had soup – Ryan had an Asian soup and I had a mushroom broth.
For our entrees, I ordered the lamb which I have never ordered before. Who knew I was a huge lamb fan?! Ryan had the Petite Filet and we split the Escargot Risotto. If you know Ryan and me, we love Escargot and we had never had it like this before. This was probably my favorite dish from the night, though I did eat every last bite of my lamb entree.
For dessert, Ryan ordered the Carrot Dish, which was similar to carrot cake. I had the Yogurt Dish which came with berries and caramelized cherry tomatoes.
Late Night Snack: Room Service
We decided to try the room service later that night as we had an early dinner. Each of us ordered a tortilla soup which was great and piping hot. We also split the Chicken Club Sandwich. Everything was tasty and much better than the room service we had at UNICO.
---
Day Three at Le Blanc Cancun
Breakfast: Blanc International
Ryan headed to the breakfast buffet for another omelette on our last day in Mexico. We got up extra early to get the best lounge chairs at the pool and I stayed there all day until about 4 PM. It was heaven!
Lunch & Snacks: Ordered at the Pool
I was tempted to order the Cuban Sandwich again but I had had my eye on the Mushroom Quesadillas since we saw someone else order them, so I had those. I also ordered the Chicken Noodle Salad which was tasty and had the best soy dressing. Ryan tried to get a Reuben again but was stuck with another Roast Beef Sandwich. Thankfully since it was all-inclusive we just waited until we were hungry again and ordered extra Cajun Fries and Steak Nachos.
Dinner: Blanc Yama
Blanc Yama is Le Blanc's Asian restaurant. We were tempted to go back to the Italian restaurant but wanted to try this one. I am so glad we did! We started with the Beef Bao Bun, which was insanely good.
In addition, we ordered Seared Tuna sushi rolls and one a Tempura Sushi Roll. I thought this would suffice for my craving of Seared Tuna at all times, but I ended up ordering the Tuna Tataki (seared tuna in broth) as well. We also had great spring rolls here and perfectly-cooked gyoza (a steamed pork dumpling).
After that, I had the Tofu Ramen Soup which could have been an entree itself. It was huge and very tasty! Ryan had the Miso Soup which was much smaller.
For our entrees, Ryan ordered the Beef Dish which comes with a giant heated rock so you can cook the raw beef slices yourself. This was delicious and so fun!
We split the Fried Rice and I had a Veggie Noodle Bowl. We decided against dessert here because the Husker game was on and we were also releasing turtles that night. All in all it was such a fun experience and I'm glad we tried it!
---
Day Four at Le Blanc Cancun
On our last morning, we went to Blanc International for a quick breakfast and I stuffed some Cheese Croissants into my purse for the plane ride home. These were amazing – they tasted like a sweet Crab Rangoon.
I would rate the food at a 10 out of 10 here. We only had a couple of dishes we didn't care for but the delicious items more than made up for that. We can't wait to go back!
Book your own stay at Le Blanc Cancun! Call us at 402-390-9291 or get started here.